Piet Huppelstaart, posted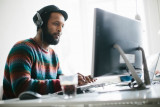 Our life is increasingly driven by digital technology. The promises of technology are great: cities become greener and more livable, more effective health care and more accessible education. The digital society also raises important questions for public officers, companies, scientists and citizens. Is the use of data and algorithms manageable? Does the digital revolution benefit everyone equally? Does digital technology really gives us a better understanding of the world around us?
The discussion in this area, both nationally as within the Amsterdam Metropolitan Area (MRA), is relatively small. Regional stakeholders do not find each other easily yet. To accelerate developments relating to the 'responsible digital city', the Amsterdam Economic Board will organize a tripartite meeting series. In this series philosophers, ethicists, employers, governments, service providers, research institutions and technology partners are challenged to co-create a manifesto that will be presented at the City Fest, 22-26 November.
For more information on this event visit the Amsterdam Economic Board's website (in Dutch).
Participation in this event is by invention only. Would you like to join the event, please contact: events@amecboard.com