Jaleesa Schaap, Strategic Advisor Climate Adaptation and Future Proof Assets at City of Amsterdam, posted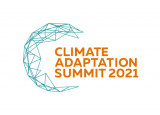 Amsterdam, how do you keep your head cool and your feet dry?
Give your project a stage during the CAS21!
Proud of your project? Does it take into account the changing climate and more extreme weather? Then you now have the opportunity to put your project on a world stage.
Expand your network and the visibility of your climate adaptive project on a global level and register to be part of the Climate Adaptation Summit 2021.
What is CAS21?
The online CAS21 (https://www.cas2021.nl/ ) will take place on 25 and 26 January, hosted by the Netherlands. CAS21 is a global climate adaptation conference organized by the Ministry of Infrastructure and the Environment. World leaders present the Adaptation Action
Agenda during this 24-hour climate summit. They make agreements to prepare for the consequences of more extreme weather.
Week full of events
In addition to the CAS21 itself, the whole week is devoted to climate adaptation. Various events will be organized by municipalities and partners between 19 and 25 January 2021.
Amsterdam should of course not be missing in this spectacle. CAS21 is the unique place to generate global visibility for Amsterdam's climate adaptive projects and innovations.
How do you give your project the stage?
We really need your input to show as much inspiring content as possible!
There are two ways to contribute:
1. We make a video of your (climate adaptive) project.
Register with us with your idea and a brief description of what you would like to show and tell in the short film. Do we choose your idea? Then a film crew will visit you and your project in the short term and we will make an inspiring video. This will be broadcast on January 25th and 26th as a  side programma of the CAS21. Deadline for submitting your idea: before December 14th. Mail to: jaleesa.schaap@amsterdam.nl
2. Organize a coronaproof event in the week of 25 to 29 January 2021.
This week will be entirely devoted to Climate Adaptation. You too can contribute this week by organizing something on this theme! This can be both a physical and an online event. Think of an online workshop, digital innovation market, tile seesaw campaigns, planting façade gardens, large or small it does not matter! As long as it has to do with climate adaptation. Register with us so that we can include your contribution in our program. Deadline: before December 18. Mail to: jaleesa.schaap@amsterdam.nl
In order to make as much impact as possible, we try to bundle all ideas and projects. This way we can be part of CAS21 with a powerful program and communicate this as a whole to the outside through various channels.
We would love to hear from you!
Team Climate Adaptation
Gemeente Amsterdam