AMS Institute, Re-inventing the city (urban innovation) at AMS Institute, posted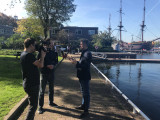 PR & Content Officer
Afdeling: Communicatieteam
Functie: PR en Content Officer (fulltime, 36-40 uur)
Locatie: Amsterdam
Arbeidsvoorwaarden: €2.920 - €4.012 bpm op basis van een 40-urige werkweek. Daarnaast een 13e maand. De definitieve inschaling is op basis van werkervaring en achtergrond.
Duur: Jaarcontract, verlenging voor onbepaalde tijd mogelijk
We zijn op zoek naar een creatieve en enthousiaste PR & Content Officer om de zichtbaarheid en positionering van ons mooie Amsterdamse instituut verder te ontwikkelen. Vind jij het leuk om de resultaten van onze onderzoeks-, onderwijs- en ondernemerschapsactiviteiten het juiste podium te geven?
Zijn PR, corporate storytelling en content marketing onderwerpen die jou aanspreken? Weet je hoe je wetenschap vertaalt naar boeiende en toegankelijke content? Gaat je hart harder kloppen bij het lezen over onze thema's en zit je nu al vol creatieve content ideeën? En wil je graag werken in een omgeving waar duurzame innovatie vorm krijgt? Reageer dan nu.
Over AmsterdamInstituteforAdvancedMetropolitan****Solutions
AMS Institute is in 2014 opgericht door Wageningen University & Research en de TU Delft, samen met het Massachusetts Institute of Technology en is gevestigd in hartje Amsterdam op Marineterrein Amsterdam. Onze missie is het vinden van interdisciplinaire oplossingen voor  grootstedelijke vraagstukken.
Wij geloven dat we door het bij elkaar brengen van verschillende ideeën, talenten en  (kennis)achtergronden, we steden duurzamer, welvarender, veerkrachtiger en rechtvaardiger kunnen maken. Vandaag, en in de toekomst. Wij noemen dit: "Re-inventing cities". Dit doen we door middel van vier hoofdactiviteiten: onderwijs, onderzoek & innovatie, ondernemerschap en partnerships.
In samenwerking met kennisinstellingen, publieke & private partners en burgers, testen en ontwikkelen we onze oplossingen in de praktijk. We doen dit samen met de gemeente Amsterdam en zo is de stad ons Living Lab.
Functieomschrijving
We zijn momenteel op zoek naar een PR en Content Officer, die succesvol laat zien met welke innovatieve oplossingen we bijdragen aan de stad Amsterdam. Je focus ligt op PR, content en het creëren van een corporate story, met nadruk op stedelijke uitdagingen, innovatie en impact. Daarbij breng je ook de overkoepelende samenwerkingen en de link tussen bedrijfsleven, Amsterdammers, onderwijs & wetenschap in beeld.
Bij een organisatie met 1001 verhalen is er bijna een onuitputtelijke bron van content. Met jouw creativiteit en expertise weet jij proactief de contentagenda te bepalen. Je hebt oog voor de onderwerpen die spelen in de media en de manier waarop deze onderwerpen verbonden kunnen worden aan de stedelijke opgaven van de stad Amsterdam en onze activiteiten op het gebied van onderwijs, onderzoek & innovatie, ondernemerschap partnerships.
Ook weet je de juiste invalshoeken, samenwerkingen en distributiekanalen te vinden om bij te dragen aan het vergroten van de bekendheid en het verder verbeteren van de positionering en reputatie van het instituut.
Het AMS Communicatieteam is een klein, enthousiast en dynamisch team, dat bestaat uit vijf personen: een Communicatie Adviseur, een PR en Content Officer, een Project Communicatie medewerker, een Studentassistent en het Hoofd Communicatie. Je rapporteert aan het Hoofd Communicatie. Hoewel teamleden zich elk op hun eigen verantwoordelijkheden en activiteiten concentreren, zijn de resultaten altijd het resultaat van een gedeelde teaminspanning.
Verantwoordelijkheden
De PR en Content Officer is verantwoordelijk voor:
·       Het aansturen, ontwikkelen en uitvoeren van onze PR-activiteiten en Content Marketing plan in nauwe samenwerking met het Hoofd Communicatie.
·       Het bepalen van de inhoudelijke verhaallijnen voor de urban challenges waar we aan werken – dit in nauwe samenwerking met onze expertteams (Research & Innovation, Education & Data Science Team)
·       Het creëren van aansprekende content voor onze eigen kanalen, zoals onze website en socials (inclusief monitoring & rapportage).
·       Onze reputatie bewaken en kansen signaleren voor proactieve PR en storytelling. Je vindt het leuk om journalisten mee te nemen in wat we doen.
·       Het coördineren van mediaverzoeken en het adviseren en begeleiden van onze experts bij persverzoeken.
·       Het identificeren en onderhouden van relaties met belangrijke media en journalisten, evenals het opbouwen en onderhouden van relaties binnen ons netwerk van zakelijke partners, stakeholders en influencers.
Je profiel
·       Je hebt een relevante academische opleiding, aantoonbare ervaring in PR en hebt passie voor technologie en stedelijke innovatie.
·       Je hebt uitstekende schriftelijke en mondelinge communicatieve vaardigheden in zowel het Nederlands (veel van de interacties zijn met lokale pers), als in het Engels (de voertaal op al onze corporate kanalen).
·       Je hebt een goed begrip van wat nieuwswaardig is en weet de juiste invalshoeken voor diverse doelgroepen.
·       Je duikt graag de organisatie in om content die het verschil maakt te ontwikkelen.
·       Je hebt ervaring met het onderhouden van relaties met externe media en weet perskansen te creëren voor onze experts en activiteiten.
·       Sociale media heeft voor jou geen geheimen. Je weet hoe je social media in kunt zetten als geïntegreerd onderdeel van de mediamix.
·       Je voelt je verbonden met de stedelijke uitdagingen van de stad Amsterdam en woont bij voorkeur in (de buurt van) Amsterdam.
·       Ervaring in illustrator/InDesign of videoproductie, zijn een pluspunt om dat vleugje extra creativiteit toe te voegen waar we altijd naar op zoek zijn.
Wie ben jij?
·       Een enthousiast en positief persoon, een echte aanwinst voor het team
·       Creatief en proactief in het naar voren brengen van ideeën
·       Een zelfstarter met veel energie
·       Resultaatgericht, nauwkeurig en efficiënt
Ons aanbod
·       Je komt te werken in een innovatieve werkomgeving en een enthousiast team van     professionals.
·       Wanneer we (hopelijk snel weer) meer op kantoor werken, dan hebben we een fantastische locatie op het Marineterrein Amsterdam.
·       Je salaris is gebaseerd op de VSNU CAO met een maximum van €4.012 bpm op basis van 40 uur - en een jaarlijkse 13e maand. We bieden je een jaarcontract, met de intentie om en bij goed functioneren te verlengen voor onbepaalde tijd.
Aanvullende informatie
Voor meer informatie over deze vacature kun je contact opnemen met Debby Dröge, Head of Communications, e-mail debby.droge@ams-institute.org. Voor meer informatie over de selectieprocedure kun je contact opnemen met Martijn van Beersum, HR Officer, e-mail: martijn.vanbeersum@ams-institute.org, tel: +31 610598900.
Sollicitatieprocedure
Heb je interesse in deze vacature? Je kunt solliciteren door je motivatiebrief en cv te delen met: martijn.vanbeersum@ams-institute.org.
AMS Institute staat midden in de samenleving en streeft ernaar om de diversiteit van onze samenleving terug te laten komen in haar organisatie.