Stay in the know on all smart updates of your favorite topics.
Angela Lopez, Marketing , posted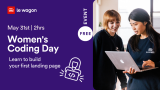 Le Wagon Women's Coding Day is a full morning of coding dedicated to all women who want to gain coding skills
This is a free online workshop for women! Sign up on Livestorm
Le Wagon Women's Coding Day is a full morning of coding dedicated to all women who want to gain coding skills 💪. If you are interested or know women who want to discover to code, this is the place!
Our team of female teachers will assist you during this workshop on the basics of HTML and CSS. In this workshop you will learn:
✨ The tools you need to design, build and host your own landing page
✨ How to structure your landing page with HTML, then style it with CSS and finally get your website live
✨ All the necessary tools to start designing and building pages yourself without any prior coding experience!
About this workshop: This online workshop will start with a lecture to introduce the core concepts. You will then be onboarded on Le Wagon's e-learning platform and access the slides, a sum-up of key notions as well as exercises to keep practising after the webinar.
This workshop is brought to you by the #1 rated coding bootcamp worldwide:
Le Wagon emerged in 2014 as one of the first tech bootcamps in France, offering web development and data science programs. Now, it has grown to a robust global community of tech talents with over 40 Le Wagon campuses in Amsterdam, Berlin, Lisbon, London, Melbourne, Mexico, Montreal, Singapore, São Paulo, Paris, and other cities worldwide. With this expansion, Le Wagon has helped over 20,000 developers, data scientists, designers, and entrepreneurs start their new careers in tech. Nine years on, the school continues to inspire tech aspirants to find their path in the industry.
Beep for Help, Direct hulp aan huis. Oplossingen voor een fijn thuis. , posted
Ontmoet Beep for Help, een Amsterdamse sociale startup die ouderen en mantelzorgers hulp aan huis biedt.
Ontdek hoe het idee ontstond, leer meer over digitale marketing en social media en discussieer mee over bedrijfscultuur. Ook vertelt Iconica, onze app ontwikkelaar, over de Beep for Help app.
Ondertussen zorgen wij voor fris en lekkere pizza en is er ruim gelegenheid om bij te praten met diverse mensen uit het veld. Fijn als je ook komt!
De inloop is vrij. Reserveren is fijn, dan weten we hoeveel pizza we verzorgen. Reserveren kan met onderstaande link of mail annebet@beepforhelp.nl
Wanneer: 07/06/2023
Tijd: 17:30
Locatie: Apollolaan 151
Gert Roskammer, Community Manager , posted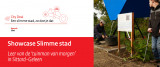 Hoe zet je digitalisering en technologisering in voor ontmoetingen tussen inwoners? Hoe zorg je ervoor dat innovaties activiteiten in de wijk versterken en aanwakkeren? En hoe monitor je of de sociale cohesie ook toeneemt door de inzet van nieuwe middelen en oplossingen? Daarover gaan we in gesprek op 29 juni 2023 (13.00 uur – 16.00 uur) bij de Slimme Stad Showcase van de Zeeheldenbuurt in Sittard-Geleen.
De gemeente Sittard-Geleen laat je tijdens dit bezoek haar unieke aanpak op gebied van burgerparticipatie zien. En we gaan met elkaar op zoek naar innovaties die de sociale cohesie tussen inwoners in een wijk bevorderen, versterken en monitoren in een pitchcarrousel.
Ben of ken je een innovatief idee? Kom dan pitchen op 29 juni 2023.
Ben je benieuwd naar de 'Tuinman van morgen' aanpak van de gemeente in deze wijk? En wil je leren hoe je met slimme toepassingen ervoor kunt zorgen dat inwoners elkaar vinden en helpen? En wil je weten hoe je samen met de inwoners een wijk kunt herontwikkelen? Meld je dan aan en kom naar de Slimme Stad showcase-excursie.
Meld je aan | Meld je aan voor het pitchcarrousel
Datum en tijd: 29 juni 2023 van 13.00 tot 16.00 uur.
Locatie: wordt aangekondigd, Zeeheldenbuurt, Sittard-Geleen.
Deze showcase maakt deel uit van het programma van de City Deal 'Een slimme stad, zo doe je dat'. Wil je een overzicht van alle evenementen die vallen onder de City Deals 'Een slimme stad, zo doe je dat' en 'Slim Maatwerk'? Klik hier.
Stay up to date
Get notified about new updates, opportunities or events that match your interests.
Set up preferences