Stay in the know on all smart updates of your favorite topics.
Angela Lopez, Marketing , posted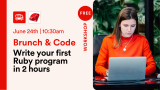 Share a coffee and croissant with us and get an intro to Ruby!
Please note: You will need to bring a laptop to participate in this workshop! 🧑‍💻
In this workshop, you will learn the fundamentals of programming and dive into back-end programming. You will be using the language Ruby, a programming language which focuses on simplicity and productivity. It has an elegant syntax that is natural to read and easy to write. This workshop is for complete beginners!
In this 2 hours workshop you will learn:
✨ The basics of programming, including data types, variables, conditions and loops.
✨ Core concepts of Ruby that can be used into any programming language
✨ The basics of a back-end language and your first step to entering the world of web development.
About this workshop:
This workshop will start with a 1-hour lecture to introduce the core concepts of the day. You will then be onboarded on Le Wagon's e-learning platform and access the slides, a sum-up of key notions as well as exercises to keep practicing after the workshop.
We look forwards to seeing you there!
The Le Wagon Amsterdam Team 🚀
This workshop is brought to you by the #1 rated coding bootcamp worldwide: Le Wagon emerged in 2014 as one of the first tech bootcamps in France, offering web development and data science programs. Now, it has grown to a robust global community of tech talents with over 40 Le Wagon campuses in Amsterdam, Berlin, Lisbon, London, Melbourne, Mexico, Montreal, Singapore, São Paulo, Paris, and other cities worldwide.With this expansion, Le Wagon has helped over 19,000 developers, data scientists, designers, and entrepreneurs start their new careers in tech. Nine years on, the school continues to inspire tech aspirants to find their path in the industry.
Zoë Spaaij, Project manager , posted
Platformen veroveren de wereld. Uber, Marktplaats en AirBNB kennen we allemaal. De grote vraag is dan ook: hoe gaat de overheid zelf naar een platform transformeren? Op 23 augustus, 28, 29 en 30 augustus 2023 gaan 24 jongprofessionals aan de slag met disruptieve scenario's rondom digitale platformen. We onderzoeken welke utopieën en dystopieën we ons kunnen voorstellen. En wat de overheid nu al kan doen om kansen te benutten en gevaren te tackelen.
Daarom organiseren Kennislab voor Urbanisme en de Future City Foundation in opdracht van de Provincie Zuid-Holland in Den Haag een Summerschool 'Hoe veranderen publieke platformen de overheid?' in samenwerking met de City Deal 'Een slimme stad, zo doe je dat' en de City Deal 'Slim Maatwerk'.
Wanneer:
Op 23 augustus komen we op een aparte dag bijelkaar en op 28, 29 en 30 augustus blijf je slapen.
Locatie:
In de Eendenkooi, in Den Haag
Meld je nu aan en bedenk samen met 24 andere jongprofessionals hoe je data en digitalisering inzet om de problemen van vandaag op te lossen voor de wereld van morgen.
<em>Ben je zelf geen jongprofessional meer, maar ken je iemand in je netwerk? Stuur deze Summerschool dan aan hem/haar door.*
Waar gaat het over?
Platformen brengen vraag en aanbod op een efficiënte manier samen. Centraal staat de mogelijkheid voor verbinding en uitwisseling waarbij deelnemers elkaar vertrouwen en voordeel halen uit elkaars aanwezigheid. Die platformen kunnen ook, net als de hele digitale transitie, zorgen voor disrupties in en van de hele samenleving. Net zoals Spotify de muziekwereld heeft veranderd, zo kan ook de overheid veranderen. Daar moeten we nu al over nadenken. Want hoe willen we dat publieke platformen zich gaan ontwikkelen? Welke kaders en randvoorwaarden moeten er zijn?  
Tijdens deze Summerschool laten we ons inspireren door experts, futuristen, filosofen, ondernemers en overheidsprofessionals. We gaan met elkaar aan de slag om te komen tot verschillende scenario's over de vraag: Hoe veranderen publieke platformen de overheid, welke toekomstscenario's kunnen we daarover schetsen en hoe disruptief zijn deze? Dit alles doen we samen met de Provincie Zuid-Holland in het kader van hun expeditie rondom Publieke Platformen.
Voor wie en met wie
De summerschool richt zich op getalenteerde jongprofessionals (pasafgestudeerden en jonge beleidsambtenaren). Het is onze overtuiging dat de leiders van morgen zich nu onderscheiden door het volgen van extra-curriculaire activiteiten. Als slimme jongprofessional geef je ook de opdrachtgever inspiratie en energie en ben je wellicht interessant voor werkgevers.
We organiseerden deze summerschool in opdracht van de Provincie Zuid-Hollandin het kader van de expeditie Publieke Platformen en in samenwerking met Future City Foundation, City Deal 'Een slimme stad, zo doe je dat' en City Deal 'Slim Maatwerk'
Doe mee!
Je bent geschikt als je begrijpt dat er voor ingewikkelde problemen geen eenvoudige antwoorden volstaan. En soms ook wel. Je hebt een achtergrond in:
RUIMTE: ruimtelijke ordening, planologie, stedenbouw
BESTUUR: bestuurskunde, beleidskunde, politicologie
GEESTESWETENSCHAPPEN: filosofie, geschiedenis
SOCIAAL: sociologie, sociale geografie
DESIGN: product design, multimedia, marketing
TECH: geo en media design, game design, computer science / IT en software developing
of iets anders interessants, want verder out-of-the-box is ook welkom.
Wij zijn blij met omdenkers en dwarskijkers. Aan deze summerschool kunnen 24 jongprofessionals deelnemen. Deelnemen is gratis.
MELD JE NU AAN
Meer weten?
Klik hier voor meer informatie over de summerschool.  
Stay up to date
Get notified about new updates, opportunities or events that match your interests.
Set up preferences