---
Want to receive updates like this in your inbox?
Get notified about new updates, opportunities or events that match your interests.
Set up preferences
Maybe you will also like these updates
Jorden van der Hoogt, Strategy and Innovation Lead at Cenex NL, posted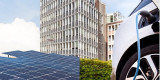 This final event of the Interreg North-West Europe CleanMobilEnergy (CME) project will be a unique opportunity to understand our road to decarbonisation. Speakers from the CME project and other innovative projects and organisations will share their experiences and learnings regarding realising local energy communities, electric mobility, sustainable heating, energy storage and smart, flexible energy systems (such as V2G) from a range of perspectives including technical, financial, social, governance and legal/policy to paint a holistic picture of the future of the energy system and how we get there.
The 1.5-day conference will feature experiences from the implementation of pilots in Arnhem, Nottingham, Stuttgart and Schwäbisch Gmünd within the CME project as well as real-world implementation learnings from other state-of-the-art projects in the field. In the CME pilots, e-mobility solutions were implemented together with local renewables, storage and an open-source energy management system (the REMove tool) to connect, monitor and optimise the energy flows. By matching local energy needs with local renewables through smart solutions, such a system increases renewable energy's economic value and significantly reduces CO2 emissions. This also contributes to increased energy security and independence of European cities and regions, at a time when the cost of energy has been increasing to record levels throughout Europe.
This event is meant for forward-looking local decision makers (including local and regional governments, community organisations and cooperatives), system integrators, e-mobility providers, renewable energy providers, electricity grid operators and ICT developers, to provide a clear view of how models such as energy communities and energy management tools like ReMove can support organisations, cities and regions in their decarbonisation journeys. The event will be held in English.
Finally, the second day of this event will include a site visit to the CME project's Arnhem pilot site, where the ReMove tool supports the supply of local renewable energy from a 14MW solar farm to river cruise ships in the maintenance harbour adjacent to the city's industrial area through a cold ironing (shore-to-ship power) system, as well as other pilots conducted at the IPKW innovative business park such as fuelling of hydrogen vehicles.
Robbert Monteban, Sustainable Mobility & Energy Advisor , posted
Monday, October 31 2022, DeeldeZon and the VER, Vereniging Elektrische Rijders, will jointly organise the 'Battery On Wheels Conference'. A seminar entirely dedicated to V2X: bi-directional charging of electric vehicles.
By charging the battery of an EV with sustainable energy and discharging it to the (local) grid, the electric car becomes an important link in the energy transition. It could also be a promising solution to rising energy costs and grid investments. What are the experiences, best practices, prospects and policies? How do we cleverly respond to this? What will the market look like? And how do we join forces?
You are cordially invited to Battery On Wheels on October 31st!
Adriaan van Eck, Implementing IoT & Smart Energy , posted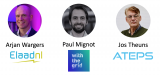 Join our speed date and engage with 3 great speakers at the first in-person Smart Energy Community meetup on October 11th!
Topics Smart Energy Community October 11:
Home Energy Management Systems in practice
Now that we are installing more and more heat pumps and EV chargers in homes, there is more and more need for energy management. How does this work? How to deal with cyber security and what role do protocols play? ElaadNL developed its own showcase house where this is put into practice. Arjan Wargers of Flexiblepower Alliance Network & ElaadNL discusses the lessons learned.
Power pitch ATEPS: Energy and storage
ATEPS develops, builds and supplies systems based on batteries that store energy. Jos Theuns (ATEPS) explains how they make storage of sustainable energy accessible, safe and attractive through smarter management of electrical energy. Due to the modular construction of ATEPS systems, they are suitable for both small and larger customers.
Power pitch withthegrid: Teleport
How do you connect PV, wind, battery, EV chargers and heat pumps without losing your mind in all protocols and without cloud lock-in? Paul Mignot (Withthegrid) discusses their new innovation Teleport. This gives customers maximum insights and control over their assets in minutes.
Speed dating, networking & visit demonstration house
In the second half, connecting with other professionals is central. During these speed dating sessions, you will get to know fellow innovators, share project ideas and explore opportunities for collaboration. There will be ample opportunity for discussion after the meeting. At the same time, you can take a tour of ElaadNL's new demonstration home for smart energy services, where various smart devices are optimised for home energy management.  
More events