Want to receive updates like this in your inbox?
Get notified about new updates, opportunities or events that match your interests.
Set up preferences
Maybe you will also like these updates
Ivanna Vinnicsuk, Content Marketer at Digital Society School, posted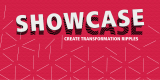 Our Showcase is here - tap into the potential of transformation design and create transformation ripples with us!
On January 24th, come and explore the projects carried out by the trainee teams from our Digital Transformation Intensive Programme dedicated to shaping an inclusive, sustainable and diverse society. Get inspired, learn more about how Transformation Design is done and meet fellow changemakers in our Clubhouse or online via our YouTube livestream.
Our trainee projects focus on the integration of technology into society and design for the UN Sustainable Development Goals (SDGs) through topics such as Sustainability Monitoring, Digital Health & Well-being, and Regenerative Cities, among others. In 20 weeks, they learn to work responsibly and sustainably by using design, technology and social innovation together with one of our partners.
We have prepared an exciting programme for you:
16:00 - 17:00 Mini-keynotes:
"Digital Activism" by Marleen Stikker, director & founder of Waag Futurelab
"Learning Communities" by Zlatina Tsvetkova, Learning & Knowledge Manager at Commonland
"Systemic Design" by Andrea Nesta, Experience Design Lead at Nomads
17:00 - 18:00 Clubhouse exhibition of design solutions of trainee teams
18:00 - 20:00 Networking & drinks
There will be plenty of opportunities to connect with the trainees, partners and the extended Digital Society School community, so don't miss out!
Herman van den Bosch, professor in management development , posted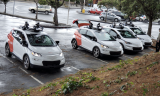 <strong>Since mid-2022, Cruise and Waymo have been allowed to offer a ride-hailing service without a safety driver in a quiet part of San Francisco from 11pm to 6am. The permit has now been extended to the entire city throughout the day. The company has 400 cars and Waymo 250. So far, it has not been an unqualified success.</strong>  
A turbulent start
In a hilarious incident, an empty taxi was pulled over by police; it stopped properly, but kept going after a few seconds, leaving the officers wondering if they should give chase. The National Highway Traffic Safety Administration is investigating this incident, as well as several others involving Cruise taxis stalling at intersections, and the Fire Department reports 60 incidents involving autonomous taxis.
Pending further investigation, both companies are only allowed to operate half of their fleet. In addition to the fire department and public transport companies, trade unions are also opposed to the growth of autonomous taxis. California's governor has rejected the objections, fearing that BigTech will swap the state for more car-friendly ones. It is expected that autonomous taxis will gradually enter all major US cities, at a rate just below that of Uber and Lyft.
 
Cruise has already hooked another big fish: In the not-too-distant future, the company will be allowed to operate autonomous taxis in parts of Dubai.
The number of autonomous taxi services in the world can still be counted on one hand. Baidu has been offering ride-hailing services in Wuhan since December 2022, and robot taxis have been operating in parts of Shenzen since then.
Singapore was the first city in the world to have several autonomous taxis operating on a very small scale. These were developed by nuTonomy, an MIT spin-off, but the service is still in an experimental phase. Another company, Mobileye, also plans to start operating in Singapore this year.
The same company announced in 2022 that it would launch a service in Germany in 2023 in partnership with car rental company Sixt 6, but nothing more has been heard. A survey by JD Power found that almost two-thirds of Germans do not trust 'self-driving cars'. But that opinion could change quickly if safety is proven and the benefits become clear.  
What is it like to drive a robotaxi?
Currently, the group of robotaxi users is still small, mainly because the range is limited in space and time. The first customers are early adopters who want to experience the ride.
 
<strong>Curious readers: Here you can drive a Tesla equipped with the new beta 1.4 self-driving system, and here you can board a robotaxi in Shenzhen.</strong>
 
The robotaxis work by hailing: You use an app to say where you are and where you want to go, and the computer makes sure the nearest taxi picks you up. Meanwhile, you can adjust the temperature in the car and tune in to your favourite radio station.
Inside the car, passengers will find tablets with information about the journey. They remind passengers to close all doors and fasten their seatbelts. Passengers can communicate with remote support staff at the touch of a button. TV cameras allow passengers to watch. Passengers can end the journey at any time by pressing a button. If a passenger forgets to close the door, the vehicle will do it for them.
The price of a ride in a robotaxi is just below the price of a ride with Uber or Lyft. The price level is strongly influenced by the current high purchase price of a robotaxi, which is about $175,000 more than a regular taxi. Research shows that people are willing to give up their own cars if robotaxis are available on demand and the rides cost significantly less than a regular taxi. But then the road is open for a huge increase in car journeys, CO2 emissions and the cannibalisation of public transport, which I previously called the horror scenario.  
Roboshuttles
In some cities, such as Detroit, Austin, Stockholm, Tallinn and Berlin, as well as Amsterdam and Rotterdam, minibuses operate without a driver, but usually with a safety officer on board. They are small vehicles with a maximum speed of 25 km/h, which operate in the traffic lane or on traffic-calmed streets and follow a fixed route. They are usually part of pilot projects exploring the possibilities of this mode of transport as a means of pre- and post-transport.
Free download
Recently, I published a new e-book with 25 advices for improving the quality of our living environment. Follow the link below to download it for free.
Iskander Smit, INFO at INFO, posted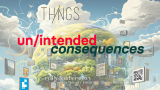 Join us on 15 December for our annual ThingsCon event powered by CLICKNL. Participate in interactive sessions, be inspired by the keynotes, and view the thought-provoking projects in our exhibitions. And most of all, meet each other!
True to ThingsCon mission, we focus on a theme that we feel resonates with current developments and discussions that explore and promote the development of fair, responsible, and human-centric technologies for the IoT and beyond; our current working theme is <em>'Un</em>/i<em>ntended Consequences'</em>. Read more on our website.
Friday 15 December will be our main conference day. With a mix of: interactive sessions, inspiring keynotes, pitches from the community and an inspiring design exhibition.
Opening and closing keynote by Maria Luce Lupetti (TU Delft) and Bas van de Poel (Modem)
12 interactive sessions in two rounds
Short project pitches
Exhibition with the best design student work and case-studies from practitioners.
Meet fellow participants during lunch and breaks, ending with drinks
Find more details on the program page!
More news