Want to receive updates like this in your inbox?
Get notified about new updates, opportunities or events that match your interests.
Set up preferences
Maybe you will also like these updates
Highlight
from Amsterdam Smart City, Connector of opportunities at Amsterdam Smart City, posted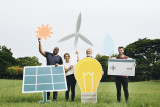 The transition from fossil fuels to clean energy in order to limit global warming is arguably the most wicked problem our society has ever faced. Besides a move to renewable energy production, experts agree that achieving the energy transition also requires a shift to more decentralized energy systems.
While digitalization promises to enable the shift to renewable and decentralized energy systems, it also raises several challenges and risks. In recent years we see privacy and security concerns emerging in line with the proliferation of smart devices which have the possibility to constantly monitor the behavior of their users. There are also questions related to large technology companies in the energy sector, and the risks associated with their monopoly position. During this Data Dilemmas, we will explore key opportunities and threats of future energy systems. How can we ensure privacy and security of smart energy systems? And what should governments do to ensure a level playing field, preventing data monopolies in the energy market?
Agenda
15:50 – 16:00 Walk-in
16:00 – 16:10 Welcome and introductions
16:10 – 17:00 Pitches by Julia Jansen (Waag) and other speakers to be announced
17:00 – 17:30 Wrap-up and networking drinks
About the Data Dilemma series
Data Dilemmas is a collaboration between Amsterdam Smart City and the City of Amsterdam's Data Lab. Three times a year we explore the possibilities for using data and new technologies to address urban and societal challenges, with a focus on responsible digitalization. The goal is to use data to make cities more safe, clean and accessible. But what happens to all the data that is collected? Which dilemmas do we encounter when we collect (personal) data to improve the city? These questions are important for everyone: governments, knowledge institutions, companies, and civil society. Amsterdam Smart City would like to explore with you which decisions are needed for responsible use of data.
Jorden van der Hoogt, Strategy and Innovation Lead at Cenex NL, posted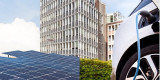 This final event of the Interreg North-West Europe CleanMobilEnergy (CME) project will be a unique opportunity to understand our road to decarbonisation. Speakers from the CME project and other innovative projects and organisations will share their experiences and learnings regarding realising local energy communities, electric mobility, sustainable heating, energy storage and smart, flexible energy systems (such as V2G) from a range of perspectives including technical, financial, social, governance and legal/policy to paint a holistic picture of the future of the energy system and how we get there.
The 1.5-day conference will feature experiences from the implementation of pilots in Arnhem, Nottingham, Stuttgart and Schwäbisch Gmünd within the CME project as well as real-world implementation learnings from other state-of-the-art projects in the field. In the CME pilots, e-mobility solutions were implemented together with local renewables, storage and an open-source energy management system (the REMove tool) to connect, monitor and optimise the energy flows. By matching local energy needs with local renewables through smart solutions, such a system increases renewable energy's economic value and significantly reduces CO2 emissions. This also contributes to increased energy security and independence of European cities and regions, at a time when the cost of energy has been increasing to record levels throughout Europe.
This event is meant for forward-looking local decision makers (including local and regional governments, community organisations and cooperatives), system integrators, e-mobility providers, renewable energy providers, electricity grid operators and ICT developers, to provide a clear view of how models such as energy communities and energy management tools like ReMove can support organisations, cities and regions in their decarbonisation journeys. The event will be held in English.
Finally, the second day of this event will include a site visit to the CME project's Arnhem pilot site, where the ReMove tool supports the supply of local renewable energy from a 14MW solar farm to river cruise ships in the maintenance harbour adjacent to the city's industrial area through a cold ironing (shore-to-ship power) system, as well as other pilots conducted at the IPKW innovative business park such as fuelling of hydrogen vehicles.
Isis Woutersen, posted
Vervoer per fiets heeft velen voordelen: fietsen is goed voor het milieu én het is goed voor de eigen gezondheid. Voor een duurzame, gezonde Metropool Amsterdam met vitale bewoners is het daarom belangrijk om het gebruik van de fiets te stimuleren. Dat doen we door organisaties te verbinden aan de Green Deal Fiets.
Op 14 december 2022 vanaf 20:00 uur vindt een event van Amsterdam Bike City plaats, dat volledig in het teken staat van de Green Deal Fiets. Tijdens dit event kom je alles te weten over hoe de Green Deal Fiets 100.000 meer fietsers gaat activeren en hoe je zelf kunt aansluiten. Het initiatief richt zich op vier thema's: fietsservicepunten, fietsvriendelijke arbeidsvoorwaarden, meer kinderen en jongeren op de fiets en de impact van fiets stimulering.
Lees hier meer over de Green Deal Fiets, een initiatief van Amsterdam Economic Board, Metropoolregio Amsterdam, de Vervoerregio en BYCS. De locatie is in Amsterdam en het volledige programma volgt later.
More news