Want to receive updates like this in your inbox?
Get notified about new updates, opportunities or events that match your interests.
Set up preferences
Maybe you will also like these updates
Anne-Ro Klevant Groen, Marketing and Communications director at Fashion for Good Museum, posted

Exhibition Knowing Cotton Otherwise
Cotton is perhaps the world's most well-known fabric, however, many stories behind cotton are less known. These untold and sometimes unexpected perspectives have been collected and brought together in the exhibition, Knowing Cotton Otherwise. Centred on collectivity and community, local artists have been invited to present work that connects and intersects with different themes relating to the story of cotton. By mixing styles and stories, Knowing Cotton Otherwise creates a multifaceted experience, inviting you to reflect, question, play and wonder. 
Fashion, art and social change
Built around different themes telling the story of cotton, the exhibition highlights the relationship between cotton and the fashion industry, the role of cotton in an increasingly intertwined web of global cultures, and the sustainable innovations driving its circular transformation. The exhibition provides questions such as where does cotton come from? How is it grown? What is the future of cotton and the role of innovation? How should we relate to the more questionable aspects of cotton, from its history of forced migration to more modern-day challenges? And how can we celebrate cotton, the connections it creates and the opportunities around it?
Collectivity and Community
Knowing Cotton Otherwise is presented in different phases throughout the year in which the exhibition grows and changes. The first phase features artists Benoît Gilles Michel, Caithlin Courtney Chong, Mario Gonsalves, Niño Divino, Noah Cohen, Nsimba Valene and Tasio Bidegain as well as the collectives OSSO Archive, Studio Papa and The Gang is Beautiful. The exhibition also showcases innovative technologies in material traceability and dyeing from Fashion for Good Innovators Oritain and Officina39. Knowing Cotton Otherwise invites you to question the content presented, examine your ideas and engage together in a process of self-reflection and critical consideration.
Hede Razoky, Accountmanager Upcyclecentrum at Gemeente Almere, posted
Ben jij een bevlogen circulair ondernemer met een nieuw circulair product of business concept? Dan is dit misschien wel jouw kans! Het Upcylcecentrum in Almere biedt per 1 november 2022 namelijk twee circulair ondernemers een plek in het circulair ontwikkelprogramma. Je krijgt toegang tot de reststromen van de recycleperrons en laat je bedrijf floreren met behulp van dit unieke concept.
Wil jij een vliegende start maken met jouw onderneming? Of ken je zo'n ondernemer? Bezoek almere.nl/upcyclergezocht voor de voorwaarden en stuur uiterlijk 14 oktober 2022 jouw businessplan in. 
Puck Hoogenboom, Communication at Waag, posted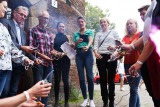 Citizen science is on the rise and measurement communities are seen as equal by more and more governments and businesses. This is just as well, because they are the most important experts on their own living environment.
In this second edition of The State of Citizen Science we explore what it takes to democratise knowledge. How can citizen scientists and scientists work together in a satisfactory way? What do citizen scientists need from policymakers? And what can measurement communities around the country learn from each other?
The meetup will start with a panel discussion between a citizen scientist, scientist and policymaker. Then we'll break out into workshops. It promises to be an interactive meeting where the exchange of knowledge and experiences is central. At the end of the workshops there will be a tour of the DDW exhibitions in the Klokgebouw and drinks afterwards.
Programme
14:00-15:45 hrs - panel and workshops
16:00-17:00 hrs - guided tour of Klokgebouw including Waag installations
17:15-18:00 hrs - drinks back at Baltan Laboratories
This event is mostly Dutch. 
About Waag Futurelab
Waag Futurelab is a platform for designers and artists to research current societal issues. Waag brings together all relevant parties through expositions, presentations, experiments, debates and reflection. In the four-year Expeditions to planet B programme, Waag Futurelab is finding the answer to the following design questions: what if a planet B would exist? How would we re-design our world and our lives? And what does that teach us about the here and now?
More news