[Read below the Dutch text an English summary]
Voor de overgang van gas naar warmte via andere duurzame energiebronnen én ervaringen in het renoveren van woningen, hebben we voorbeelden en ervaringsverhalen nodig. Lees hier het verhaal van Bert, en zijn tips voor een nul-op-de-meter woning.
Een onderdeel van City-zen zijn de renovatiesubsidies voor woningeigenaren. Woningeigenaren (zowel particulieren, VVE's, woningcorporaties als beleggers) in Amsterdam konden via City-zen gebruik maken van een Europese subsidie om hun woning zeer energiezuinig te maken. Belangrijkste criterium waren onder andere een flinke verbetering van de energieprestatie van de woning.
Een van de subsidiënten, we mogen hem wel koploper noemen, is Bert. Puur op basis van interesse voor technische vernuftigheden en de mogelijkheid om zelfvoorzienend te worden maakte hij deze keuze. De interesse in technische snufjes heeft hij niet van een vreemde, die komt bij zijn opa vandaan. De opa die tijdens de jaren '60 in veel huishoudens gaskachels installeerde van hetzelfde merk als de warmtepomp van Bert. Dat geeft toch iets van vertrouwen. In de jaren '60 gingen alle huishoudens over van kolen naar gas als energievoorziening. "Nu hoop ik het weer 'van-gas-los' mee te maken" aldus Bert.
Tot zover het verhaal van iemand die met alleen al zijn enthousiasme zijn omgeving mee kan krijgen. Dat is handig tijdens het opstarten van renovatie- en verbouwtrajecten, maar daarna, in de uitvoering, gaat het er echt om spelen. In het geval van Bert viel dit niet mee. Eind goed, al goed. Het huis is bijna zo goed als zelfvoorzienend, heeft energie label A, is opnieuw getaxeerd en in waarde gestegen. Maar dit ging niet vanzelf en dat mag ook gedeeld worden.
Als het op de daadwerkelijke uitvoering aankomt…
"Allereerst wilde ik zonnepanelen, met dat idee ging ik het gesprek met de energieadviseur in. Maar de energieadviseur raadde mij aan om verder te kijken en een nul-op-de-meter woning te overwegen. Ons huis was op dat moment 20 jaar oud en dan wil je toch wel investeren. Voor ons een goed moment om het rigoureus aan te pakken. Mijn interesse ligt er ook, dus ik stond er al voor open. Bij elkaar gebeurt er dan toch wel wat: zonnepanelen, lucht/water warmtepomp, laagtemperatuur convectoren, vloerverwarming en tenslotte extra elektra voorzieningen in meterkast en voedingskabels die weggewerkt moesten worden. De techniek is veelal niet nieuw, het installeren en maatwerk in een woning maken het vooral complex.
Deze wijsheid kwam pas in de uitvoering. Je gaat met iemand in zee en dat doe je omdat het gevoel goed is en in mijn geval vertrouwde ik ook de producten die ik zou aanschaffen voor deze renovatie. Natuurlijk heb ik ook onderzoek gedaan, maar kon vooraf niet beseffen wat voor risico's eraan zitten. In mijn geval zat dat voornamelijk in de afhankelijkheid van de energieadviseur.
Ik heb gekozen voor een totaalpakket. Handig, omdat de hele renovatie bij een dezelfde partij ligt voor een totaalofferte. Toen we eenmaal in het traject zaten, kwam ik erachter dat de energieadviseur toch niet zoveel ervaring had als van tevoren gedacht en veel dingen nieuw waren. Een goede afstemming en de planning, daar kon ik niet van uitgaan. Dat heeft gezorgd voor vele frustraties en vertragingen in het project. We hadden een prijs afgesproken, dus de tegenslagen en behorende extra kosten waren voor rekening van de energieadviseur. Het heeft mij, behalve veel energie, gelukkig niet meer gekost. Terugkoppelen naar de energieadviseur had niet zoveel zin, aangezien daar ontwijkend of niet op wordt gereageerd werd.
Dat het voor de partij waar je mee samenwerkt nieuw is, dat is niet eens zo erg, maar ik verwacht wel open- en eerlijkheid in zo'n intensief verbouwproject, dat is toch een essentieel onderdeel van de samenwerking en voornamelijk een tip aan de energieadviseur.
De ervaringen die ik heb opgedaan deel ik nu graag met anderen. [Zie de tips van Bert in dit artikel]. Ik heb destijds ook gezocht naar mensen in mijn omgeving en professionals om mijn ervaringen te toetsen. Alle inzichten helpen weer en het is ook goed dat ik de risico's van tevoren niet allemaal kende."
Nu de renovatie afgerond is en, na enige vertraging (wet-van-Murphy?), ook de batterij (Virtual-Power-Plant) is geïnstalleerd, kan Bert eindelijk even bijkomen en is hij toch trots op de stap hij heeft gemaakt en het resultaat dat hij heeft behaald.
Heb je vragen voor Bert? Neem contact op via city-zen@amsterdamsmartcity.nl
Tips:
- Bekijk de risico's, hoe afhankelijk ben je van je energieadviseur en leverancier(s)?
- Hoeveel betaal je vooraf en hoeveel achteraf?
- Zet op een rij wat de voor- en nadelen van een totaalpakket zijn.
- Bekijk het bedrijf van de energieadviseur op; continuïteit, levertijd, ervaring.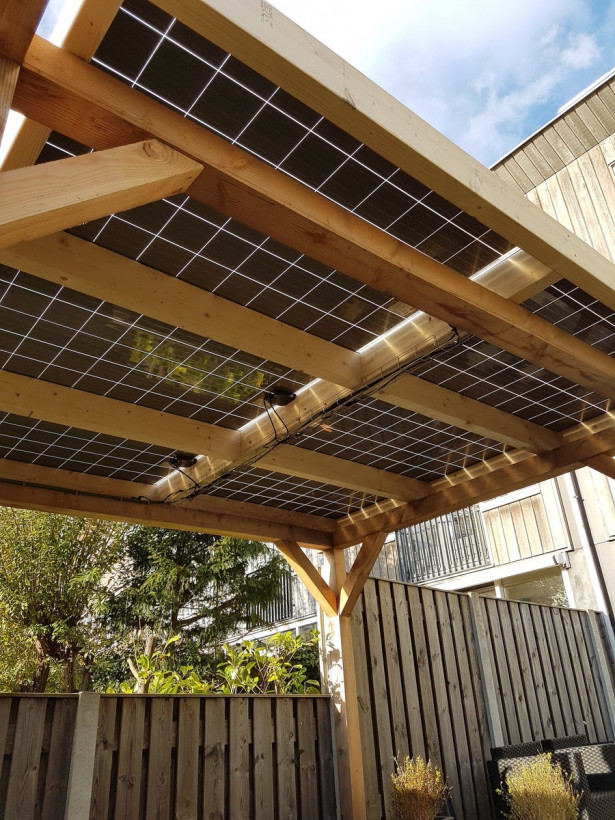 ENGLISH:
We need examples and experiences in energy efficient home renovation for making the transition from gas to heat more common. Part of City-zen is the renovation subsidies for homeowners. Homeowners (private individuals, owners association, housing corporations and investors) in Amsterdam made use of the European City-zen subsidy to make their homes very energy-efficient. The most important criterion included a considerable improvement in the energy performance of the home.
One of the subsidizers is Bert, a homeowner in Amsterdam. Purely based on interest in technical ingenuity and the ability to make his home self-sufficient, he made the choice to renovate his home to an all-electric one. "I now like to share the experiences that I have gained with others who are interested in sustainable renovating their dwelling."
Nice to know; Bert also participates in the City-zen Virtual-Power-Plant pilot. A battery that stores the sustainable generated energy.
Tips:
- Make an inventory of the risks. How dependent are you on your energy advisor and supplier(s).
- Think about how much you pay in advance and how much later in the process.
- Make a list of the advantages and disadvantages of a total renovation package.
- Do a background check of the energy consultant's company: continuity, delivery time, and experiences in sustainable home renovation.
Do you have question for Bert? Get in contact with him via city-zen@amsterdamsmartcity.nl