Want to receive updates like this in your inbox?
Get notified about new updates, opportunities or events that match your interests.
Set up preferences
Maybe you will also like these updates
Cornelia Dinca, International Liaison at Amsterdam Smart City, posted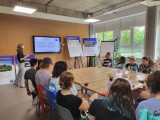 3 Ways to Learn about Amsterdam Smart City
Do you want to connect, learn, and exchange experiences about Amsterdam Smart City? We have designed programs to help you connect to Amsterdam's innovation ecosystem and key learnings from projects in the Amsterdam metropolitan region. Here are our most popular programs:
1. Smart City the Amsterdam Way
We give you an overview of Amsterdam Smart City's program, governance and key projects. It's a light way to get introduced to it all in 1,5 hours and we can also offer this online.
Timing & cost: 1.5h hours, from €300 per group
2. Amsterdam Smart City Deep Dives
Go on a Deep Dive with Amsterdam Smart City and get to the bottom of the energy, mobility, digital city or circular economy transition during this customized 2,5 hour session with multiple experts from Amsterdam's ecosystem.
Timing & cost: 2.5 hours, from €500 per group
3. Smart City Experience
Since 2016, Amsterdam Smart City has hosted more than 250 customized study programs, innovation journeys and trade missions from over 30 countries. With the Smart City Experience we offer tailor-made programs consisting of expert meetings and project visits connecting local and (inter)national stakeholders to the Amsterdam Smart City approach and innovation ecosystem.
Timing and cost: 6-8 hours, from €1,500
Where do the Amsterdam Smart City Programs take place?
Most programs take place, or at least start at, the Smart City Lab on the Marineterrein Innovation District. This is a "small space for big ideas" where we showcase examples of smart city solutions from Amsterdam. The Smart City Experience Lab is also a workplace where Amsterdam Smart City partners meet and collaborate. Groups visiting the Experience Lab can also visit the Marineterrein Amsterdam Living Lab on their own or as a part of an organized program.
Questions
Questions or looking to organize a different or customized program? Send an email with your request to me; Cornelia Dinca, Amsterdam Smart City International Liaison, via cornelia@amsterdamsmartcity.com.
Beep for Help, Direct hulp aan huis. Oplossingen voor een fijn thuis. , posted
Ontmoet Beep for Help, een Amsterdamse sociale startup die ouderen en mantelzorgers hulp aan huis biedt.
Ontdek hoe het idee ontstond, leer meer over digitale marketing en social media en discussieer mee over bedrijfscultuur. Ook vertelt Iconica, onze app ontwikkelaar, over de Beep for Help app.
Ondertussen zorgen wij voor fris en lekkere pizza en is er ruim gelegenheid om bij te praten met diverse mensen uit het veld. Fijn als je ook komt!
De inloop is vrij. Reserveren is fijn, dan weten we hoeveel pizza we verzorgen. Reserveren kan met onderstaande link of mail annebet@beepforhelp.nl
Wanneer: 07/06/2023
Tijd: 17:30
Locatie: Apollolaan 151
Angela Lopez, Marketing , posted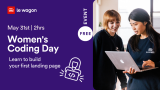 Le Wagon Women's Coding Day is a full morning of coding dedicated to all women who want to gain coding skills
This is a free online workshop for women! Sign up on Livestorm
Le Wagon Women's Coding Day is a full morning of coding dedicated to all women who want to gain coding skills 💪. If you are interested or know women who want to discover to code, this is the place!
Our team of female teachers will assist you during this workshop on the basics of HTML and CSS. In this workshop you will learn:
✨ The tools you need to design, build and host your own landing page
✨ How to structure your landing page with HTML, then style it with CSS and finally get your website live
✨ All the necessary tools to start designing and building pages yourself without any prior coding experience!
About this workshop: This online workshop will start with a lecture to introduce the core concepts. You will then be onboarded on Le Wagon's e-learning platform and access the slides, a sum-up of key notions as well as exercises to keep practising after the webinar.
This workshop is brought to you by the #1 rated coding bootcamp worldwide:
Le Wagon emerged in 2014 as one of the first tech bootcamps in France, offering web development and data science programs. Now, it has grown to a robust global community of tech talents with over 40 Le Wagon campuses in Amsterdam, Berlin, Lisbon, London, Melbourne, Mexico, Montreal, Singapore, São Paulo, Paris, and other cities worldwide. With this expansion, Le Wagon has helped over 20,000 developers, data scientists, designers, and entrepreneurs start their new careers in tech. Nine years on, the school continues to inspire tech aspirants to find their path in the industry.
More news