Highlight
from Amsterdam Smart City, Connector of opportunities at Amsterdam Smart City, posted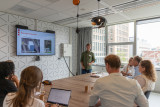 Op dinsdag 11 oktober organiseert Amsterdam Smart City een Demodag bij onze partner Metabolic. Deze keer organiseren we één Demodag voor alle vier de thema's: energie, circulair, mobiliteit en digitaal. Er staan weer veel mooie initiatieven en vraagstukken op het programma die we met ons netwerk gaan verdiepen en verrijken.
Demodagen zijn onderdeel van ons innovatieproces en bedoeld om de voortgang van verschillende innovatieprojecten te stimuleren, hulpvragen op tafel te leggen, dilemma's te delen en anderen te betrekken bij projecten of uitdagingen. Dit gebeurt in de vorm van zogenaamde 'pitches', met een korte hulpvraag aan de hele groep, en in werksessies waarin we een aantal vragen met een kleine groep wat grondiger behandelen. Meer informatie over wat de demodagen precies zijn en waarom je mee wilt doen, vind je hier.
Klinkt het programma interessant? Je bent welkom om aan te sluiten. Laat het ons weten in de comments of mail naar sophie@amsterdamsmartcity.com. De Demodag is van 14:00-16:45 met een borrel na afloop.
Pitches
Gijs Diercks (Drift) over Mobility as a Commons
Gijs zet in zijn pitch uiteen waarom mobiliteit coöperaties een belangrijke rol kunnen pakken in de mobiliteitstransitie, en doet hij een oproep om mee te denken en doen in het vormgeven van een doordachte strategie voor publiek-civiele samenwerking.
Dr. Marta Malé-Alemany (Hogeschool van Amsterdam) over The Green Mile
The Green Mile: de Stadhouderskade als meest groene, vitale en toekomstbestendige straat voor mens, plant en dier in Amsterdam. Marta vertelt in deze pitch over de start van The Green Mile, de plannen voor de toekomst en de uitdagingen.
Sofie-Amalie Torp Dideriksen (Responsible Sensing Lab) over het Smart Doorbells project
Slimme deurbellen komen steeds meer voor in de samenleving. We weten niet wat grote techbedrijven doen met de gegevens die ze via deze camera's verzamelen. Hoe kunnen slimme deurbellen worden ontworpen op een manier dat ze beter aansluiten bij onze maatschappelijke waarden? Het Responsible Sensing Lab onderzoekt deze vraag en presenteert enkele alternatieve prototypes.
Bertram van der Wal (Hiemstra & De Vries) over de Slimme Energiesystemen (SES) Community
De werkgroep slimme energie systemen (SES) van de Provincie Noord-Holland, TenneT en Liander hebben een SES community opgericht om kennis, ervaringen en advies te delen rondom slimme energiesystemen en de aanpak van netcongestie. Bertram vertelt meer over deze community en de digitale sessies die hiervoor georganiseerd worden.
Werksessies
Mobiliteit van de toekomst en vervoersarmoede – Maxim Burlini (provincie Noord-Holland)
Het KiM (2018) heeft in kaart gebracht welke groepen de grootste kans maken op mobiliteitssarmoede. Onder andere inkomen, auto-afhankelijkheid en digitalisering zijn factoren. Wat zijn, gezien de eigenaardigheden van deze risicogroepen, mogelijke interventies om het risico op mobiliteitsarmoede te beperken en wat is de rol van provincie en andere (markt)partijen in dit vraagstuk?
Data en de circulaire economie – Juan-Carlos Goilo (gemeente Amsterdam)
De gemeente Amsterdam is bezig met de voorbereiding van de Amsterdamse Agenda Circulair 2023-2025. Voor de invulling van de dataparagraaf organiseren zij een reeks bijeenkomsten die betrekking hebben op het monitoren van de circulaire economie. De werksessie maakt onderdeel uit van de reeks bijeenkomsten en borduurt voort op de eerste bijeenkomst die op 28 september heeft plaatsgevonden. Met deze werksessie wil de gemeente onderzoeken hoe er meer samengewerkt kan worden om meer inzichten te genereren voor de transitie naar een circulaire economie.
Om deze vraag te beantwoorden, gaan we in op de volgende subvragen: Hoe kunnen partijen samen meer inzichten genereren? En wat is er nodig voor het samen genereren van inzichten? Denk aan wet- en regelgeving, duidelijkere voorwaarden voor samenwerking, samenwerkingsovereenkomst en platform-vorming
Het opschalen van het 15% GasTerug actienetwerk – Edwin Oskam (metropoolregio Amsterdam) en Marc van Gemert (gemeente Amsterdam)
Vanuit het Actienetwerk 15% GasTerug wordt sinds het uitbreken van de oorlog in Oekraïne gewerkt aan het structureel versnellen van energiebesparing. Daarbij is de inzet zowel gericht op energiebesparing bij bewoners en het kleine mkb, op kantoorlocaties en op bedrijventerreinen in onze regio. Vanuit het Actienetwerk worden concrete kansen geïdentificeerd en initiatieven gelanceerd. De uitdaging is om de kansen op zo kort mogelijke termijn om te zetten in acties en succesvolle initiatieven zo snel mogelijk op te schalen over de hele regio. De metropoolregio Amsterdam en gemeente Amsterdam delen tijdens deze werksessie informatie delen over de initiatieven en de kansen die er liggen. Vervolgens gaan ze met de deelnemers in gesprek over hoe er tot versnelling gekomen kan worden.
Tijdens de werksessie gaan we in op de volgende vragen: Hoe kunnen kansen sneller omgezet worden naar acties? Wat is er nodig voor opschaling naar de hele regio? En hoe kan er samengewerkt worden om deze versnelling en opschaling te bewerkstelligen?
Het bereiken van een vrije testzone op het Marineterrein – Gian Luca van der Putten en Juanita Devis Clavijo (Bureau Marineterrein)
Het Marineterrein is de afgelopen vier jaar uitgegroeid tot een Living Lab voor experiment en innovatie op het gebied van stedelijke uitdagingen. Enkele van de lopende experimenten die zichtbaar zijn op het Marineterrein zijn de Roboat van AMS Institute en de Shuttercam van het Responsible Sensing Lab. De ervaring leert dat de meest voorkomende uitdagingen bij het implementeren van experimenten verband houden met vergunningen.
Het Marineterrein werkt eraan om een regulerende "sandbox" of "vrije zone" te worden, waardoor innovaties kunnen worden getest die niet volledig in overeenstemming zijn met de bestaande wet- en regelgeving. Het bereiken van deze "sandbox" -status een uitdaging, omdat de meeste experimenten nog steeds een vergunning vereisen. Tijdens deze sessie wil het Marineterrein Amsterdam Living Lab leren van andere living labs en regulatory sandboxes: wat zijn de ervaringen en aanbevelingen voor het navigeren en vereenvoudigen van vergunningsprocessen om het makkelijker te maken om innovatieve oplossingen in real life omgevingen te testen?
Foto: Myrthe Polman