Highlight
from Amsterdam Smart City, Connector of opportunities at Amsterdam Smart City, posted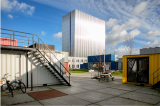 The digitization of our society produces an exponentially increasing amount of data, which causes an increased need for data centres and connectivity. In 2030, there is expected to see a twenty-fold increase in data traffic, consuming 5% of worldwide electricity at that point. A recent report in the Netherlands has shown quite some hesitance on whether or not the foreseen rise in data centres in The Netherlands is the right way to go.
Some say data centres take up precious space, require quite some of our (green) energy and (drinking) water, and they would not create much direct employment either. The report showed that the connectivity and availability of data centres in The Netherlands at this moment would suffice for the Dutch market, as it only uses about a third of their capacity.
Critics were quick to respond and argued the economic value of accommodating data centres for big data-driven industries. Not only the economic value of high-connectivity data centres is worth mentioning, but also the security and ownership of our (European) data is a factor worth mentioning. While the demand for connectivity and data use is rising, it is necessary to prepare for decision making that takes these aspects into account. And the Netherlands, of course, is not the only country to have to do so!
In this international session of Data Dilemmas we invite you to talk about the costs and benefits of accommodating data centres, the complexity of the weighing of these aspects, and how future policies could manage these.
Program: Online event
Date: 28th of October 2021
Language: English
15.50: Digital walk-in
16.00 – 16.05: Introduction by Amsterdam Smart City & Datalab
16.05 – 16.10: Introduction to challenge
16.10 – 17.00: Presentations + Q&A
17.00 – 17.20: Plenary discussion and wrap-up
Speakers:
Wout Rensink (Province of Noord-Holland)
Thomas Moran (techUK)
Daan Terpstra (SDI Alliance)
***About the Data Dilemmas series***
The increasing need for data centres shows the speed at which the digitalization of our environment is growing, as the possibilities of using data and new technologies to address big transitional challenges are endless. We use the data to make cities safer, cleaner and more accessible. But do we really need the data in all cases? What happens to all the data that is collected? Which choices did people make and why? Which dilemmas can be encountered? These questions are important for everyone; for governments, knowledge institutions, residents and companies. Amsterdam Smart City likes to explore with you which decisions are needed for responsible use of data. Data Dilemmas is a collaboration between Amsterdam Smart City and the City of Amsterdam's Datalab.