Want to receive updates like this in your inbox?
Get notified about new updates, opportunities or events that match your interests.
Set up preferences
Maybe you will also like these updates
Frans-Anton Vermast, Strategy Advisor & International Smart City Ambassador at Amsterdam Smart City, posted
Amsterdam Smart City congratulates Haarlem with this prestigious award of the European Commission.
And the winner of the Rising Innovative City 2022 is: the city of HAARLEM in the Netherlands. Congrats on this great achievement to make Haarlem and the Amsterdam Metropolitan Region an even more liveable place for the people who live, work and play.
Let this award be a further stimulation of great things to happen to improve the quality of life of citizens and make Haarlem a digital and social inclusive society. #EICSummit22
Amsterdam Smart City hopes to welcome you (back) as a valued partner in our ecosystem!
Adriaan van Eck, Implementing IoT & Smart Energy , posted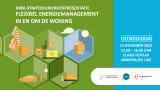 Op 15 december 2022 organiseren FAN, ElaadNL en TKI Urban Energy een mini-symposium rondom energiemanagement in en om de woning. Wij nodigen jullie van harte uit om dit event bij te wonen.
De opkomst van all-electric woningen en elektrische voertuigen (EV's) leidt tot een forse stijging van de stroomvraag in woonwijken. Daarnaast zien we steeds meer duurzame opwek door zonne- en windenergie. Met deze energietransitie komt het elektriciteitssysteem langzaam maar zeker onder druk te staan: de vraag naar elektriciteit stijgt. Bovendien komt deze vraag niet verspreid over de dag, maar ontstaan op bepaalde momenten grote pieken; bijvoorbeeld als men allemaal rond etenstijd de elektrische auto inplugt na een werkdag. Ook overlapt de vraag naar elektriciteit vaak niet met de opwek van duurzame energie.
Home Energy Management gaat een rol spelen om balans te brengen in vraag en aanbod van elektriciteit, om overbelasting van het elektriciteitsnet te voorkomen en de opwek en gebruik van duurzame energie beter op elkaar af te stemmen: het flexibel aansturen van apparaten in en om de woning maakt het mogelijk om een deel van de vraag en het aanbod naar elektriciteit te veranderen, te verschuiven of uit te spreiden in de tijd.
Het uitgangspunt is dat digitale oplossingen en nieuwe slimme energiediensten de consument gaan helpen, dit kan door het gebruik van een Home Energy Management System (HEMS) die energieverbruik kan afstemmen op de beschikbaarheid van zelf opgewekte energie of voordelige energieprijzen.
Om de inzet van energiemanagement in en om de woning te versnellen en in goede banen te leiden is een goede samenwerking nodig tussen bedrijven uit de energiesector, installateurs, energie-coöperaties en leveranciers van gebouwsystemen, en de eigenaren en gebruikers van gebouwen. Dit onderzoek biedt inzicht wat er nodig is om energiemanagement in en om de woning verder op te schalen en hoe dit bereikt kan worden.
Je bent van harte uitgenodigd om dit mini symposium bij te wonen. We zien je graag op 15 december in het Testlab van ElaadNL in Arnhem, of 'digitaal' in het webinar.
Cornelia Dinca, International Liaison at Amsterdam Smart City, posted
The webinar "Digital ecosystem for the New European Bauhaus (NEB)" aims to showcase how digiNEB.eu can contribute to the NEB ecosystem by adding digital solutions and tools.
The webinar is divided into two main parts. The first introductory part will illustrate the digital solutions to expand the NEB's practices among stakeholders and user groups from different contexts. The second part will involve panelists explaining how to better bring digital solutions to the world of NEB.
For more information and to register visit: https://digineb.eu/events/webinar-digital-ecosystem-new-european-bauhaus-neb
More news