Want to receive updates like this in your inbox?
Get notified about new updates, opportunities or events that match your interests.
Set up preferences
Maybe you will also like these updates
Herman van den Bosch, professor in management development , posted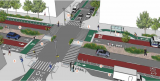 This is the 9th episode of a series 25 building blocks to create better streets, neighbourhoods, and cities. Casualties in traffic are main threats to the quality of the living environment. 'Vision zero' might change this.
Any human activity that annually causes 1.35 million deaths worldwide, more than 20 million serious injuries, damage of $1,600 billion and is a major cause of global warming would be banned immediately. Except for the use of the car. This post describes how changes in road design will improve safety.
The more public transport, the safer the traffic
Researchers from various universities in the US, Australia and Europe have studied the relationship between road pattern, other infrastructure features and road safety or its lack. They compared the road pattern in nearly 1,700 cities around the world with data on the number of accidents, injuries, and fatalities. Lead researcher Jason Thompsonconcluded: <em>It is quite clear that places with more public transport, especially rail, have fewer accidents</em>. Therefore, on roads too public transport must prioritized.
The growing risk of pedestrians and cyclists
Most accidents occur in developing and emerging countries. Road deaths in developed countries are declining. In the US from 55,000 in 1970 to 40,000 in 2017. The main reason is that cars always better protect their passengers. This decrease in fatalities does not apply to collisions between cars and pedestrians and cyclists, many of which are children. Their numbers are increasing significantly, in the US more than in any other developed country. In this country, the number of bicycle lanes has increased, but adjustments to the layout of the rest of the roads and to the speed of motorized traffic have lagged, exposing cyclists to the proximity of speeding or parking cars. SUVs appear to be 'killers'and their number is growing rapidly.
Safe cycling routes
In many American cities, paint is the primary material for the construction of bike lanes. Due to the proximity of car traffic, this type of cycle routes contributes to the increasing number of road deaths rather than increasing safety. The Canadian city of Vancouver, which doubled the number of bicycle lanes in five years to 11.9% of all downtown streets, has the ambition to upgrade 100% of its cycling infrastructure to an AAA level, which means safe and comfortable for all ages and abilities. Cycle paths must technically safe: at least 3 meters wide for two-way traffic; separated from other traffic, which would otherwise have to reduce speed to less than 30 km/h).  In addition, users also need to feel safe.
Street design
Vision Zero Cities such as Oslo and Helsinki are committed to reducing road fatalities to zero over the next ten years. They are successful already now: There were no fatalities in either city in 2019. These and other cities use the Vision Zero Street Design Standard, a guide to planning, designing, and building streets that save lives.
Accidents are often the result of fast driving but are facilized by roads that allow and encourage fast driving. Therefore, a Vision Zero design meets three conditions:
• Discouraging speed through design.
• Stimulating walking, cycling and use of public transport.
• Ensure accessibility for all, regardless of age and physical ability (AAA).
The image above shows a street that meets these requirements. Here is an explanation of the numbers: (1) accessible sidewalks, (2) opportunity to rest, (3) protected cycle routes, (4) single lane roads, (5) lanes between road halves, (6) wide sidewalks, (7) public transport facilities, (8) protected pedestrian crossings, (9) loading and unloading bays, (10) adaptive traffic lights.
Enforcement
Strict rules regarding speed limits require compliance and law enforcement and neither are obvious. The Netherlands is a forerunner with respect to the infrastructure for bikes and pedestrians, but with respect to enforcement the country is negligent: on average, a driver of a passenger car is fined once every 20,000 kilometers for a speeding offense (2017 data). In addition, drivers use apps that warn of approaching speed traps. Given the risks of speeding and the frequency with which it happens, this remissing law enforcement approach is unacceptable.
Follow the link below to find an overview of all articles.
Tom van Arman, Director & Founder at Tapp, posted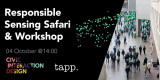 There is a lot of sensing going on in Amsterdam. Where are these sensors? What kinds of sensors are there? How do these sensors help our city? Join us on October 4th for a hands-on workshop to learn how to use 1) privacy-by-design toolkits, 2) discover citizen centric sensors and 3) learn how to make your own smart city projects more responsible.
Join us for an inspiring afternoon to learn and build human centric smart city technologies.
REGISTER FREE >> Eventbrite Responsible Sensing Safari & Workshop
Are you a concerned smart citizen, or smart city innovator? This workshop is for you! Tom van Arman, from TAPP - Smart City Architecture will guide you through the many legal, technical and even spatial considerations that you'll need to know about before deploying sensors in public space. Participants will go on a real-world Sensor Safari to discover the many devices in their natural habitat. Finally, roll up your sleeves and work together in a 'Sensing Dilemma Workshop' where we will field test some sensing projects to see how it can help (or harm) our future city! The workshop will take place on the Marineterrein, an inner-city test ground for a sustainable living environment.
Ethics in smart city technology is not something you assess at one specific point in time in a tech's lifecycle and then can forget about it. In the project Human Values for Smarter Cities, researchers, designers, civil servants (The Hague, Rotterdam and Amsterdam), and citizens look for ways ethical principles can be interwoven in the articulation, making, deployment and adjustment of smart city technology.
Xander Bakker, Community Manager at Green Innovation Hub, posted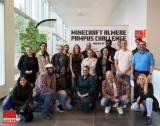 Met een spetterende kick-off door Justin Edwards, Director of Learning Programmes van Microsoft, zijn 200 studenten van hogeschool Windesheim Flevoland vandaag in teams gestart met het in Minecraft bouwen van het nog te realiseren stadsdeel Pampus. Bijzonder omdat Almere als tweede stad na London start met een Minecraft challenge voor de realisatie van een nieuwbouwopgave. Het winnende studententeam van Windesheim mag haar concept van 7 – 9 november presenteren in het Holland paviljoen tijdens de Smartcity Expo World Congres in Barcelona.
De komende anderhalf jaar biedt Almere honderden jongeren tussen de 8 en 21 jaar op deze unieke manier de kans om zelf op de stoel van de architect te zitten en zo mee te denken over grote maatschappelijke vraagstukken. Basisschoolleerlingen en studenten bouwen op hun eigen niveau aan een virtueel Almere Pampus. Dit als plek waar zij in de toekomst zelf willen wonen. Dit stadsdeel bouwen ze met een speciale versie van Minecraft Education Edition.
Wethouder Maaike Veeningen van Almere (Economische ontwikkeling, hoger onderwijs): 'we dagen leerlingen tot 21 jaar uit om met oplossingen te komen voor vraagstukken op het gebied van duurzaam, energiezuinig en inclusief bouwen. Op deze manier leren zij bijvoorbeeld over het gebruik van Artificial Intelligence (AI), Virtual Reality (VR) en robotisering bij het ontwikkelen van een nieuw stadsdeel. Zo betrekken we onze toekomstige inwoners bij het bouwen aan de ideale stad van de toekomst.'
Toekomstige leefomgeving
Het toekomstige Almere Pampus wordt in het zuidwesten van Almere gebouwd, met meer dan 30.000 woningen en 16.000 arbeidsplaatsen. Projectdirecteur Almere Pampus en senior stedenbouwkundige bij de gemeente Almere Paola Huijding over de Minecraft Challenge: "Deze leerlingen zijn misschien de toekomstige bewoners van Pampus. Hiermee bouwen we aan woon- en werkplekken omringd door water en groen. Het is daarom zo mooi dat juist de toekomstige generatie nu meedenkt over hun leefomgeving."
Digitaalvaardig
De speciale editie van Minecraft die de studenteams gebruiken is ontwikkeld door Iamprogrez. Het gebruik ervan moet op een speelse en laagdrempelige manier bijdragen aan een digitaal vaardige samenleving. Scholieren krijgen zo inzicht in de banen van de toekomst. Ook kunnen zij in een buddysysteem ouderen meenemen in hun digitale kennis en vaardigheden.
Fleur van Beem, Executive Director bij VodafoneZiggo: "Het vooruithelpen van twee miljoen mensen in de samenleving willen wij bereiken door initiatieven als Online Masters, een online lesprogramma voor scholen over de digitale wereld. De Minecraft Challenge sluit hierop naadloos aan en het is natuurlijk fantastisch om dankzij gamification jongeren digitaalvaardig te krijgen."
Bouwen aan innovatieve concepten
De leerlingen kunnen alleen of in teams werken aan de challenge en krijgen hiervoor een digital skills-certificaat. Na de ontwerpfase, kunnen zij hun toekomstige visie op Pampus uploaden op de website van de Green Innovation Hub (GIH). Een groep experts kiest de winnaar. Danny Frietman, Projectdirecteur van de GIH: "De winnende uitkomsten van de Minecraft Challenge vormen de basis voor ons om start-ups en scale-ups uit te dagen om de concepten van de scholieren daadwerkelijk in de praktijk te brengen."
"Hoe ziet het er dan uit"
Kijk HIER naar de video aankondiging van de eerder gehouden Minecraft-challenge in Londen. Daarin zie je duidelijk hoe de challenge werkt en welke mogelijkheden Minecraft hiervoor biedt.
Fotografie Daan Klunder, Almere City Marketing
More news