Last week we went on a smart city tour with our partners to see some projects together. It was part of a tour that many international delegations do when they visit Amsterdam. The afternoon was so inspiring and fun we wanted to share it with you too!
– article in Dutch, more information about tours can be found here: www.amsterdamsmartcity.com/visit
De harde wind neemt ons mee naar de NDSM werf in Amsterdam Noord. Ooit de kern van economische groei uit de scheepsbouw, later door verplaatsing van deze bouwactiviteit stond het gebied voor verlies van duizenden banen en groot verval. Door creatief om te gaan met kansen is dit gebied een ware broedplaats geworden waar vele bezoekers op af komen.
Robotic 3D print technology
We zijn op bezoek bij MX3D. Een plek waar innovatie van software en 3D-print robots tot een unieke brug hebben geleid. De brug is van roestvrijstaal en zal in het centrum van Amsterdam worden geplaatst. Er wordt ons uitgelegd dat het nog wel een hele dure brug is, maar wel een derde minder materiaal nodig heeft. "Hoe belangrijker hergebruik van materialen wordt, hoe belangrijker dit soort processen worden."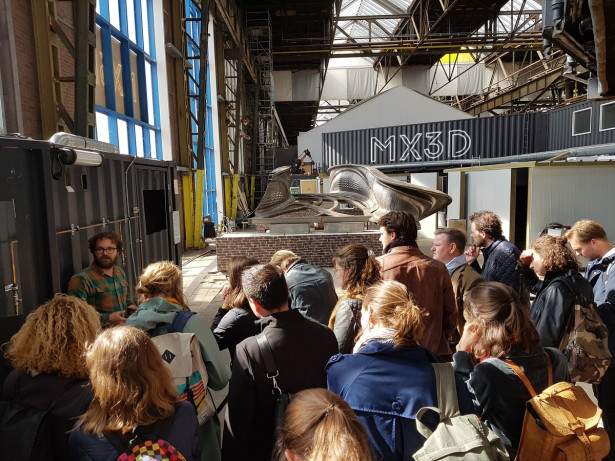 Cornelia Dinca organiseert de tours voor Amsterdam Smart City en is ook vandaag onze host. Ze legt uit hoe veel er in Amsterdam gebeurt, ook van onderop door de bewoners. Maar het is niet allemaal even goed bekend. Daarom is zij haar bedrijfje Sustainable Amsterdam begonnen. Daarmee organiseert ze bezoeken aan al deze initiatieven om ze met elkaar en de buitenwereld te verbinden. En nog altijd komt ze nieuwe ontwikkelingen tegen in de stad.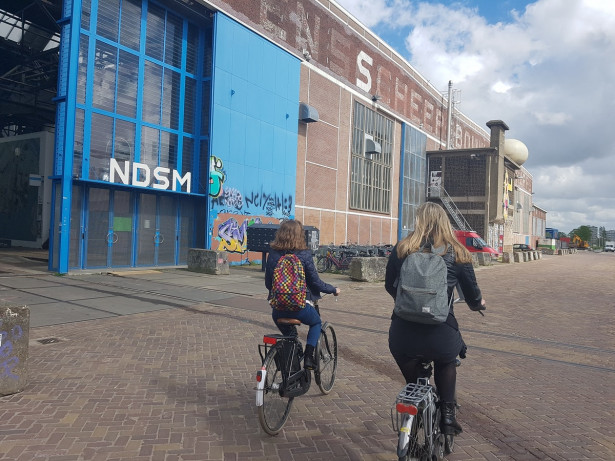 Living lab approach
De tweede stop van de tour die Cornelia ons geeft is de Ceuvel. Het terrein van De Ceuvel was door de scheepsbouw zo vervuild dat er niet op gebouwd mocht worden. Daarom heeft de gemeente om een innovatief idee gevraagd, en wie het weet mag het zeggen! Degene met een goed plan, waarbij de buurt sociaal en fysiek wordt hersteld, mocht voor 10 jaar het gebied gebruiken. Afgedankte woonboten zijn hergebruikt als kantoorruimtes, het café genereert inkomsten en sociale cohesie, en planten zuiveren de grond. Waternet maakte voor Metabolic, het brein achter de circulaire voorzieningen, een bijzondere uitzondering om niet aan het riool aangesloten te zijn maar zelf door middel van planten waterzuivering toe te passen.
Nieuwe stroming in circulaire economie
Het idee is om deze living lab (proeftuin) te gebruiken als plek om te leren, en succesvolle oplossingen vervolgens op grotere schaal toe te passen. Dit gebeurt bijvoorbeeld in de wijk Buiksloterham waar men zelfbouw kan toepassen en daar ook flexibeler met wetgeving om kan gaan om zo tot duurzame zelfvoorzienende oplossingen te komen. Ook komt er een woonbotencomplex Schoonschip waarbij de principes van de Ceuvel ook op woningen worden toegepast, in plaats van te beperken tot kantoor en recreatieruimtes.
Opvallend is dat een nieuwe stroming van aanpak binnen circulaire economie is aangebroken, met Amsterdam als koploper; het meetbaar maken van materiaalstromen. Niet alleen hergebruiken en kleinschalige projecten volstaan. Men begint er steeds meer van overtuigd te raken dat de circulaire economie grootschalig en meetbaar moet zijn. Dit biedt ook meer economische kansen binnen het circulaire denken en grotere impact.
In slechts twee uur tijd heeft Cornelia ons veel verteld over de ontwikkelingen die zo dichtbij spelen, en hoe partijen lokaal en internationaal daar grote interesse in hebben. Wij hebben boven alles een enorm inspirerende en gezellige middag gehad!
Dank gaat uit naar Cornelia, MX3D, Metabolic en onze partners voor deze mooie middag! Wil je ook op stap in de slimme stad? Kijk op www.amsterdamsmartcity.com/visit of mail naar <a>cornelia@amsterdamsmartcity.com</a>