Aquatic plants transform into bench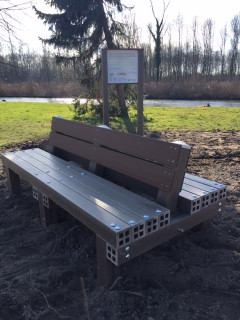 Can you sit on aquatic plants?
What is the goal of the project?
Can you sit on aquatic plants? In the City of Almere you can, when mixed with just the right amount of grass and potato starch! We developed the first bench in the Netherlands made of these bio-materials. Materials that used to be considered as waste.
What is the result of the project?
As an ambitious city and organizer of the sustainable world exhibition Floriade, Almere wants to develop into an energy-neutral and zero waste city by 2022. Where raw materials from waste are readily available, a whole new economy may be created.
This is just the beginning, we have still a long way to go. How can we convert our waste into products that are useful and in demand? That is what the City of Almere wants to find out in the near future.
Who initiated the project and which organizations are involved?
Municipality of Almere, Millvision, Economic Development Board Almere
What is the next step?
Developping new recipes with biomass for new products.
What can other cities learn from your project?
You can use waste of the city to make products for the city.
---