Duurzaamheidsfonds Amsterdam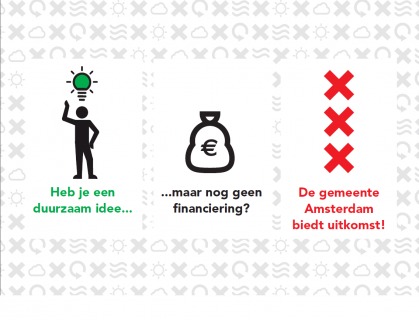 Matching great ideas with cheap loans
What is the goal of the project?
In Amsterdam zijn veel mooie voorbeelden van duurzame koplopers: bewoners, bedrijven of organisaties die met innovatieve plannen aan de slag gaan om Amsterdam duurzamer te maken. Soms lukt het niet om een duurzaam project volledig te financieren. Juist daarvoor heeft de gemeente Amsterdam het Duurzaamheidsfonds.
Allerlei projecten kunnen in aanmerking komen voor financiering. Denk aan het plaatsen van zonnepanelen op daken, het installeren van warmte/koude-opslag, gebouwen verduurzamen met een energiecoöperatie of bijvoorbeeld hergebruik van grondstoffen. Iedereen kan een aanvraag indienen bij het fonds: bewonersinitiatieven, bedrijven en maatschappelijke instellingen.
www.amsterdam.nl/duurzaamheidsfonds
---