Floating Solar Challenge Amsterdam Science Park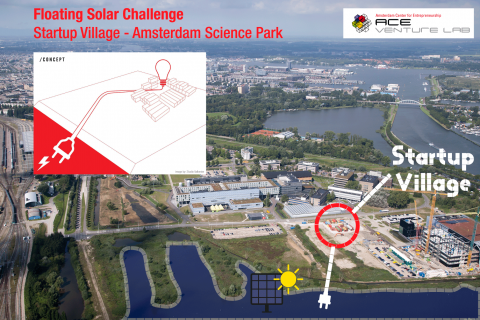 Help building a floating solar energy plant in Amsterdam
What is the goal of the project?
Our mission is to create a coalition of solar experts to realize a floating solar platform. The coming 10 years, we want to power Startup Village with floating solar panels located in an amazing, undiscovered body of water on Amsterdam Science Park. We want to offer opportunities to all of the institutes, companies, and students and researchers based on Science Park to be part of this project. We offer readily accessible knowledge about solar and a community of bright entrepreneurs.
Who initiated the project and which organizations are involved?
The project is initiated by Startup Village, which is a new community working space at Amsterdam Science Park where the most innovative high-tech and science based startups are hosted. Startup Village is an initiative by ACE Venture Lab, Amsterdam Science Park, and UvA Holding. Other involved parties are Studio Valkenier and Nuon.
What is the next step?
Currently, we are searching for and talking with interested parties to form a coalition that want to help realize the floating solar project. The main step at the moment is finding companies that can design a floating solar construction and possess the required technology.
http://www.startupvillage.nl/join-us/
---