The Bio-based street bench : A sustainable cooperation between Waternet and NPSP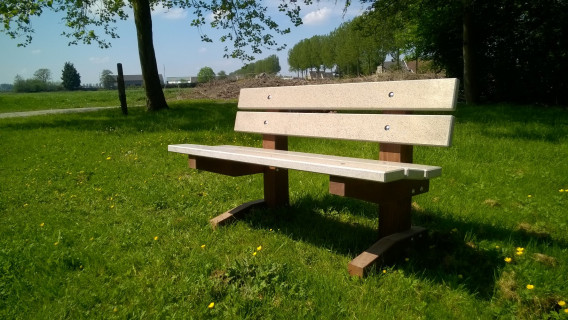 Using a biocomposite to make street benches
What is the goal of the project?
Waternet, the water company for Amsterdam and the surroundings, is continuously seeking sustainable solutions to minimize its impact on the environment. Waternet and other regional landowners have a lot of residual materials such as thatch, roadside grass, water plants, calcite and cellulose. Instead of discarding these materials, Waternet explored beneficial options for reuse.
Together with NPSP, a company with 10 years of experience in manufacturing sustainable, fiber-reinforced plastics for construction, Waternet has developed a bio-based material from its natural residual materials. The result is a strong biocomposite that is ideally suitable for outdoor use and has a lifespan of about 25 years.
Converting residual materials into biocomposite reduces the CO2 footprint. Normally, water plants rot quickly, and during this process CO2 is released, but also other more damaging greenhouse gases such as methane and nitrous oxide. If water plants are converted in biocomposite, these greenhouse gases are stored within the biocomposite instead of being absorbed by our atmosphere! At the end of its lifespan, the biocomposite can be combusted and used as a source of renewable energy. In addition, the biocomposite can replace the conventional composite materials such as glass and calcium carbonate, thus saves the industry energy, and therefore greenhouse gas emission, which is needed to produce glass or import calcite from abroad.
With this biocomposite, Waternet and NPSP have produced a street bench and a table. Further demonstration products will be made in order to investigate other potential uses for the biocomposite , such as furniture, tide gauges, street name signs, the possibilities seems endless!
We are proudly showing our street bank from event to event. The next event will be the National Science Day (Wetenschapsdag) on October 2nd.
Who initiated the project and which organizations are involved?
---