Witkar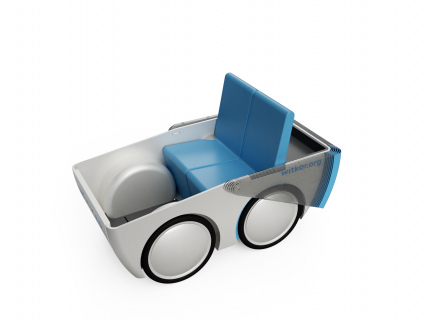 Oplossing voor first en last mile
Check the video footage from 1974:
English
Nederlands
What is the goal of the project?
Witkar brengt je op plaatsen waar het openbaar vervoer niet rijdt, de zogenaamde first mile en last mile. Witkar is een systeem van deelvoertuigen. Witkar rijdt op veilige stads- snelheid en is geschikt voor individueel vervoer.
Het voertuig heeft geen wachttijden en is daarmee op de korte afstand toch snel. Witkar heeft een netwerksysteem, geen stelsel van lijnen. De gebruiker rijdt rechtstreeks naar de hub van bestemming en hoeft dus niet over te stappen. Doordat het individueel is, is het geschikt voor gebieden met weinig vervoer. Het OV en Witkar vullen elkaar dus perfect aan.
Witkar heeft een trapgenerator waarmee je de snelheid van de elektromotor aangeeft. De overkapping kun je zelf openen en sluiten.
In een Witkar-hub is ruimte voor meerdere deelvervoermiddelen zoals OV-fiets, Felyx of Biro. Witkarren gebruiken 25% van de ruimte die auto's innemen.
Who initiated the project and which organizations are involved?
Witkar is in 1974 gestart op initiatief van Luud Schimmelpennink.
What is the next step?
Een prototype van de nieuwe Witkar wordt op dit moment ontwikkeld.
---