Viktorija Balodis, Marketing intern at A Lab Amsterdam, posted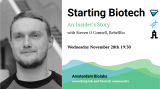 Gene editing, designer babies, cure for cancers or novel foods and materials? These are just few of the promises of modern Biotechnology. And none of this would be within reach today without brave explorers that are willing to pick up the torch and take the risk. This is a new breed, part Scientist and part Entrepreneur, these are the heroes pioneering the future.
How do you start? What should you do to transform your science and research into a success? What are the mistakes to avoid? And most importantly, where does the capital to start such a venture come from?
For many starting a Biotech company is a dream and yet some fail or are daunted by the threshold to get into the industry. But in this century this has changed, and tonight you will hear how.
For this special event we invited guest from London that will share his best kept secrets. Steven O Connell witnessed in first place the pearls and pitfalls of starting a biotech company and helped spur innovation that is reshaping food and healthcare. Currently working at the accelerator RebelBio, he has kindly agreed to join us and share with us the tricks of the trade and best practices to unleash the power of biotechnology.
Time schedule
19:30 doors open
20:00 introduction
20:15 the Conversation Starts
21:00 Q&A
21:30 Wrap-up
About Steven O Connell:
Steven O Connell is the Associate Director & Programme Manager for RebelBio.
Cited by Philip Hemme, CEO of Labiotech EU as "European Biotechnologies Biggest Rebel" Steven helps early stage synthetic biology & biotechnology companies develop in Cork, Ireland by running an intensive but rewarding mini-MBA style programme to de-risk these ventures.
He holds a BSc Hons in Pharmaceutical Biotechnology from CIT and an MSc in Biotechnology and Business from UCD & the Michael Smurfit Graduate Business School. Steven has business development experience with startups and established companies giving him a unique perspective on how to help develop early stage biotech startups.