Stay in the know on all smart updates of your favorite topics.
Anne-Ro Klevant Groen, Marketing and Communications director at Fashion for Good Museum, posted
The expo: 'Fashion Week: A New Era' celebrates fashion through the years and explores how this phenomenon developed over time. How does the event influence the fashion industry? And what does the future hold for fashion week?
Every year during Fashion Week the latest fashion is shown on catwalks in Paris, Milan and New York and other metropoles across the globe. This iconic event has a major impact on the fashion industry and on our own wardrobes. In 'Fashion Week: A New Era', the Fashion for Good Museum unpacks the Fashion Week, delving into its past, present and future. View historic looks from the runways of Balenciaga, Versace, Moschino and many more; discover the innovative work of Dutch fashion designer Ronald van der Kemp and digital fashion house The Fabricant.
Amsterdam Smart City, Connector of opportunities at Amsterdam Smart City, posted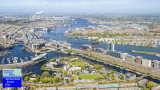 Do you want to connect, learn, and exchange experiences with Amsterdam Smart City representatives? Our programs match the needs of any local, national and international stakeholder who is interested in discovering Amsterdam's innovation ecosystem.
One of our roles is to distil key learnings from urban innovation projects in the Amsterdam metropolitan region and share those. Through our programs we also learn from other cities and their experiences.
We've made a selection of our most popular programs:
1. Smart City the Amsterdam Way 
We give you an overview of Amsterdam Smart City's program, governance and key projects. It's a light way to get introduced to it all in 1,5 hours and we can also offer this online. Cost: 500 euro.
2. Amsterdam Smart City Answers Your Questions 
Ask all your questions about Amsterdam Smart City and get advice on your Smart City Project or Program. Meet our representative online or face to face to get the insight you've been missing. Cost: 300 euro.
3. Amsterdam Smart City Deep Dives 
Go on a Deep Dive with Amsterdam Smart City and get to the bottom of the energy, mobility, digital city or circular economy transition during this customized 2,5 hour session with multiple experts from Amsterdam's ecosystem. Cost: 800 euro.
Where do the Amsterdam Smart City Programs take place?
Most programs take place, or at least start at, the Smart City Lab on the Marineterrein Innovation District. This is a "small space for big ideas" where we showcase examples of smart city solutions from Amsterdam. The Smart City Experience Lab is also a workplace where Amsterdam Smart City partners meet and collaborate. Groups visiting the Experience Lab can also visit the Marineterrein Amsterdam Living Lab on their own or as a part of an organized program.
Questions
Questions or looking to organize a different or customized program? Send an email with your request to cornelia@amsterdamsmartcity.com.
Coen Bakker, Marketing Manager , posted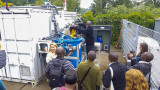 A Waste Transformer is a small-scale anaerobic digester which organisations place on their own site, transforming their own organic waste into green energy (biogas, electricity, heat) and fertilizer. A circular economy around your own waste streams.
A Waste Transformer is the perfect solution for organisations which produce between 600KG and 3600KG of organic waste per day. Normally waste is a cost, with a Waste Transformer it becomes a source of positive (financial) change. It is a high tech installation, but with low tech daily usability. This Waste Transformer in Amsterdam, transforms the organic waste from 10 restaurants, a hotel and micro brewery into green energy. The fertilizer is given back to the park, and the energy created turning the lights on in the restaurants.
A Waste Transformer is suitable in many situations, worldwide. It provides jobs for people with a distance to the labour market, it reduces greatly your waste handling costs, and it creates green energy and fertilizer. Then we have not even discussed the positive stories each Waste Transformer owner can share with their clients and stakeholders.
Upcycling waste, on your own premises.
By the way. A Waste Transformer is a closed systems, which means you don't smell it once it is inside the Transformer. Good energy!
Stay up to date
Get notified about new updates, opportunities or events that match your interests.
Set up preferences