Ben je als ondernemer, docent of student bezig met een lokaal circulair initiatief en wil je een beeld krijgen van de (duurzaamheids)impact ervan? Doe dan mee met de online masterclass van de Hogeschool van Amsterdam (HvA) op 4 of 11 februari. Tijdens de interactieve webinar helpen HvA-onderzoekers Krispijn Faddegon (psychologie/ sociologie) en Maarten Mulder (circulair ontwerpen) om jouw initiatief verder te brengen.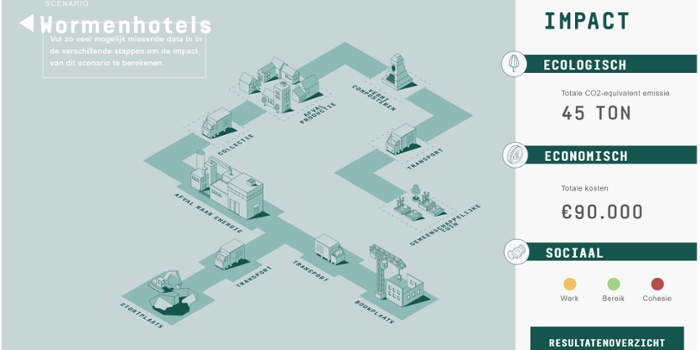 Wereldwijd dreigen grondstoffen op te raken die belangrijk zijn voor onze manier van leven. Daarmee overschrijden we de grenzen van wat de aarde ons kan bieden. Door circulair met deze grondstoffen om te gaan, kunnen we deze trend keren. Hoe zorgen we ervoor dat we in 2030 al 50% minder primaire grondstoffen gebruiken?
CIRCULAIR ONDERNEMEN
Circulair ondernemen wordt door overheden gestimuleerd en ook op lokaal niveau neemt het aantal circulaire initiatieven toe. Denk aan wormenhotels of het hergebruik van houten meubels en textiel. Het kan echter lastig zijn om te bepalen wat de effecten ervan zijn, zoals de CO2-uitstoot of extra arbeid. Hoe weet je of het op een bepaalde manier hergebruiken van materialen ook daadwerkelijk bijdraagt aan een betere wereld? Of op kleinere schaal: een betere stad of buurt?
HVA MASTERCLASS
Om daar een inschatting van te kunnen maken, biedt de HvA een masterclass aan: Hoe bepaal je de impact van een lokaal circulair initiatief? In de masterclass bekijken we een initiatief vanuit drie duurzaamheidspijlers:
ecologische impact, zoals CO2-emissies;
economische impact, waaronder kosten en eventuele opbrengsten;
sociale impact, zoals sociale cohesie of educatie.
'Tijdens deze online masterclass gaan we specifiek in op jullie eigen initiatieven en vragen', vertelt onderzoeker Mulder (HvA). 'Daarnaast bieden we voorbeelden rondom het hergebruik van hout en GFE-afval. Hiervoor gebruiken we onder andere onze ontwikkelde Re-Store-tool, waarmee de ecologische, economische en sociale impact ingeschat kunnen worden voor GFE-initiatieven.'
METEN VAN IMPACT
Het meten van impact rondom circulaire initiatieven is een vakgebied in ontwikkeling, waarbij discussie en vragen vanzelfsprekend zijn. De masterclass biedt een raamwerk om vanuit meerdere invalshoeken naar circulaire initiatieven te kijken en helpt je ontdekken op welke indicatoren je moet letten en hoe je die kunt meten. Doe en denk mee en laat je inspireren door lokale circulaire initiatieven.
INFO MASTERCLASS
4 februari, 15.00-17.00 uur - Voornamelijk voor medewerkers HvA
11 februari, 15.00-17.00 uur - Voornamelijk voor externen