---
Want to receive updates like this in your inbox?
Get notified about new updates, opportunities or events that match your interests.
Set up preferences
Maybe you will also like these updates
Noor Veenhoven, Program manager energy & circularity at Amsterdam Smart City, posted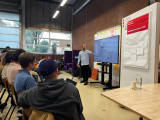 Amsterdam, a city with an ambitious goal of becoming fully circular by 2050, envisions a future where materials are continuously reused, waste is minimized, and resource cycles are closed. Achieving this vision hinges on the availability and analysis of data, which allows us to assess the extent to which materials are used, reused, or wasted. However, this data is often elusive, complex to analyse, and, in some cases, not even recorded. These challenges surrounding circular data were the focal point of our recent event, "Data Dilemma's: Collecting Data for the Circular Economy."
During Data Dilemma's, we explore the possibilities for using data and new technologies to address urban and societal challenges, with a focus on responsible digitalization. The goal is to use data to make cities more safe, clean and accessible. But what happens to all the data that is collected? Which dilemmas do we encounter when we collect (personal) data to improve the city.
Apparently, the topic of this edition of Data Dilemma's was not only of interest to the Amsterdam Smart City team, since this event was completely sold out. This was no surprise, with the three incredible speakers we had lined up: Mersiha Tepic (municipality of Amsterdam), Maarten Sukel (Picnic), and Joris Bouwens (Metabolic).
Mersiha Tepic: Circular Economy Monitor Amsterdam
Mersiha Tepic, Senior Researcher at the Research & Statistics department of the Municipality of Amsterdam, demonstrated the Circular Economy Monitor Amsterdam. This essential tool tracks Amsterdam's progress towards a circular economy and identifies areas requiring further attention.
The monitor gives interesting insights. For instance, it shows that the environmental impact of food is four times as big as the impact of the built environment, even though the amount of materials used in the built environment is four and a half times larger than for food.
It reveals that food has a very high environmental per kilogram compared to materials from the built environment. This is interesting because it makes the total environmental impact of food much higher than the impact of the built environment, even though the built environment uses four times as much mass in materials than food.
For more information on the circular monitor and all its insights, you can check out their (Dutch) website.
During her presentation, Mersiha also delved into the data dilemma she faces in this project—the scarcity of data from significant commercial entities operating within the city. The lack of data from these key players poses a considerable challenge to Amsterdam's circular ambitions, and Mersiha's work sheds light on the importance of bridging these data gaps.
Maarten Sukel: Data-Driven Precision at Picnic
Our second speaker, Maarten Sukel, a Data Scientist at Picnic Technologies, showcased how the online supermarket Picnic leverages data. He presented an innovative approach that combines traditional data sources with images, written descriptions, and geographical information to predict customer preferences accurately. By doing so, Picnic not only optimizes its supply chain but also minimizes waste, aligning with the circular economy's core principles.
Maarten's insights provided a glimpse into how data-driven precision can be a game-changer in the pursuit of sustainability and waste reduction, and he also gave a convincing sales pitch on why you should be a customer of Picnic.
Joris Bouwens: The Promise of Digital Product Passports
Closing the event was Joris Bouwens, a Project Manager and Senior Consultant at Metabolic's Circular Industries team. Joris shed light on Digital Product Passports and their potential to revolutionize the circular economy. These passports offer a comprehensive digital record of a product's lifecycle and environmental impact, empowering consumers to make informed choices and encouraging responsible consumption and recycling.
Joris's presentation highlighted the immense opportunity presented by Digital Product Passports in getting as much value from used products as possible. To fully illustrate the potential of Digital Product Passport, Metabolic has created a visualization of the data flows in four sectors: Electronics, Chemicals, Apparel, and Construction. You can find these visualizations here.
We extend our gratitude to our amazing speakers for their invaluable contributions and to our engaged audience for their active participation in the discussion.
In the next edition of Data Dilemma's we will delve into the fascinating world of the underground. What cables, tubes, and other assets can be found there, how is the data on these assets shared, and how can we improve collaboration? We hope to see you there on the 26th of October.
Do you have any suggestions for which Data Dillema's we should uncover next? Let us know in the comments below.
Harmen van Sprang, co-founder & CEO Sharing Cities Alliance , posted
Join us on 28 September to explore how (generative) AI will impact our cities and change the way we live, work & play.
From livability to sustainability, from health/wellbeing to public safety, from transportation to infrastructure, and from economic opportunities to urban planning: there are many opportunities ahead (and already happening).
From ethical implications to regulation, from awareness to safety/trust, and from data quality to technological infrastructure: we also got plenty of challenges to address and overcome.
Like to join this virtual roundtable session on 28 September? Visit http://sharingcitiesalliance.com/events to sign up (for free).
We welcome you to already share your ideas, cases as well as concerns regarding (generative) AI via LinkedIn.
AI & The City is an initiative of the Sharing Cities Alliance & Studio Sentience.
Herman van den Bosch, professor in management development , posted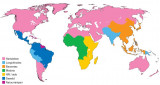 Most important causes of death worldwide (Source: The Lancelet, le Monde)
 
This is the 10th episode of a series 25 building blocks to create better streets, neighbourhoods, and cities. In this post, I mainly focus on health problems which are directly related to the quality of the living environment  
Are cities healthy places?
According to the WHO's Global Burden of Diseases Study, 4.2 million deaths worldwide each year are caused by particulate matter. The regional differences are significant. Urban health depends on the part of the world and the part of the city where you are living. More than 26 million people in the United States have asthma and breathing problems as a result. African-American residents in the US die of asthma three times as often as whites. They live in segregated communities with poor housing, close to heavy industry, transportation centers and other sources of air pollution.
Globally, the increasing prosperity of city dwellers is causing more and more lifestyle-related health problems. Heart disease, and violence (often drug-related) has overtaken infectious diseases as the first cause of death in wealthy parts of the world.  
The Netherlands
Very recently, Arcadis published a report on 'the healthy city'. This report compares 20 Dutch cities based on many criteria, divided over five domains. The four major cities score negatively on many aspects. In particular: healthy outdoor space, greenery, air quality, noise nuisance, heat stress and safety. Medium-sized cities such as Groningen, Emmen, Almere, Amersfoort, Nijmegen, and Apeldoorn, on the other hand, are among the healthiest cities.
In Amsterdam, the level of particulate matter and nitrogen dioxide (NO2) in 2018 exceeded World Health Organization standards in many streets. The GGD of Amsterdam estimates that 4.5% of the loss of healthy years is the result of exposure to dirty air.  
Collaborative measuring air quality
In various cities, groups of concerned citizens have started measuring the quality of the air themselves. A professional example is the AiREAS project in Eindhoven. An innovative measuring system has been developed together with knowledge institutions and the government. Sensors are distributed over the area of the city and the system provides real-time information. The AiREAS group regularly discusses the results with other citizens and with the city government. The measurement of the quality of the air is supplemented by medical examination. This research has confirmed that citizens in the vicinity of the main roads and the airport have an increased risk of mortality, reduced lung function and asthma.
The AiREAS project is linked to similar initiatives in other European cities. Occasionally the data is exchanged. That resulted in, among other things, this shocking video.  
Future?
Could the future not be that we are busy doing the obvious things for our health, such as walking, cycling, eating good food and having fun and that thanks to wearables, symptoms of diseases are watched early and permanently in the background, without us being aware of it? The local health center will monitor and analyze the data of all patients using artificial intelligence and advise to consult the doctor if necessary. An easily accessible health center in one's own neighborhood remains indispensable.
 
Follow the link below to find an overview of all articles.  
More events