---
Maybe you will also like these updates
Joyce Overklift Vaupel Kleyn, Communication advisor at Amsterdam University of Applied Sciences, posted
We zijn trots bij de Hogeschool van Amsterdam met de benoeming van lector Nanda Piersma tot kroonlid van de Sociaal-Economische Raad (SER). De ministerraad stemde vrijdag in met haar benoeming. Het is de eerste keer dat een lector kroonlid wordt van de SER.
Piersma is benaderd vanwege haar expertise op het gebied van digitalisering. Volgens de SER is digitalisering in steeds meer kwesties actueel. Piersma is lector Responsible IT bij de HvA. Ook is zij wetenschappelijk directeur van het HvA Centre of Expertise Applied Artificial Intelligence. Daarnaast is Piersma betrokken bij verschillende landelijke netwerken rondom datawetenschap zoals het platform Praktijkgericht ICT-onderzoek (Prio) en de Nederlandse AI coalitie (NLAIC). Lees meer.
Cornelia Dinca, International Liaison at Amsterdam Smart City, posted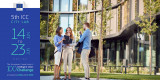 The fifth and final ICC City Lab will take place June 14 - 23. This special edition will focus on Local Ecosystems Mobilisation and Urban Innovation following feedback received from cities and experts on previous ICC City Labs.
The City Lab will launch on June 14th with sessions open to the ICC community and the public. Week 1 will be dedicated to mentor led Thematic Network sessions, where the ICC Mentor Cities will present successful solutions and good practices implemented in their cities. During week 2, the Peer Reviews sessions and Transversal Network sessions on Open Data and Public Procurement will be in the limelight. The closing event is scheduled for June 23rd.
As ICC mentor, the Amsterdam Metropolitan Region will contribute to the following sessions:
Thursday, June 16, 11.30-12.30 Mentor session Amsterdam Metropolitan Region: Building Talent Development Ecosystems (open to ICC community)
Tuesday, June 21, 12.00-13.30 Public session 2 – Artificial Intelligence – Redefining Urban innovation (open to the public; registration possible via the this link)
Wednesday, Jun 22, 10.00-11.30 Transversal workshop on Public Procurement (open to ICC community)
Joining a session
Are you a stakeholder from the Amsterdam Metropolitan Region and would like to participate in any of the sessions dedicated to ICC community?  Please send a short email to Cornelia Dinca via cornelia@amsterdamsmartcity.com indicating which session(s) you would like to join in order to receive the relevant calendar invite(s).
For more information and the complete program please visit: https://www.intelligentcitieschallenge.eu/events/5th-icc-city-lab
Tom van Arman, Director & Founder at Tapp, posted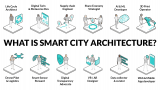 Are you an architect, urban designer, planner, engineer or designer and want to know more about the challenges facing the future of Amsterdam, or want to become more familiar with the many smart city technologies, techniques and trends that are available to solve these urgent challenges?
Arcam's Architect in Residence 2022 and Future City Maker Tom van Arman invites the design community to a special a (free) 1 day only Smart City Design workshop where we will show you some key projects accelerating the Amsterdam 2030-2050 agendas.
Spaces are limited RSVP - Wednesday June 15th!
WHY? The physical and digital worlds are becoming more and more intertwined as new markets like drone delivery, micro-grids / blockchain, digital twins and 3D printing are shaping the city sometimes faster than the authorities and architects can cope with.
WHAT? By the end of this workshop you will have had a clear look into the many systems shaping Amsterdam and what a designer like you can do to help transform our future city.
More events