---
Want to receive updates like this in your inbox?
Get notified about new updates, opportunities or events that match your interests.
Set up preferences
Maybe you will also like these updates
Rosa Tibosch, Community manager , posted
Dinsdag 18 oktober vinden er verspreid over Amsterdam 13 Donut-Deal-sessies plaats. Sessies waarin initiatiefnemers en partners, dromers en doeners afspraken maken. Concrete afspraken richting een stad met een veilig ecologisch plafond en een eerlijke sociale basis – een stad in de donut.
s' Avonds komen alle 'dealmakers' in Pakhuis de Zwijger bij elkaar om hun deals aan het publiek te presenteren. Econoom Kate Raworth en sociaal ontwerper Kees Dorst denken mee. Ook Imane Nadif en Lian Heinhuis sluiten aan vanuit de gemeente Amsterdam.
Wil jij er bij zijn of heb je zelf een donut-deal in gedachte? Je kan je hier aanmelden voor de sessies van het dagprogramma. Hou daarbij rekening met de reistijd tussen sommige sessies! Aanmelden voor het avondprogramma kan bij Pakhuis de Zwijger.
Amsterdam Smart City, Connector of opportunities at Amsterdam Smart City, posted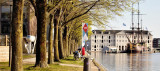 Amsterdam verwelkomt op 9 oktober meer dan 40 burgemeesters van middelgrote en grote steden uit de hele wereld. Op de 3-daagse mondiale stedentop Bloomberg CityLab, gaan zij samen met experts aan de slag met oplossingen voor grote- stadsproblemen.
Het gaat over stedelijke problemen en slimme innovaties. Op het gebied van bijvoorbeeld klimaatverandering, digitalisering, toerisme, een duurzame economie, de opvang van vluchtelingen, pandemieherstel en het fietsverkeer. En meer. Burgemeesters van grote steden als Mexico City, Athene, San Francisco, Washington en Bogota doen mee. De top brengt burgemeesters en directeuren in contact met prominente stadvernieuwers, experts, ondernemers, kunstenaars en activisten.
Wat heeft Amsterdam te bieden?
Naast paneldiscussies, interviews, interactieve sessies en culturele optredens (van onder meer Wende Snijders) gaan de deelnemers ook op excursie naar unieke bestemmingen in Amsterdam. Zij gaan met eigen ogen zien wat Amsterdam zoal te bieden heeft aan oplossingen voor grote stedelijke vraagstukken.
Hét innovatieterrein
Allereerst gaan zij naar het Marineterrein, hét innovatieterrein van de stad. Hier worden ideeën bedacht en vinden experimenten plaats die toepassing vinden in de publieke ruimte.
Zelfvarende boot
Denk aan een zelfvarende boot. Amsterdam krijgt 's werelds eerste vloot van zelfvarende boten. Zij kunnen helpen om de druk op kades en bruggen te verminderen door goederen, afval en personen te vervoeren. Nu wordt de eerste grote zelfvarende boot getest.
Niet een groen maar een blauwgroen dak
Er loopt een wetenschappelijke proef met een blauwgroen dak. Dit dak slaat hemelwater op en gebruikt dat opnieuw voor begroeiing op het dak. Het geeft veel meer verkoeling dan een gewoon groen dak en helpt goed tegen het warmer worden van de stad. Dat laatste komt door de klimaatverandering.
BuurtHub
Op het Marineterrein is een zogeheten BuurtHub waar Amsterdammers op elk moment een elektrisch voertuig kunnen huren. Zoals elektrische fietsen, bakfietsen, scooters, auto's en brommers. Amsterdam heeft 17 van deze BuurtHubs.
Drones en camera's met meer oog voor privacy
Verder zijn we in Amsterdam aan de slag met nieuwe oplossingen zoals camera's die de drukte meten en tegelijk de privacy van bewoners beter beschermen, testvluchten met drones en het circulair maken van de stad. Drones kunnen bijvoorbeeld medicijnen vervoeren, of een brand signaleren.
Andere plekken bezoeken
Ook gaan de deelnemers naar andere inspirerende plekken in de stad. Zoals De Waag Fab Lab, de Johan Cruijff Arena en het Rijksmuseum. Verder zijn er een boottocht, fietstochten en een avondtour vanwege de Nachtvisie van Amsterdam.
Wereldtoneel
CityLab 2022 onderzoekt de nieuwe rol van steden als actoren op het wereldtoneel. Het doel is de nieuwe werkelijkheid van steden te ontdekken, te vieren en te verspreiden. En de reactie vorm te geven op grote, actuele problemen.
Stedentop
Eerdere CityLab-conferenties zijn georganiseerd in New York, Los Angeles, Londen, Miami, Parijs, Detroit en Washington. D.C. Bloomberg CityLab is een jaarlijkse mondiale stedentop van Bloomberg Filantropies samen met het Aspen Institute.
Meer
Meer weten over wat Amsterdam doet aan innovatie in de stad? Ga naar amsterdam.nl/innovatie.
Foto: Sjoerd Ponstein
Liza Verheijke, Community Manager at Amsterdam University of Applied Sciences, posted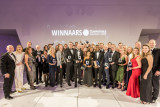 <strong>Zeno AI was awarded a Dutch Applied AI Award on Wednesday evening, 5 October. WSK Medical's technology helps ENT doctors detect throat cancer in patients at an early stage. This is done during an endoscopy, with Artificial Intelligence providing instant analysis. A great example of humans and technology working together.</strong>
The Dutch Applied AI Award is a jury prize and was presented for the third time during the annual Computable Awards. The award, which rewards AI innovations, is an initiative of Computable (the platform for ICT professionals), De Dataloog (the Dutch podcast on data and AI) and the Centre of Expertise Applied Artificial Intelligence of Amsterdam University of Applied Sciences. DEARhealth (2020) and BAM Infra Asset Management (2021) preceded Zeno AI as winners.
IMAGE RECOGNITION ON THROAT CANCER VALUABLE
According to jury president Nanda Piersma, doctors are very happy with the application of WSK Medical. The application of image recognition to throat cancer works and is valuable. 'The technique has reached a new group of users. ENT doctors have adopted Zeno AI in their daily work. That makes the application unique', said Piersma, who is scientific director at the Centre of Expertise Applied Artificial Intelligence. 'In addition, the technology is transparent and user-friendly. We look forward to its further development, so that larger target groups are reached and new AI techniques emerge in this specialism.'
SUPPORT FOR CORRECT DECISIONS
Radboudumc in Nijmegen is the first hospital to use Zeno AI at its outpatient clinic. The AI application immediately starts analysing as soon as an ENT doctor turns on the endoscope. As a result, using Zeno AI can reduce the time to diagnosis from two/three weeks (average waiting time) to the same day. Faster diagnosis of throat cancer enables a faster care plan for patients. Importantly, the technology only makes predictions based on knowledge and thus does not diagnose. Zeno AI supports the ENT doctor in making the right decision, for example when it is not immediately clear what is going on.
Zeno AI is currently going through the process of CE marking (MDR). This assesses not only clinical validation, but in particular the technical architecture and design, as well as traceability and risk management.
ENGINE OF INNOVATION
The Dutch Applied AI Award jury noticed that there is considerable innovation in the techniques behind Artificial Intelligence, creating interesting new applications. Piersma: 'We see well-developed applications for specialist sectors this year, as well as applications with a broad societal impact.'
The award criteria on which the jury selects focus on the level of application, transparency, and uniqueness of its kind. An AI initiative additionally scores highly if a user is involved in the application. 'The AI must really add value', says Piersma. 'With the Dutch Applied AI Award, we want to actively encourage innovation, so that applications arise that otherwise would not come to fruition.'
The winning 2022 initiative also lands in a nice AI ecosystem - the AI hub Amsterdam - in which Amsterdam University of Applied Sciences participates alongside other knowledge institutions and hospitals in the region.
More events