Highlight
from Amsterdam Smart City, Connector of opportunities at Amsterdam Smart City, posted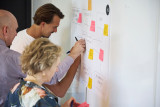 Op dinsdag 14 december sluiten we het jaar feestelijk af op de laatste Demodag van 2023! We zijn dit keer te gast bij The Garage van Deloitte. Dit iconische gebouw, voormalig Citroën garage naast het Olympisch Stadion, is omgebouwd tot de plek waar Deloitte nu in co-creatie aan de (digitale) toekomst van haar klanten werkt.
De Amsterdam Smart City Demodagen zijn regelmatig terugkerende middagen bedoeld om de voortgang van de verschillende innovatieprojecten aan elkaar te presenteren, hulpvragen op tafel te leggen, dilemma's te delen en meer partners te betrekken bij een project en deze vraagstukken verder te brengen.
Deze eindejaar editie van de demodag staat in het thema van wat we allemaal bereikt hebben met het netwerk. Daarom hebben we in plaats van de inspirerende pitches die we gebruikelijk doen, korte updates en succesverhalen van challenges en vraagstukken die we op vorige demodagen hebben behandeld.
Verder hebben we weer onze gebruikelijke werksessies waarin we een aantal vragen met een kleine groep wat grondiger behandelen. De Demodag wordt voorafgegaan door een Kennissessie over veranderen in het Hier en Nu met Theorie U, waarvoor deelname optioneel is. We sluiten af met een hapje en drankje. De middagen kenmerken zich door een zeer open en vrolijke sfeer.
Kennissessie
Voorafgaand aan de Demodag, organiseren we een kennissessie over een transitie-overstijgend onderwerp. Dit keer vertellen de jonge consultants van Hieroo meer over Veranderen in het Hier en Nu met Theorie U.
We leven in een tijd die wordt gekenmerkt door grote uitdagingen. We zien een wereld om ons heen waar een klimaatcrisis plaatsvindt met mondiale problemen als de opwarming van de aarde en het verlies aan biodiversiteit. Een wereld die wordt gekenmerkt door sociale ongelijkheid en toenemende individualisering. Verandering is hoognodig, maar ontstaat niet vanzelf. Hoe kunnen we met een holistische blik de wereld om ons heen veranderen?
De jonge consultants van Hieroo vertellen je alles over de verandermethode waarmee zij aan sociale innovatie in de stad werken: Theorie U. Theorie U is een model voor fundamentele verandering en wordt gebruikt om complexe vraagstukken om te buigen naar wezenlijke veranderingen. Deze verandermethode is gebaseerd op bewustzijn en actie om systemen te veranderen. In het U-proces ben je bewust van jezelf, de betrokkenen en alle aspecten die met een vraag samenhangen. In deze kennissessie maak je kennis met de theoretische principes van Theorie U, en gaan we praktisch aan de slag met een typische Theorie U werkvorm.
Werksessies
Mobiliteit | Besluiten aan de hand van Brede Welvaart – Yurhan Kwee (Gemeente Amsterdam)
In heel Nederland gaat het over de term brede welvaart. De Gemeente Amsterdam verkent wat deze term kan betekenen voor de stad en de Amsterdammers. Een belangrijk deel van het werken aan brede welvaart is het nemen van goede besluiten door bestuurders en raadsleden, met de adviezen van ambtenaren en de professionals die werken aan de stad.
Met het Stedelijke Innovatieteam van de Gemeente Amsterdam kunt u in deze werksessie samen oefenen bij het maken van besluiten aan de hand van brede welvaart. We gaan aan de slag met relevante mobiliteit casuïstiek en zullen deze vanuit verschillende perspectieven behandelen om tot een weloverwogen besluit te komen. Bijvoorbeeld; een brug over het IJ, is dit een goede investering voor de stad?
Digitaal | Data Commons Collective: Data als reddingsboei voor de leefbare metropool – Lia Hsu (Amsterdam Economic Board) en Simone van der Burg (Waag)
In het door big tech gedomineerde tijdperk is data zo lang commercieel geëxploiteerd dat er inmiddels nog weinig voorstellingsvermogen is bij het idee dat data delen de publieke zaak misschien ook wel zou kunnen dienen. Toch is dat wat een collectief van bedrijven, overheden, maatschappelijke instellingen en inwoners in de metropool Amsterdam gaat doen met het Data Commons Collective. Méér data delen om beter voor de metropool te zorgen. Amsterdam Economic Board vraagt het netwerk van Amsterdam Smart City om mee te denken met het Data Commons Collective aan de hand van het data commons framework. We verdiepen ons in een vraagstuk en verkennen de volgende stappen om een data common op te zetten en wat daarvoor nodig is.
Energie | Hoe kunnen we de huiseigenaar blijven(d) faciliteren in het aanjagen van de energie transitie? – Wouter van Rooijen (Alliander)
Netcongestie begint een steeds nijpender probleem te worden en begint zelfs de beperkende factor op de energie transitie te worden. Als netbeheerder begrijpt en ziet Alliander dat de eindconsument op dit moment aan zet is en al actief verduurzaamd. Alliander wil deze huiseigenaren blijven(d) faciliteren in het aanjagen van de energie transitie. Het afgelopen jaar hebben ze daarom een innovatief traject opgezet onder de naam 'Co-creatie Lokale Energie Oplossingen (CLEO)', waar drie concepten uitgekomen zijn die hier een collectieve oplossing voor zouden kunnen zijn. In deze werksessie zoomen we in op het 'Wijsheid van de Wijk' concept, welke ingaat op het informeren van huiseigenaren op individueel en op wijkniveau over wat zij (samen) kunnen doen om vooruit te bewegen in de energietransitie zonder daarmee het net te gaan overbelasten. We gaan in deze werksessie aan de slag met hoe we dit concept tot uitvoering kunnen brengen, wie daarvoor nodig zijn, welke uitdagingen er zijn en wie er mee wilt doen!
Circulair | Wat doet werken aan circulariteit met je mentale gesteldheid – Marian Zandbergen (Hogeschool van Amsterdam)
Wat doet werken aan circulariteit met je mentale gesteldheid? Hoe houd je in tijden van krapte op de arbeidsmarkt jonge, bevlogen mensen in je organisatie en mentaal gezond? En wat hebben eco-emoties te maken met het moeizame proces om van praten naar actie over te gaan in samenwerkingen rond circulariteit? Deze en andere vragen gaven aanleiding voor een werksessie van CIRCOLLAB op december demodag van Amsterdam Smart City, over de stimulerende en beperkende rol van eco-emoties bij professionals in het samenwerken aan circulaire transitie. Met als titel 'De tragedie van het fixen' wordt verkend hoe professionals omgaan met de urgentie van de opgave van de circulaire transitie: wat dit betekent in ons dagelijks leven en in ons werk als actor in deze transitie. En welke tools er nodig zijn om hier in samenwerking en binnen organisaties mee om te gaan.
Pitches
Local Energy Systems: Where we started, what we have achieved, and what are the next steps – Omar Shafqat (Hogeschool van Amsterdam)
The last year we've worked hard on finding a way to share learnings on local energy systems and we've made significant steps towards achieving this. In this pitch, Omar will tell you all about why this challenge was started, what we have achieved and what the next steps will be.
Het verbinden van de grondstoffen- en energietransitie – Edwin Oskam (MRA)
Op de Transitiedag in juni hebben we het uitgebreid gehad over het verbinden van de energietransitie en de grondstoffentransitie. Het traject van dit vraagstuk is inmiddels weer een stuk verder. In deze pitch verteld Edwin daarom hoe dit vraagstuk van start is gegaan, wat ze tot nu toe bereikt hebben, en wat de volgende stappen zijn.
ChatGPT en de overheid: Mogelijkheden en impact op ons werk – Jeroen Silvis (Provincie Noord-Holland)
De techniek van ChatGPT zorgt voor een revolutie in de manier waarop we werken en samenleven. Hoe zouden overheden, zoals de provincie Noord-Holland, hiermee om moeten gaan? Op Demodag #20 zijn we dieper ingegaan op de mogelijkheden en potentiële impact van ChatGPT op het werk van overheden. Jeroen geeft een update over de richtlijnen die mede door input van het netwerk zijn opgesteld, en het samenwerkingstraject met de Hogeschool van Amsterdam.
Drijvende stadswijken: Toekomstbestendig wonen in de Metropoolregio – Joke Dufourmont (AMS Institute)
De Amsterdamse metropool heeft te maken met ruimtegebrek, een acuut woningtekort en een stijgende zeespiegel als gevolg van klimaatverandering. AMS Institute en gemeente Amsterdam onderzoeken daarom de mogelijkheden voor nieuwe toekomstbestendige Amsterdamse stadswijken die kunnen meebewegen met het water. Tijdens de Smart City Expo in Barcelona hebben we twee sessies georganiseerd over dit thema. Joke vertelt je meer over de uitkomsten en de volgende stappen voor dit vraagstuk.
Mobiliteit: Wordt later bekendgemaakt!
Klinkt het programma interessant? Je bent welkom om aan te sluiten. Laat het ons weten en stuur een korte motivatie naar sophie@amsterdamsmartcity.com. De Kennis- en Demodag is van 12:45-16:30 met een borrel na afloop.