A full day program including an introductory presentation to Amsterdam Smart City. Online meeting is possible.
The Smart City Experience is a full day immersive program with expert meetings and site visits to innovative projects and living labs. These customized programs are specifically developed to address your delegation's key topics of interest. Smart City Experience programs are only available by special request. To initiate a request, click on "More information".
Looking for another tour?
We offer six main types of programs depending on the interests and needs of your organization: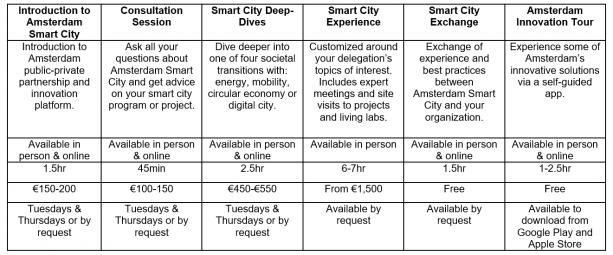 Please note:
Due to Dutch government regulations in response to the corona crisis, in-person programs are currently limited to 5 people.
We strive to deliver customized programs that suit each delegation's needs, however we are not able to accommodate all incoming requests. Initiating a request at least 3 weeks before your visit will increase the likelihood of a successful program.
For Smart City Experience programs cancelled less than one week in advance, we apply a cancellation fee of €200 VAT exempt.