Introductory presentation that provides an overview to Amsterdam Smart City organization, approach and key projects. Online meeting is possible.
In person in Amsterdam or online via Zoom
With various public and private partners, Amsterdam Smart City explores, connects and accelerates technological and social innovation projects to achieve a future-proof metropolitan region. We concentrate on four societal transitions: Energy, Mobility, Digital City and Circular City which is done through a public-private partnership and an open and international community.
Introductory presentation
This Introductory Presentation is an opportunity to ask all your questions about the Amsterdam Smart city organization, governance and key projects. During this session, participants hear an overview of Amsterdam Smart City and our approach. Ample time is reserved for Q&A and further conversation.
Looking for another programme?
We offer six main types of programs depending on the interests and needs of your organization: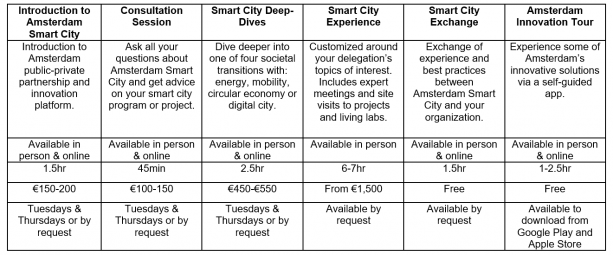 Please note:
This program can be booked at pre-set times via the "Book now" button. To request a program outside the pre-determined times, email your request to <cornelia@amsterdamsmarticity.com>.
The program is offered in-person in Amsterdam or online via the Zoom platform. In-person programs are currently limited to 5 people.
For programs cancelled less than one week in advance, we apply a cancellation fee of €100 VAT exempt fee.