---
Want to receive updates like this in your inbox?
Get notified about new updates, opportunities or events that match your interests.
Set up preferences
Maybe you will also like these updates
Amsterdam Smart City, Connector of opportunities at Amsterdam Smart City, posted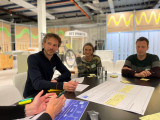 Hoe zet je de mens centraal in digitalisering? Hoe voorkom je uitsluiting van mensen die vervoer niet meer kunnen betalen? Hoe ontwikkel je samen lokale energiesystemen? Amsterdam Smart City werkt met 27 partners in co-creatie aan deze drie belangrijke vraagstukken.
Van digivaardige mensen naar mensvaardige digitalisering
Technologische en innovatieve ontwikkelingen volgen elkaar steeds sneller op. Als overheid wil en moet je hierin meegaan. Tegelijk leidt de inzet van digitalisering en data vaak tot ongewenste resultaten, wat de afstand tussen inwoners/ondernemers en de overheid vergroot.
Gemeente Haarlemmermeer verschuift haar focus van 'het systeem staat centraal, mensen moeten maar digivaardig worden' naar 'de mens staat centraal, onze systemen moeten mensvaardig worden'. De onderliggende vraag is hoe zet je de mens écht centraal in digitalisering en het vormgeven van digitale systemen? De gemeente Haarlemmermeer zou graag samen optrekken om deze vragen uit te werken tot een advies dat breder inzetbaar is.
Mobiliteitsarmoede: hoe voorkomen we uitsluiting van mensen in het mobiliteitssysteem?
Stijgende benzine- en elektriciteitsprijzen; de toenemende digitalisering en afname van het openbaar vervoeraanbod zorgen er, onder andere, voor dat steeds meer mensen problemen hebben om zich te verplaatsen. Verduurzaming en deelmobiliteit lijken niet voor iedereen weggelegd en maatregelen om dit te stimuleren werken het probleem mogelijk zelfs in de hand. Het risico op sociale uitsluiting wordt hierdoor groter.
De provincie Noord-Holland en DRIFT maken zich zorgen over mobiliteitsarmoede en vragen zich af wat we eraan kunnen doen om deze mensen mobiel te houden. Er is echter nog weinig bekend over de omvang van het probleem, de exacte doelgroepen en welk instrumentarium werkt (en wat vooral niet). Daarom willen we graag in gesprek met de partners om tot gezamenlijk inzicht en een afgestemde aanpak te komen.
Samenwerking voor ontwikkeling lokale energiesystemen
De milieuproblematiek en de huidige hoge energieprijzen zorgen voor een snelle omschakeling van gas naar elektriciteit. Dat is de afgelopen jaren veel sneller gegaan dan voorzien, met netcongestie als gevolg.
Door samenwerking tussen lokale partijen kan er een zo optimaal mogelijk energiesysteem gecreëerd worden. Dat kan het elektriciteitsnetwerk ontlasten en, bijvoorbeeld, het maximaal gebruik maken van duurzame bronnen stimuleren en de energiekosten drukken.
Dit vraagt een intensieve samenwerking waarbij elke partij wordt uitgedaagd om verder te denken dan de eigen belangen. Er zijn geen bestaande structuren of systemen waar dit binnen past. Alliander doet een oproep voor samenwerking op dit vraagstuk.
Sinds november werken we in verschillende werkgroepsessies toe naar nieuwe initiatieven om antwoorden te bieden op deze uitdagende kwesties. Wil je ook meedenken en deel uitmaken van oplossingen? Neem contact op met Sophie via sophie@amsterdamsmartcity.com.
Amarins Tamminga, Marketing and Sales , posted

De trend van het elektrisch fietsen brengt wonderlijke innovaties met zich mee. Van onzichtbare accu's tot usb-poorten en Spotify op je fietsdisplay. Het laadproces van de e-bike blijft hierin niet achter met de nieuwste innovatie van TILER: draadloos opladen via een stoeptegel. Een product dat naadloos toe te passen is in de MOBIHUBS van MOBIAN: een nieuwe samenwerking is geboren.
TILER heeft de handeling om e-bikes te laden eigenlijk volledig weggenomen. Parkeren is laden en er hoeft verder niks voor gedaan te worden. Het enige wat hiervoor nodig is, is een Laadtegel en de standaard van de fiets moet vervangen worden door TILERs Laadstandaard. Dit is ideaal voor onbeheerde deelfietsvloten, hier wordt het laden nog wel eens vergeten door de gebruiker en zijn standaard laders erg fragiel en niet gemaakt voor dergelijk intensief gebruik. 
'Een te gekke, nieuwe en toegankelijke manier om de e-bike op te laden', aldus Sven Snel, oprichter van MOBIAN. 'De trend van de e-bike is ons de laatste jaren niet ontgaan, maar om op onze MOBIHUBS elektrische deelfietsen op een goede manier aan te kunnen bieden blijkt een behoorlijke uitdaging. We hebben ons eerder aan e-bikes gewaagd, maar stuitten te vaak op vernieling van onze laadproducten. In TILER zien we een toffe huterproof-oplossing en gaan dus graag samen de uitdaging om opnieuw e-bikes toe te voegen aan de deelmobiliteiten op onze MOBIHUBS.' 
MOBIAN is niet de eerste die samenwerkt met TILER, ook met andere deelfiets concepten is TILER al actief. Voorbeelden zijn huurfietsen bij hotels en pool e-bikes voor personeel. Ook zijn ze onlangs een project gestart met een deelfiets hub bij Arnhem Centraal. 'Wij zijn erg enthousiast om dit project met MOBIAN te starten, MOBIAN past perfect in deze doelgroep, ook vooral omdat zij zelf hebben ondervonden dat er een laadoplossing moet zijn als je in autonome hubs e-bikes aan wilt bieden. TILER's visie is om steden te veranderen, meer gericht op mens en natuur - MOBIAN's park & ride concept past daar natuurlijk perfect in. Auto buiten de stad en binnen de stad verder op licht elektrisch vervoer.' aldus Christiaan van Nispen, oprichter van TILER.
Vanaf deze week kunnen er e-bikes gehuurd worden bij de MOBIHUB Ijsbaanpad en later deze maand ook bij MOBIHUB Amsterdam West. Wanneer het project succesvol verloopt hopen de bedrijven verder uit te kunnen rollen in de verschillende Nederlandse steden.
Sophie van der Ploeg, Community Manager & Program Lead Digital at Amsterdam Smart City, posted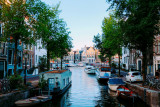 Summer is my favourite season in Amsterdam! There are so many things to do, it's sometimes hard to choose where to go. To make your lives a bit easier, I curated a list of smart city  exhibitions, activities and experiences from our partners and community. Zigzag across the city and experience the future of the energy systems, water management and food in urban areas. Enjoy!
1. Energy Junkies exhibition  at Nemo The Studio
Our  dependence on fossil fuels and the effects of our energy consumption on climate change are the focus of NEMO's new exhibition for adults: Energy Junkies. NEMO invites you to explore the decisions that will determine our future. How would you transform our energy addiction into a healthy habit? Create your own carbon diet, choose the right medicines from the climate pharmacy and dream about a world where we are cured of our energy addiction. Visit Energy Junkies at NEMO's Studio, the off-site location for adults on the Marineterrein in Amsterdam.
 
Energy Junkies is open from Wednesday – Sunday, from 12:00 – 17:30 until July 2023. Costs are € 7,50
2. Interactive installation Senses of Amsterdam at OBA Slotermeer
The municipality of Amsterdam is using more and more new technologies to make the city more liveable and safe. But what do these sensors actually measure? And what happens with the data they collect? What does this mean for the people of Amsterdam? The installation Senses of Amsterdam informs visitors about how sensors make Amsterdam a smarter city, what measurements are taken and how data is collected. The interactive installation by the Responsible Sensing Lab  is currently exhibited at the public library (OBA) in Slotermeer.
 
Visit the interactive installation Senses of Amsterdam daily until 25 September 2022.
3. Study excursion about trends and innovations in Amsterdam's cycling infrastructure
Yes, the Dutch and their bikes are inseparable! And Amsterdam is often cited as the cycling capital of the world. Are you interested in how Amsterdam is innovating in the areas of cycling and urban mobility? Join the study excursion organised by the Urban Cycling Institute and Bicycle User Experience (BUX). The two-hour excursion (by bicycle, of course!) brings you to key  locations exemplifying Amsterdam's innovative approach to cycling infrastructure and policy. You will meet internationally-oriented cycling experts and become part of a larger network of  the Urban Cycling Institute and Bicycle User Experience (BUX).
 
The study excursions take place on Saturdays, August 13, 20 and 27 from 16:00 – 18:00. Costs are € 50,00 per person.
4. Exhibition Fluid Matter in the Architecture Centre of Amsterdam (ARCAM)
The Amsterdam water system regulates water levels and quality in one of Europe's  most densely populated areas. Due to the urban growth and climate change, the system will be increasingly strained in the future. This means that different design choices have to be made, but this situation also offers opportunities for new ways of dealing with water. What choices do we have? How can we design with the water? In the interactive exhibition Fluid Matter, you will discover this complex water system through scale models of four urban districts of Amsterdam: Houthavens/Haven-Stad, North/Schoonschip, City Centre/Kattenburg and IJburg/IJmeer.
Visit the Exhibition Fluid Matter from Tuesday – Sunday (13:00-17:00) until November 2022. Costs are € 4,00.
5. Johan Cruijff ArenA Innovation Tour
Take a tour into the world of innovations at the Johan Cruijff ArenA!  With thousands of visitors during large events, the home of Ajax becomes a small smart city. Already recognized as one of the most sustainable stadiums in the world, the Johan Cruijff ArenA is also one of Amsterdam's premier living labs for energy, mobility, security, and visitor experience innovations.  The Johan Cruijff ArenA offers private tours showcasing innovative approaches and solutions for the stadium of tomorrow, ideal for team building events and (inter)national delegation visits.
The Johan Cruijff ArenA's Innovation Tours last ~45minutes and can be booked by sending a request to tour@johancruijffarena.nl with "Innovation Tour" in the subject line. Costs are €24,38 excl. VAT per person, with minimum of 20 persons per group.
6. Floriade Expo 2022, Almere      
Once every ten years, all the horticultural greats gather during the Floriade. Experts from all over the world come together to present green solutions that make our cities more enjoyable, beautiful and sustainable. With the theme of 'Growing Green Cities', more than 400 national and international participants showcase their latest green innovations, solutions and applications. From state-of-the-art solar roof tiles to amazing vertical façade gardens and from the best ways to grow tomatoes to the latest pruning techniques. You can see, taste and experience it all at Floriade in Almere.
The Floriade ) is open daily until 9 October 2022 from 10 a.m. to 7 p.m. For more information, visit their website. Costs are € 29,00.
7. Exhibition Makers of Noord by Waag
From large goods to small workshops, makers have always been an important part of Amsterdam Noord. Scattered throughout the district you will find individual makers and collectives, craftsmen and creative entrepreneurs. Their future in the city is under pressure, partly due to gentrification. On the other hand, the city heavily depends on these makers to cope with the energy transition and the enormous demand for housing. The good news is that many makers are still located in Amsterdam, and in particular in Noord. Who are these makers of Noord, what do they make, and how does this contribute to the city, the neighbourhood, and our lives? Get to know different makers from Noord and listen to their inspiring stories about re-use, sustainability and traditional craftsmanship.
 
The Makers of Noord exhibition can be visited in Museum Amsterdam Noord from Thursday – Sunday from 13:00 – 17:00 until August 27. Costs are €4,00.
Looking for more inspiring smart city events and experiences in and around Amsterdam? You can find them on the events and experiences pages on our platform! So do you have other tips for inspiring smart city activities not to be missed this summer? Share them with the community in the comments!
More news