Audrie van Veen, Director Strategic Partnerships at Amsterdam Economic Board, posted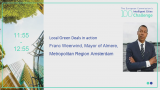 The Regional Green Deals of the Metropolitan Region Amsterdam were presented by Frank Weerwind, Mayor of Almere at the Mayor's Summit of the 100 Intelligent Cities Challenge. Together with the Amsterdam Economic Board and Amsterdam Smart City, the Metropolitan Regio Amsterdam acts as a mentor region for the 100 European cities who participate in the challenge to work together on their ambitions for the digital and green transition.
For cities that want to work with their stakeholders on ambitious green deals the European Commission now published a practical guide titled Local Green Deals, A Blueprint for Action.
Find the speech by Mayor Weerwind below
22 June 2022
Honorable guests, ladies and gentlemen,
It is a great pleasure and honor to me to be invited to the Mayors' Summit of the 100 Intelligent Cities Challenge,  and I am very excited to share with you some of my thoughts on the green and digital – or  twin – transition in the cities and regions of Europe. I also would like to express my gratitude to the European Commission and the Committee of the Regions for organizing this event on Green Deals and for launching the 100 Intelligent Cities Challenge. By doing this, you recognize the power of cities in the twin transition, you see the need for support for cities to make this transition happen and by this programme, you facilitate the network that cities can create.
My own city is Almere, a new town near Amsterdam and just 45 years old: it was created from scratch on reclaimed land from the sea, and is now a vibrant city with over 215.000 inhabitants. It is a city without ancient history and traditions, but a young city with a strong pioneering spirit, where there is space to experiment and to test innovative solutions in living labs. Our living lab approach has resulted in various circular and sustainable energy innovations in the city, for example: a smart thermal grid for the new Hortus neighborhood. The living lab approach has also led to the choice for Almere as the location for the World Expo on Horticulture in 2022, the Floriade, which will showcase innovations on greening, feeding, healthying and energizing cities, under the umbrella off Growing Green Cities.  The twin transition is evidently a core aspect in this event. I will take this opportunity to invite you all to visit the expo next year in Almere.
But this morning I represent not only Almere but the Metropolitan Region Amsterdam, a region consisting of 32 municipalities and two provinces. An economically strong region in Europe with a high quality of life, an international hub with a huge amount of talent, knowledge, innovation and businesses. The Metropolitan Region Amsterdam is one of the so-called mentors in this programme, because we believe in sharing our vision with other cities in terms of knowledge and innovation, but, please, let me assure you that our 'success' story has been established, due to knowledge and innovation coming from the cooperation between cities. My aim for now is to continue the dialogue with you on the issues that we are sharing together.
As many of your regions, our region, with an economy highly defined by tourism and services industries, was hit hard by COVID-19. Therefore, we decided at an early stage to investigate, together with knowledge institutions and the business sector, how we could aim for green recovery. We felt more was needed, besides the required regional energy strategies, investing in our energy backbones, which nowadays also include a hydrogen-infrastructure, and ongoing European energy transition projects such as Atelier. We asked the Amsterdam Economic Board to organise this investigation, since they act independently and aim for connecting the companies, research and education institutes and governments in our region. Facing such an unprecedented crisis, we did not want to do this as governments alone, but together with all relevant stakeholders. And, my fellow Mayors, that is a lesson I want to share with you: don't do it alone.
Based on interactive stakeholder sessions and scenario-planning, we started a trajectory towards green recovery, resulting so far in 3 Regional Green Deals and with these deals, extra focus on skills for sustainable jobs. The Green Deals are: making the textile value chain circular, developing the region as a innovative bicycle hotspot and -for the Netherlands this is really innovative- increase the amount of new-build houses in timber to 20% of the total of new residential building activity.
As a result of those Local Green Deals, we invest faster and more effectively in the economy of today and tomorrow. The aim is to anticipate on changing jobs and the necessary skills, to fill existing and future vacancies and to achieve greater well-being and prosperity in the long term. And that is what we wish for the whole of the European Union.
To conclude, I would like to compliment you with your efforts in the 100 Intelligent Cities Challenge. And please feel free to take a closer look into the work of the Metropolitan Region Amsterdam and to learn, copy the elements that would benefit you, but also to bring your knowledge to us, for example via our online platform Amsterdam Smart City. That way, together we advance in the European twin transition. And move forward to the digital, inclusive and sustainable future of our cities.