FLEXCON2020 postponed to September 2020
---
Want to receive updates like this in your inbox?
Get notified about new updates, opportunities or events that match your interests.
Set up preferences
Maybe you will also like these updates
Herman van den Bosch, professor in management development , posted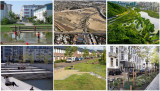 This is the 12th episode of a series 25 building blocks to create better streets, neighbourhoods, and cities. This post deals with the question of how nature itself can help to deal with excessive rainfall and subsequently flooding of brooks and rivers, although these disasters are partially human-made.
Until now, flooding has mainly been combated with technical measures such as the construction of dykes and dams. There are many disadvantages associated with this approach and its effectiveness decreases. Nature-inclusive measures, on the other hand, are on the rise. The Netherlands is at the forefront of creating space for rivers to flood, where this is possible without too many problems.
Sponge areas
An important principle is to retain water before it ends up in rivers, canals, and sewers. The so-called sponge city approach can be incorporated into the fabric of new neighbourhoods and it creates sustainable, attractive places too. A combination of small and large parks, green roofs, wadis, but also private gardens will increase the water storage capacity and prevents the sewer system from becoming overloaded and flooding streets and houses. Steps are being taken in many places in the world; [China is leading the way](https://www\.dropbox\.com/s/47zxvl3kgbeeasa/Tale of two cities.pdf?dl=0) (photo top right). However, the intensity of the precipitation is increasing. In 2023, 75 cm of rain fell in Beijing in a few days. Under such conditions, local measures fall short. Instead, nature-inclusive measures must be applied throughout the river basin.
Retention basins
In new housing estates, water basins are constructed to collect a lot of water. Their stepped slopes make them pleasant places to stay in times of normal water level. The pictures on the left are from Freiburg (above) and Stockholm (below). The top center photo shows the construction of a retention basin in Lois Angeles.
Wadis
Wadis are artificial small-scale streams in a green bed with a high water-absorbing capacity. In the event of heavy rainfall, they collect, retain and discharge considerably more water than the sewer system (bottom center photo). Green strips, for example between sidewalks, cycle paths and roads also serve this purpose (photo bottom right: climate-adaptive streets in Arnhem).
Green roofs, roof gardens and soils
Green roofs look good, they absorb a lot of CO2 and retain water. The stone-covered urban environment is reducing the water-retaining capacity of the soil. Sufficiently large interspaces between paving stones, filled with crushed stone, ensure better permeability of streets and sidewalks. The same applies to half-open paving stones in parking lots.
Refrain from building in flood-prone areas
Up to the present day, flood-prone parts of cities are used for various purposes, often because the risk is underestimated or the pressure on space is very great. London's Housing and Climate Crises are on a Collision Course is the eloquent title of an article about the rapidly growing risk of flooding in London.
Hackney Wick is one of 32 growth centers set to help alleviate London's chronic housing shortage, which has already been repeatedly flooded by heavy rainfall. However, the construction of new homes continues. Measures to limit the flood damage at ground floor level include tiled walls and floors, water-inhibiting steel exterior doors, aluminum interior doors, kitchen appliances at chest height, closable sewers, and power supply at roof-level. Instead, floating neighbourhoods should be considered.
Follow the link below to find an overview of all articles.
AMS Institute, Re-inventing the city (urban innovation) at AMS Institute, posted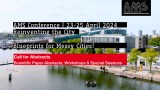 We invite you to contribute to the conference "Reinventing the City 2024 - Blueprints for messy cities?"
Deadline to submissions: November 1, 2023
Notification of acceptance: December 1, 2023
submit here>>
The AMS Scientific Conference (AMS Conference) explores and discusses how cities can transform themselves to become more livable, resilient and sustainable while offering economic stability. In the second edition of "Reinventing the City" (23-25 April 2024), the overarching theme will be <em>"</em>Blueprints for messy cities? Navigating the interplay of order and complexity'. In three captivating days, we will explore 'The good, the bad, and the ugly' (day 1), 'Amazing discoveries' (day 2) and 'We are the city' (day 3).
Call for abstracts
The AMS Conference seeks to engage scientists, policymakers, students, industry partners, and everyone working with and on cities from different backgrounds and areas of expertise. We therefore invite you to submit your scientific paper abstract, idea for a workshop or special session with us. Submissions should be dedicated to exploring the theme 'Blueprints for messy cities?'. We especially invite young, urban rebels to raise their voice, as they are the inhabitants of our future cities.
Assessment
Our scientific committee responsible for the content of the conference program will assess all submissions and select a final program of contributions. Notification of acceptance will follow before 1 December 2023.
Topics
mobility | circularity | energy transition | climate adaptation | urban food systems | digitization | diversity | inclusion | living labs | transdisciplinary research
SUBMISSIONS AND CONTRIBUTIONS
| SCIENTIFIC PAPER ABSTRACTS |
We invite academics, industry partners, and professionals from all ages engaged in the related fields of urban design, governance, architecture, data science, engineering and/or sociology to submit an abstract for a conference presentation of your scientific paper (250-450 words).
| WORKSHOPS |
If you have a workshop proposal, please outline its purpose, the specific knowledge, techniques, or practices it covers, its objectives and learning outcomes, teaching strategies and resources, target audience, and any prerequisites, including the required level of experience (250-450 words).
| SPECIAL SESSIONS |
Next to scientific papers and workshops, we encourage you to submit different types of special sessions. These special sessions can include interactive forums, excursions, or practical demonstrations, depending on the subject and objectives. When submitting your proposal for a special session, we ask you to clearly highlight the session's objectives, expected collaborators (if applicable), the intended audience, and the type of session. Please also indicate whether you prefer an online or in-person format. Please note that you will be responsible for the content and organization of the session (250-450 words).
Click here to visit the event page and find more information on details about the Scientific Conference.
Herman van den Bosch, professor in management development , posted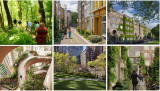 This is the 11th episode of a series 25 building blocks to create better streets, neighbourhoods, and cities. In this post, I wonder whether nature itself can tackle the environmental problems that humans have caused.
Ecosystem services
According to environmental scientists, ecosystems are providers of services. They are divided into production services (such as clean drinking water, wood, and biomass), regulating services (such as pollination, soil fertility, water storage, cooling, and stress reduction) and cultural services (such as recreation, and natural beauty). In case of nature-inclusive solutions ecosystems are co-managed to restore the quality of life on the earth in the short term and to maintain it in the long term, insofar as that is still possible.
The green-blue infrastructure
The meaning of urban green can best be seen in conjunction with that of water, hence the term green-blue infrastructure. Its importance is at least fourfold: (1) it is the source of all life, (2) it contributes substantially to the capture and storage of CO2, (3) 'green' has a positive impact on well-being and health; (4) it improves water management. This post is mainly about the third aspect. The fourth will be discussed in the next post. 'Green' has many forms, from sidewalk gardens to trees in the street or vegetated facades to small and large parks (see collage above).
Improving air quality
Trees and plants help to filter the water itself. They have a significant role to play in managing water and air pollution. Conifers capture particulate matter. However, the extent to which this occurs is less than is necessary to have a significant impact on health. Particulate matter contributes to a wide range of ailments. Like infections of the respiratory system and cardiovascular disease, but also cancer and possibly diabetes.
Countering heat stress
Heat stress arises because of high temperature and humidity. The wind speed and the radiation temperature also play a role. When the crowns of trees cover 20% of the surface of an area, the air temperature decreases by 0.3oC during the day. However, this relatively small decrease already leads to a 10% reduction in deaths. Often 40% crown area over a larger area is considered as an optimum.
Reduce mental stress and improve mood
According to Arbo Nederland, 21% of the number of absenteeism days is stress-related, which means approximately a €3 billion damage. A short-term effect of contact with nature on stress, concentration and internal tranquility has been conclusively demonstrated. The impact of distributing greenery within the residential environment is larger than a concentrated facility, such as a park, has.
Strengthening immune function via microbiome
The total amount of greenery in and around the house influences the nature and quantity of the bacteria present. This green would have a positive effect on the intestinal flora of those who are in its vicinity and therefore also on their immune function. The empirical support for this mechanism is still rather limited.
Stimulate physical activity
The impact of physical activity on health has been widely demonstrated. The Health Council therefore advises adults to exercise at least 2½ hours a week. The presence of a green area of at least ¼ hectare at 300 meters from the home is resulting more physical activity of adults in such areas, but not to more activity as a whole.
Promoting social contact
Well-designed green areas near the living environment invite social contacts. For instance, placement of benches, overview of the surroundings and absence of traffic noise. The state of maintenance are important: people tend to avoid neglected and polluted areas of public space, no matter how green.
Noise reduction
Vegetation dampens noise to some extent, but it is more important that residents of houses with a green environment experience noise as less of a nuisance. It is assumed that this is due to a mechanism already discussed, namely the improvement of stress resistance because of the greenery present.
Biophilic construction
For years buildings made people sic. A growing number of architects want to enhance the effect of 'green' on human health by integrating it into the design of houses and buildings and the materials used. This is the case if it is ensured that trees and plants can be observed permanently. But also, analogies with natural forms in the design of a building
The 'Zandkasteel', the former headquarters of the Nederlandse Middenstandsbank in Amsterdam, designed by the architects Ton Alberts and Max van Huut, is organically designed both inside and outside, inspired by the anthroposophical ideas of Rudolf Steiner. The (internal) water features are storage for rainwater and the climate control is completely natural. The building has been repurposed for apartments, offices and restaurants.
Green gentrification
Worldwide, there is a direct correlation between the amount of greenery in a neighborhood and the income of its residents. Conversely, we see that poorer neighborhoods where new green elements are added fall victim to green gentrification over time and that wealthier housing seekers displace the original residents.
The challenge facing city councils is to develop green and fair districts where gentrification is halted and where poorer residents can stay. Greening in poor communities must therefore be accompanied by measures that respect the residential rights and aim at improving the socio-economic position of the residents.
Follow the link below to find an overview of all articles.  
More news