Adriaan van Eck, Implementing IoT & Smart Energy , posted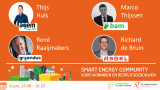 On June 6, Flexiblepower Alliance Network (FAN) and TKI Urban Energy are hosting the second webinar in the 2023 series of the Smart Energy Community: "Energy Communities and other collective solutions" (in Dutch).
Opening
Opening and update on the activities of Flexiblepower Alliance Network (FAN) by Adriaan van Eck, chairman of FAN.
Starting an Energy community, but how?
If you want to set up an energy community, where should you start? How do you organise an energy cooperation? Thijs Huls from the energy community Agem, in the Achterhoek, discusses what it takes to start an Energy community in terms of data, agreements and platforms and will explain how you can make an energy community really smart about their energy.
Power pitch: Groendus
Energy communities are not just for consumers, energy cooperations can also benefit businesses and entrepreneurs. René Raaijmakers of Groendus will tell us more about the opportunities for businesses to engage collectively in energy communities.
Power pitch: BAM
Within the innovation project TROEF, BAM is developing an energy-as-service concept. Marco Thijssen of BAM will explain more about the community platform that is part of TROEF and how they use gamification to encourage users to pursue their common goal.
Guide to Smart Energy Systems
Richard de Bruin of Rebel Group presents the Smart Energy Systems Guide, a report the Rebel Group developed on behalf of TKI Urban Energy. Richard will take us through the approach and considerations involved, taking three perspectives: energy hubs, business parks and energy communities.
Register:
https://cdn.flxml.eu/f-0411e667dc269719
Website:
https://topsectorenergie.nl/nl/agenda/smart-energy-community/