The waiting is almost over! The Smart City Expo World Congress in Barcelona will kick off on the 19th of November. In fact, the Dutch will start their mission on the 17th of November already. The Smart City Expo World Congress is an annual event to empower cities and urban innovation across the globe. Through promoting social innovation, establishing partnerships and identifying business opportunities, the event is dedicated to creating a better future for cities and their citizens.
But in an event full of conferences, meetups, workshops and city pavilions, which ones do you choose? Below our suggestions for an inspiring week!
Corporate leaders, public representatives, entrepreneurs, experts and academics from all around the globe come together to learn, share experiences and open new paths for international collaboration.
But in an event full of conferences, meetups, workshops and city pavilions, which ones do you choose? Below our suggestions for an inspiring week!
The Dutch will be present with a trade mission organized by the Netherlands Enterprise Agency. More than 200 companies, governments, knowledge institutions and foundations will be in Barcelona to exchange knowledge, share ideas and looking for and showing their solutions.
Monday
On Monday the Dutch and the Nordics will host an International Smart City Business Forum in WTC Barcelona. In several keynotes and workshops, focussed on the themes Circular Economy, Mobility, Data, Resilience, Safety&Security, Healthy Urban Living, we will inspire you. Amsterdam Smart City is involved in two elements of the program. Our program director Leonie will host one of the roundtables in the workshop on Green Energy in the City. Our colleague and smart city ambassador Frans-Anton Vermast will start the day with an Overview of Smart Cities Netherlands. Our partners AMS Institute and the City of Amsterdam will host the workshop 'Future proof Cities – Speed up smart sustainable and resilient innovation'.
And the good news is: Everyone is welcome to join! More information and registration.
Tuesday
The Smart City Expo has started!
According to the Dutch Smart City Strategy, Amsterdam is in the lead for the Circular Economy and Feeding the City. At 11.00 in the morning our friends from Amsterdam Trade & Innovate will host a track on this topic. So be there to hear what Dutch companies, governments and knowledge institutions have to offer in this field. The presentations are on the Dutch Pavilion and open for everyone. The track on Circular Economy will be followed by a presentation by The Floriade on innovative city development.
Dutch Kickoff for Smartcity Worldexpo Barcelona 2019
Around 14.45 we would recommend you to go to the EUROCITIES stand for 'Citizen data: from principles to implementation'. EUROCITIES adopted 10 principles for a better access, use and management of citizen data. In this session EUROCITIES will launch a publication featuring the best cross-cutting initiatives and projects on how European cities are implementing those principles. City experts will present their local case while focussing on common existing obstacles for the principles broader take up and will drove some possible recommendations to be addressed to the EU. Aik van Eemeren, program manager FutureGov at the City of Amsterdam, will present our local TADA manifesto.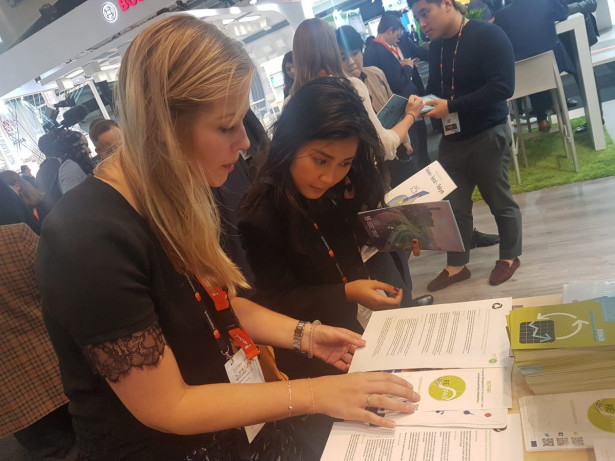 And… You can find Amsterdam Smart City and a lot of cities from the Netherlands at the Dutch Pavilion. Street D, Stand 473. Want to be sure to meet us? Stop by on Tuesday from 14.00h. See you there!
Wednesday
The Conference starts with an event on Energy Positive Districts (09.00-11.00h). The project ATELIER will be featured in this program. ATELIER is European Horizon 2020 project, developing a district in which more sustainable energy is generated than consumed. Amsterdam and Bilbao are lighthouse cities. Follower Cities Budapest, Matosinhos, Riga, Copenhagen, Bratislava and Krakow will copy the results.
Two conferences that appeal to us a lot are Co-Cities: The Strength of Collective Intelligence, on Wednesday from 11.15h-13.15h and and Living Labs & Strategic Collaborations from 15.45-16.30h. We don't know the contents yet, but certainly promising titles!
On the Dutch Pavilion, you can attend the track on Resilience / Sustainability at the Holland Pavilion from 13.00 – 13.45h. This track is prepared by Rotterdam and Amsterdam and shows you the best innovations on securing sustainable, safe, inclusive and healthy cities.
And also today: You can find Amsterdam Smart City at the Dutch Pavilion. Street D, Stand 473. Want to be sure to meet us? Stop by on Wednesday from 13.00h till 13.45h. See you there!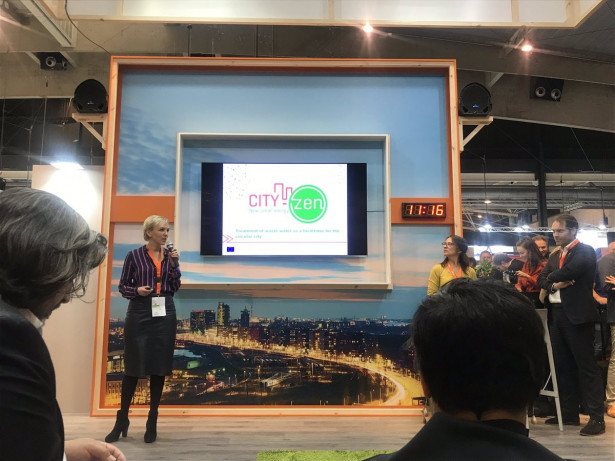 Thursday
On this day you can find our program director Leonie van den Beuken at the Conference.
From 09.30 until 11.30 you can go to the Theme Session 'Governance Innovation: Agile, Decentralized, Blockchain-powered'. Together with Daniel Annenberg (City of São Paulo), Kari Aina Eik (OiER / United for Smart Sustainable Cities (U4SSC)) and Michael Donaldson (CTO, CIO City of Barcelona), Leonie will talk about 'Collaboration and Governance Models to Drive Urban Innovation'. Leonie will focus on the urgency for innovation, the core values of Amsterdam Smart City, how involving citizens makes projects better and the lessons we learned the last ten years.
You don't want to miss this!
Program and tickets
View the whole program on <http://www.smartcityexpo.com/en/home> to determine where you want to be. We hope to see you in Barcelona!
Smart City Expo Barcelona 2018 - World Congress | Aftermovie