Want to receive updates like this in your inbox?
Get notified about new updates, opportunities or events that match your interests.
Set up preferences
Maybe you will also like these updates
Noor Veenhoven, Program manager energy & circularity at Amsterdam Smart City, posted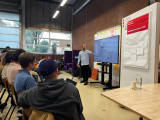 Amsterdam, a city with an ambitious goal of becoming fully circular by 2050, envisions a future where materials are continuously reused, waste is minimized, and resource cycles are closed. Achieving this vision hinges on the availability and analysis of data, which allows us to assess the extent to which materials are used, reused, or wasted. However, this data is often elusive, complex to analyse, and, in some cases, not even recorded. These challenges surrounding circular data were the focal point of our recent event, "Data Dilemma's: Collecting Data for the Circular Economy."
During Data Dilemma's, we explore the possibilities for using data and new technologies to address urban and societal challenges, with a focus on responsible digitalization. The goal is to use data to make cities more safe, clean and accessible. But what happens to all the data that is collected? Which dilemmas do we encounter when we collect (personal) data to improve the city.
Apparently, the topic of this edition of Data Dilemma's was not only of interest to the Amsterdam Smart City team, since this event was completely sold out. This was no surprise, with the three incredible speakers we had lined up: Mersiha Tepic (municipality of Amsterdam), Maarten Sukel (Picnic), and Joris Bouwens (Metabolic).
Mersiha Tepic: Circular Economy Monitor Amsterdam
Mersiha Tepic, Senior Researcher at the Research & Statistics department of the Municipality of Amsterdam, demonstrated the Circular Economy Monitor Amsterdam. This essential tool tracks Amsterdam's progress towards a circular economy and identifies areas requiring further attention.
The monitor gives interesting insights. For instance, it shows that the environmental impact of food is four times as big as the impact of the built environment, even though the amount of materials used in the built environment is four and a half times larger than for food.
It reveals that food has a very high environmental per kilogram compared to materials from the built environment. This is interesting because it makes the total environmental impact of food much higher than the impact of the built environment, even though the built environment uses four times as much mass in materials than food.
For more information on the circular monitor and all its insights, you can check out their (Dutch) website.
During her presentation, Mersiha also delved into the data dilemma she faces in this project—the scarcity of data from significant commercial entities operating within the city. The lack of data from these key players poses a considerable challenge to Amsterdam's circular ambitions, and Mersiha's work sheds light on the importance of bridging these data gaps.
Maarten Sukel: Data-Driven Precision at Picnic
Our second speaker, Maarten Sukel, a Data Scientist at Picnic Technologies, showcased how the online supermarket Picnic leverages data. He presented an innovative approach that combines traditional data sources with images, written descriptions, and geographical information to predict customer preferences accurately. By doing so, Picnic not only optimizes its supply chain but also minimizes waste, aligning with the circular economy's core principles.
Maarten's insights provided a glimpse into how data-driven precision can be a game-changer in the pursuit of sustainability and waste reduction, and he also gave a convincing sales pitch on why you should be a customer of Picnic.
Joris Bouwens: The Promise of Digital Product Passports
Closing the event was Joris Bouwens, a Project Manager and Senior Consultant at Metabolic's Circular Industries team. Joris shed light on Digital Product Passports and their potential to revolutionize the circular economy. These passports offer a comprehensive digital record of a product's lifecycle and environmental impact, empowering consumers to make informed choices and encouraging responsible consumption and recycling.
Joris's presentation highlighted the immense opportunity presented by Digital Product Passports in getting as much value from used products as possible. To fully illustrate the potential of Digital Product Passport, Metabolic has created a visualization of the data flows in four sectors: Electronics, Chemicals, Apparel, and Construction. You can find these visualizations here.
We extend our gratitude to our amazing speakers for their invaluable contributions and to our engaged audience for their active participation in the discussion.
In the next edition of Data Dilemma's we will delve into the fascinating world of the underground. What cables, tubes, and other assets can be found there, how is the data on these assets shared, and how can we improve collaboration? We hope to see you there on the 26th of October.
Do you have any suggestions for which Data Dillema's we should uncover next? Let us know in the comments below.
Harmen van Sprang, co-founder & CEO Sharing Cities Alliance , posted
Join us on 28 September to explore how (generative) AI will impact our cities and change the way we live, work & play.
From livability to sustainability, from health/wellbeing to public safety, from transportation to infrastructure, and from economic opportunities to urban planning: there are many opportunities ahead (and already happening).
From ethical implications to regulation, from awareness to safety/trust, and from data quality to technological infrastructure: we also got plenty of challenges to address and overcome.
Like to join this virtual roundtable session on 28 September? Visit http://sharingcitiesalliance.com/events to sign up (for free).
We welcome you to already share your ideas, cases as well as concerns regarding (generative) AI via LinkedIn.
AI & The City is an initiative of the Sharing Cities Alliance & Studio Sentience.
Tom van Arman, Director & Founder at Tapp, posted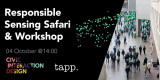 There is a lot of sensing going on in Amsterdam. Where are these sensors? What kinds of sensors are there? How do these sensors help our city? Join us on October 4th for a hands-on workshop to learn how to use 1) privacy-by-design toolkits, 2) discover citizen centric sensors and 3) learn how to make your own smart city projects more responsible.
Join us for an inspiring afternoon to learn and build human centric smart city technologies.
REGISTER FREE >> Eventbrite Responsible Sensing Safari & Workshop
Are you a concerned smart citizen, or smart city innovator? This workshop is for you! Tom van Arman, from TAPP - Smart City Architecture will guide you through the many legal, technical and even spatial considerations that you'll need to know about before deploying sensors in public space. Participants will go on a real-world Sensor Safari to discover the many devices in their natural habitat. Finally, roll up your sleeves and work together in a 'Sensing Dilemma Workshop' where we will field test some sensing projects to see how it can help (or harm) our future city! The workshop will take place on the Marineterrein, an inner-city test ground for a sustainable living environment.
Ethics in smart city technology is not something you assess at one specific point in time in a tech's lifecycle and then can forget about it. In the project Human Values for Smarter Cities, researchers, designers, civil servants (The Hague, Rotterdam and Amsterdam), and citizens look for ways ethical principles can be interwoven in the articulation, making, deployment and adjustment of smart city technology.
More news