Want to receive updates like this in your inbox?
Get notified about new updates, opportunities or events that match your interests.
Set up preferences
Maybe you will also like these updates
Marjolein Bot, Lead Energy&Digital at Amsterdam Economic Board, posted
Het Actienetwerk GasTerug zet zich in om zoveel mogelijk energiebesparingen te realiseren in de metropool Amsterdam. Want je bent het meest duurzaam door de energie die je niet gebruikt.
Het netwerk bestaat uit een groeiende groep van mensen die zich op verschillende gebieden hiervoor willen inzetten - en jij kunt ook meedoen!
Op 22 juni is de volgende netwerkbijeenkomst. Wil je hierbij zijn, meld je dan aan via:
https://ikzetookdeknopom.nl/2023/05/27/7e-netwerkbijeenkomst/
Cornelia Dinca, International Liaison at Amsterdam Smart City, posted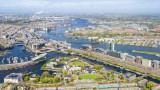 Do you want to connect, learn, and exchange experiences about Amsterdam Smart City? We have designed programs to help you connect to Amsterdam's innovation ecosystem and key learnings from projects in the Amsterdam metropolitan region. Here are our most popular programs:
1. Smart City the Amsterdam Way
We give you an overview of Amsterdam Smart City's program, governance and key projects. It's a light way to get introduced to it all in 1,5 hours and we can also offer this online.
Timing & cost: 1.5h hours, from €300 per group
2. Amsterdam Smart City Deep Dives
Go on a Deep Dive with Amsterdam Smart City and get to the bottom of the energy, mobility, digital city or circular economy transition during this customized 2,5 hour session with multiple experts from Amsterdam's ecosystem.
Timing & cost: 2.5 hours, from €500 per group
3. Smart City Experience
Since 2016, Amsterdam Smart City has hosted more than 250 customized study programs, innovation journeys and trade missions from over 30 countries. With the Smart City Experience we offer tailor-made programs consisting of expert meetings and project visits connecting local and (inter)national stakeholders to the Amsterdam Smart City approach and innovation ecosystem.Timing and cost: 6-8 hours, from €1,500
Where do the Amsterdam Smart City Programs take place?
Most programs take place, or at least start at, the Smart City Lab on the Marineterrein Innovation District. This is a "small space for big ideas" where we showcase examples of smart city solutions from Amsterdam. The Smart City Experience Lab is also a workplace where Amsterdam Smart City partners meet and collaborate. Groups visiting the Experience Lab can also visit the Marineterrein Amsterdam Living Lab on their own or as a part of an organized program.
Questions
Questions or looking to organize a different or customized program? Please send an email with your request via cornelia@amsterdamsmartcity.com.
Hidde Maas, Adviseur at Over Morgen, posted
Het speelveld van de energiemarkt voor mobiliteit verandert in snel tempo. Het geloof in de verkoop van diesel en benzine verdwijnt. Gemeenten kunnen voorsorteren op de duurzame mobiele transitie door na te denken over de toekomst van huidige tankstationlocaties.
De vereisten voor het ombouwen van een tankstation tot een laadstation zijn afhankelijk van verschillende factoren, waaronder de grootte en indeling van het tankstation en de elektrische capaciteit van de ligging. Over het algemeen zal een geschikte locatie voor een laadpaal voldoende ruimte moeten bieden voor de minimale vereisten. Eveneens moet de locatie toegang hebben tot een betrouwbare en voldoende elektriciteitsvoorziening, waarvoor mogelijk upgrades van de lokale elektriciteitsinfrastructuur nodig zijn.
Onze two-pager over dit onderwerp lezen? Dat kan via deze link.
Contact over dit onderwerp opnemen? Dat kan via Hidde van der Maas of Anouk Hodemaekers.
More requests