Stay in the know on all smart updates of your favorite topics.
To keep Amsterdam liveable the municipality collaborates with its citizens. On average Amsterdam's population grows with 10.000 people a year. This small big city has a density of 5065 people per square km, over 180 different nationalities. 19% of the total Dutch GDP is earned in the Amsterdam Metropolitan Area. Between 2015 and 2016, the amount of tourists in Amsterdam increased by 7%. To keep Amsterdam's 162 canals, monumental centre and residential areas liveable, innovative initiatives are required. Share your innovative concepts and ideas here!
Tom de Munck, Content Marketeer at Amsterdam University of Applied Sciences, posted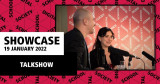 At the Digital Society Showcase (DSS) we proudly share how our projects and courses activate a new generation's potential to positively impact the digital transformation of society. Find out how to obtain a responsible, inclusive mindset, how to integrate technology in society and how to design for the UN Sustainable Development Goals (SDG's).
Programme
16:00 CET | start of live talkshow
16:30 CET | opening expo (ongoing)
17:00 CET | closing the live talkshow
18:15 CET | closing the expo
Live Talk Show
At 16:00 we kick-off with an interactive and live talkshow about Transformational Leadership, Learning Revolution and Sustainability, Diversity and Digital transformation.
With topic experts we discuss the following questions:
What is needed to lead the transformation of todays world and digital society to become more inclusive, sustainable and living-future-proof?
How is DSS changing the learning game from within the AUAS? What impact do we think education has on the needed transformation of crumbling systems around us?
How is the AUAS growing these topics within the organisation, education and research? And how is DSS impacting these topics via our programs and products?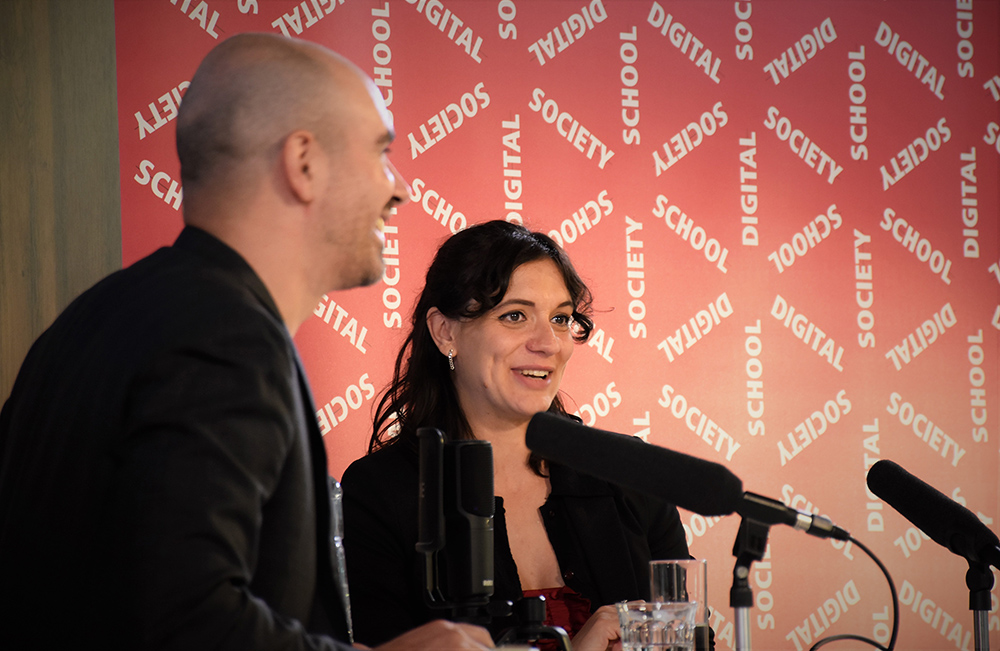 Discover the 7 projects
In 20 weeks an international, highly talented group of trainees worked on finding solutions for the most urgent challenges that relate to the digital transformation of society. In multidisciplinary teams they worked with our project partners, under the guidance of a 'Digital Transformation Designer', their track community, and the rest of the Digital Society School team.
During the showcase the teams will show you the prototypes and explain how they contributed to the Digital Transformation of Society and the Sustainable Development Goals. The different tracks (thematic programs) will also present themselves and discuss how design, tech and social innovation can have a positive impact on sustainable development.
Gijs Boerwinkel, Head of communications at Waag, posted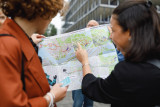 Wandel op 30 januari '22 mee langs de digitale sporen in Amsterdam en ga in gesprek over data, sensoren, en camera's in de openbare ruimte. Kan een stad slim zijn of moeten we juist inzetten op slimme burger; smart citizens?
Wat wordt er aan data verzameld en wat gebeurt daarmee? Kun je je nog onbespied wanen in de publieke ruimte van mijn stad? Hoe ziet de ideale digitale stad van de toekomst er volgens jou uit?
Digitale infrastructuur
Ooit bestond de stad uit bakstenen en staal, gebouwen en wegen. Maar steeds meer is deze infrastructuur vervlochten met een digitaal netwerk dat alles verbindt. Deze digitale sporen vind je overal. Ze helpen ons de stad en haar inwoners steeds verder in kaart te brengen. Tijdens de smart citizen-wandeling kom je deze sporen tegen. Van slimme bewegwijzering die ons leidt, tot camera's die ons volgen. Je gaat in gesprek over de relatie van bewoners met de technologie in de stad en wordt uitgedaagd je aannames te bevragen en toekomstideëen te delen.
Wanneer:30 januari '22
Starttijden: 14:00 uur en 15:00 uur
Startpunt: Amsterdam CS, IJ-zijde West
Eindpunt: Tolhuistuin
Nodig: goede schoenen, opgeladen telefoon, flesje water
Afstand en duur wandeling: 
Amsterdam: 
5,3 km
 - 1 uur en drie kwartier
Meer informatie
Bij het startpunt van de wandeling krijg je informatie over de wandeling en ontvang je een wandelpakket met een routekaart en gespreksmateriaal voor tijdens de wandeling. We starten gezamenlijk, daarna wandel je in kleine groepjes, met max 4 mensen. Bij het eindpunt word je ontvangen met koffie en thee. Je kunt je aanmelden met vrienden, of meewandelen met iemand die je nog niet kent en je laten verrassen!
Henrike Slob, Marketing Communications Lead at Impact Hub Amsterdam, posted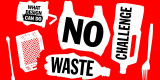 You're invited the No Waste Challenge 2021 Demo Day organized by What Design Can Do & Impact Hub Amsterdam!
About this event
We are very delighted to invite you to the Demo Day of the No Waste Challenge 2021, taking place on: Thursday 10th of February at 16:00 CET, organized by What Design Can Do and Impact Hub Amsterdam.
After taking part in the half-year Development Programme, 16 winning teams of the No Waste Challenge will present their project, business case, their ambitions and their biggest needs moving forward, such as funding to scale-up, strategic partners, launching customers and specific expertise.
Get to meet these amazing creative entrepreneurs and enter in conversations with them in different breakouts. We promise you, you'll leave the digital space inspired and engaged!
RESERVE YOUR (ONLINE) SPOT HERE!
The No Waste Challenge called on creative entrepreneurs and designers all over the world to submit innovative, design driven solutions to the catastrophic waste issues the world is facing. From the more than 1400 entries, an international jury of design and climate experts selected the most professional, promising creative startups that submitted the most impactful and feasible design driven innovations to join the challenge's development programme.