Stay in the know on all smart updates of your favorite topics.
Are you interested in the experiences of others working in smart city projects and organizations? The Smart City Academy provides available knowledge about smart city projects and can help you with project development. This Smart City Academy page provides you with information and researches about the impact and conditions of smart city projects. Professors, teachers and students study the initiation, management, collaboration and scaling of smart city projects and would like to share these results with you. They do so by organizing events and masterclasses, by developing smart city tools and methodologies and by making research and outcomes accessible. You can find everything here. And the good news is.... You can add your knowledge too! Are you working on Smart City research? Please feel free to share your knowledge in the Academy section, under 'Other research and theses'. The Smart City Academy is powered by the Amsterdam University of Applied Sciences. If you have any questions, you can contact smartcityacademy@hva.nl
Jelle Burger, AMS Academy assistant at AMS Institute, posted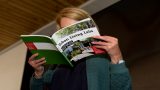 Build your knowledge & skills on the Living Lab approach during the online AMS Summer School 2021.
You will learn to understand what a Living Lab is and when it can be of value to start one. You'll also gain hands-on knowledge on what is needed to have a successful start, and how to deal with issues such as stakeholder involvement and citizen empowerment.
The Summer school will challenge you to work with a new mindset, build a new network of professionals and academia. It gives you the opportunity to be a part of the next steps towards the future of one of Amsterdam's key projects.
During the Summer school, we will help you solve the real-world challenge you bring with your team.
What can you expect?
During the week you will work in a team of 5 participants on a pre-defined real-life case. The Urban Living Lab Summer School consists of lectures, online co-working sessions, trainings, and real-world interventions. It will tap into theoretical frameworks of Living Lab methodology, process tools to help deliver a plan of approach and deploy teamwork on a real-life case. It will focus on your own learning goals for reinventing cities of tomorrow. The mix of participants - academic researchers, public professionals, and company innovation managers, with at least 5 years of experience - generates new insights and perspectives on the challenges by co-creating solutions together.
Cases we'll work on
• Case 1 – Circularity at IJburg 2
• Case 2a – Mobility hubs: area-oriented approach 'Jordaan' & 'Westelijke Grachtengordel' Amsterdam
• Case 2b - Exploration of mobility hub development at 'Appeltjesmarkt/Europarking' location, Amsterdam
During the week
In the week of 16 August you can expect a full-time online program running from Monday to Friday from 9:00-17:00. We expect you to be present to get the most out of it, also be there for your team. Every day you will attend inspirational lectures, participate in workshops, get personal coaching and work with your group on your case. All classes, materials and discussions will be in English.
Pricing
PhD student: € 500
Senior researcher € 900
Professional € 2000
The application deadline is July 16, so make sure to apply on time.
Note from ASC: Have a question? Let's hear it in the comments!
Vineeta Shetty, Strategic Communications, Partnership Building , posted