Stay in the know on all smart updates of your favorite topics.
NEMO Science Museum, posted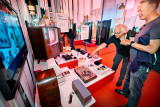 Exhibition: Energy Junkies
NEMO for adults: visit The Studio at the Marineterrein
The Studio is NEMO's off-site location at the Marineterrein in Amsterdam: Kattenburgerstraat 5, Building 027A.
A warm house, a quick microwave meal and a mobile phone that allows you to stay connected 24/7 – there's no shortage of comfort and convenience in our everyday lives. But almost everything would grind to a halt if we were to lose access to one vital source: energy. At the moment, this issue is more relevant than ever, both in politics and among consumers. Our addiction to energy, dependence on fossil fuels and the effects of our energy consumption on climate change arethe focus of NEMO's new exhibition for adults: <em>Energy Junkies</em>.
In the Energy Junkies exhibition, you get to make the decisions that will determine our future. How would you transform our energy addiction into a healthy habit? Create your own carbon diet, choose the right medicines from the climate pharmacy and dream about a world where we are cured of our energy addiction. The Energy Junkies exhibition opens June 8 2022 at NEMO's Studio, the off-site location for adults at the Marineterrein in Amsterdam.
Photo: DigiDaan.
Amsterdam Smart City, Connector of opportunities at Amsterdam Smart City, posted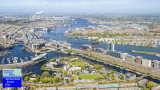 Do you want to connect, learn, and exchange experiences with Amsterdam Smart City representatives? Our programs match the needs of any local, national and international stakeholder who is interested in discovering Amsterdam's innovation ecosystem.
One of our roles is to distil key learnings from urban innovation projects in the Amsterdam metropolitan region and share those. Through our programs we also learn from other cities and their experiences.
We've made a selection of our most popular programs:
1. Smart City the Amsterdam Way 
We give you an overview of Amsterdam Smart City's program, governance and key projects. It's a light way to get introduced to it all in 1,5 hours and we can also offer this online. Cost: From €300 per group.
2. Amsterdam Smart City Answers Your Questions 
Ask all your questions about Amsterdam Smart City and get advice on your Smart City Project or Program. Meet our representative online or face to face to get the insight you've been missing. Cost: From €200 per group.
3. Amsterdam Smart City Deep Dives 
Go on a Deep Dive with Amsterdam Smart City and get to the bottom of the energy, mobility, digital city or circular economy transition during this customized 2,5 hour session with multiple experts from Amsterdam's ecosystem. Cost: From €600 per group.
Where do the Amsterdam Smart City Programs take place?
Most programs take place, or at least start at, the Smart City Lab on the Marineterrein Innovation District. This is a "small space for big ideas" where we showcase examples of smart city solutions from Amsterdam. The Smart City Experience Lab is also a workplace where Amsterdam Smart City partners meet and collaborate. Groups visiting the Experience Lab can also visit the Marineterrein Amsterdam Living Lab on their own or as a part of an organized program.
Questions
Questions or looking to organize a different or customized program? Send an email with your request to cornelia@amsterdamsmartcity.com.
Stay up to date
Get notified about new updates, opportunities or events that match your interests.
Set up preferences