---
Want to receive updates like this in your inbox?
Get notified about new updates, opportunities or events that match your interests.
Set up preferences
Maybe you will also like these updates
Highlight
from Amsterdam Smart City, Connector of opportunities at Amsterdam Smart City, posted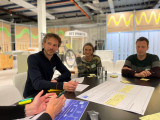 In juni is de vijfde programmaperiode van Amsterdam Smart City gestart. 27 Partners hebben commitment gegeven om hun krachten te blijven bundelen. Met elkaar werken we aan de grote en urgente vraagstukken van deze tijd, door de inzet van innovatie en digitalisering. Met oog voor complexiteit, integraliteit en met het doel voor ogen van leefbare en bruisende steden en regio's. Op onze eigen unieke wijze. Waarde gedreven, creatief, open, op elkaar voortbouwend.
Op 7 november zijn we bij elkaar gekomen om in co-creatie een start te maken aan de volgende drie urgente challenges.
Van digivaardige mensen naar mensvaardige digitalisering
Technologische en innovatieve ontwikkelingen volgen elkaar steeds sneller op. Als overheid wil en moet je hierin meegaan. Tegelijk leidt de inzet van digitalisering en data vaak tot ongewenste resultaten, wat de afstand tussen inwoners/ondernemers en de overheid vergroot.
Gemeente Haarlemmermeer verschuift haar focus van 'het systeem staat centraal, mensen moeten maar digivaardig worden' naar 'de mens staat centraal, onze systemen moeten mensvaardig worden'. De onderliggende vraag is hoe zet je de mens écht centraal in digitalisering en het vormgeven van digitale systemen? De gemeente Haarlemmermeer zou graag samen optrekken om deze vragen uit te werken tot een advies dat breder inzetbaar is.
Mobiliteitsarmoede: hoe voorkomen we uitsluiting van mensen in het mobiliteitssysteem?
Stijgende benzine- en elektriciteitsprijzen; de toenemende digitalisering en afname van het openbaar vervoeraanbod zorgen er, onder andere, voor dat steeds meer mensen problemen hebben om zich te verplaatsen. Verduurzaming en deelmobiliteit lijken niet voor iedereen weggelegd en maatregelen om dit te stimuleren werken het probleem mogelijk zelfs in de hand. Het risico op sociale uitsluiting wordt hierdoor groter.
De provincie Noord-Holland en DRIFT maken zich zorgen over mobiliteitsarmoede en vragen zich af wat we eraan kunnen doen om deze mensen mobiel te houden. Er is echter nog weinig bekend over de omvang van het probleem, de exacte doelgroepen en welk instrumentarium werkt (en wat vooral niet). Daarom willen we graag in gesprek met de partners om tot gezamenlijk inzicht en een afgestemde aanpak te komen.
Samenwerking voor ontwikkeling lokale energiesystemen
De milieuproblematiek en de huidige hoge energieprijzen zorgen voor een snelle omschakeling van gas naar elektriciteit. Dat is de afgelopen jaren veel sneller gegaan dan voorzien, met netcongestie als gevolg.
Door samenwerking tussen lokale partijen kan er een zo optimaal mogelijk energiesysteem gecreëerd worden. Dat kan het elektriciteitsnetwerk ontlasten en, bijvoorbeeld, het maximaal gebruik maken van duurzame bronnen stimuleren en de energiekosten drukken.
Dit vraagt een intensieve samenwerking waarbij elke partij wordt uitgedaagd om verder te denken dan de eigen belangen. Er zijn geen bestaande structuren of systemen waar dit binnen past. Alliander doet een oproep voor samenwerking op dit vraagstuk.
Vertragen
In dit soort complexe vraagstukken is het belangrijk om eerst te vertragen; te verkennen en te verdiepen, voordat je snelheid kunt maken. Dit was een eerste van drie verkennende en verdiepende sessies. We hebben in verschillende werkgroepen verkend waar de complexiteit zit in deze vraagstukken en verdiept wat er nodig is om hier stappen in te maken. Vraagstellingen zijn aangescherpt en er is een start gemaakt met het vormen van coalities rondom deze vraagstukken. Op 1 december gaan we hier op onze transitiedag weer mee door. En bewegen we toe naar het opzetten van concrete initiatieven.
Uiteraard kunnen we hier alle hulp en expertise bij gebruiken. Denk jij van toegevoegde waarde te kunnen zijn en wil je je inzetten voor een van de beschreven vraagstukken? Laat het ons weten via sophie@amsterdamsmartcity.com.
Sophie van der Ploeg, Community Manager & Program Lead Digital at Amsterdam Smart City, posted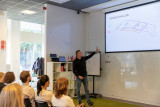 Data Dilemmas is a collaboration between Amsterdam Smart City and the City of Amsterdam's Data Lab. During Data Dilemmas, we explore the possibilities for using data and new technologies to address urban and societal challenges, with a focus on responsible digitalization. The goal is to use data to make cities more safe, clean and accessible. But what happens to all the data that is collected? Which dilemmas do we encounter when we collect (personal) data to improve the city? These questions are important for everyone: governments, knowledge institutions, companies, and civil society. In the latest edition of Data Dilemmas, hosted on the 29th of September 2022, we invited Joep Meindertsma, Tom van Arman and Jan van Boesschoeten to take us through the experiences, dilemmas and lessons learned from the Amsterdam Data Exchange (AMdEX) initiative. Marit Hoefsloot from Waag gave a critical reflection on the presented Data Dilemmas.
Joep Meindertsma (Dexes) – Introduction to AMdEX
AMdEX is a collaboration between the Amsterdam Economic Board, AMS-IX, Dexes, the University of Amsterdam and Surf. AMdEX aims to give people more control over their data through a secure, trusted and neutral infrastructure which enables sharing data under specific conditions. AMdEX has two missions: give people more control over their data and make it more attractive to share data. These two missions are a data dilemma in itself.
Data exchange is currently monopolized by a handful of major players and the web is more centralized than ever before. The direct connections between people and organisations have become fewer. This is because we're increasingly using middle-men, services between the data source and the user. Joep explains: "If you want to see someone's vacation photos, you have to send a request to Facebook. Facebook owns the data, decides who can access it and dictates what the app looks like". This problem is not limited to vacation photos or Facebook. It is about all our data. Almost all services are middle-men, with its own closed way of data sharing. This creates data silos – places where data is effectively locked away.
Joep refers to three types of data: "data we want to share, data we don't want to share, and data we might want to share." This 'might share' category often contains valuable data, but it can be costly or difficult to share. Set conditions makes sharing this data easier. AMdEX makes this possible through a few software projects they're currently building: eFlint (a new language to describe legal constructs), DexPod (an open source personal data server) and Atomic Data (a specification and open source software to improve data interoperability).
Tom van Arman (Tapp) - AMdEX case study: Marineterrein Sensor Data
Meanwhile, the Marineterrein in Amsterdam is full of sensors, collecting all kinds of data. Think of MicroLAN measuring the water quality, or Public Eye collecting crowd data. Marineterrein is a 'living lab', where technologies that contribute to a sustainable and future-proof city can be tested. Together with AMdEX, Tom looked at how the collected data can be made accessible to third parties, such as researchers, journalists, students, artists and entrepreneurs. The Marineterrein and the data collectors, for example Public Eye, set conditions for the data to be used. Tom describes how this works in practice: "If a journalist is interested in using crowd data collected by Public Eye, they must be a member of the Marineterrein community and subscribed to AMdEX. If the journalists meets these requirements, they will receive an AMdEX email with a data download link."
Jan van Boesschoeten (AMS-IX) - The Future of AMdEX
As Joep and Tom already mentioned, there are many questions around data: who owns the data, what are you allowed to do with it? How do you work together with your competitors to get more value out of your data? A data exchange can be a solution to these questions. This is why AMS-IX, a neutral member-based association that operates multiple interconnection platforms, is connected to AMdEX. Jan shortly describes the future of the AMdEX initiative. The field lab with use cases ends in June 2023, and at that time AMdEX also aims to be a legal entity. Additionally, one of their use cases involving KLM will be presented at AMS-IX's MORE-IP community event in June. After that, AMdEX will onboard new use cases.
Marit Hoefsloot (Waag) – A critical reflection on the Dilemmas encountered in AMdEX
Last but not least, Marit Hoefsloot from Waag reflects on the dilemma's presented by Joep, Tom and Jan. Marit describes that the use of data is often seen as an act of notion, whilst privacy is more of a passive notion (not using the data at all). However, it's possible to use data whilst also protecting ones privacy. A good example of this is IRMA, a privacy-friendly digital wallet which can be used for authentication. As Marit pleads: "Data usage and privacy are not necessarily contradictory, it is about both." Organisations should see protecting privacy as their own responsibility, instead of giving the illusion of consent with an opt-in or opt-out option.
The second dilemma Marit reflects on is about developer productivity vs. standardisation. Standardisation takes a lot of time, which takes away from innovation and productivity. However, you need standardisation to develop these kind of exchange platforms, as there are many organisations that are involved. Marit describes that the real questions we should talk about are: what is the flexibility of the standard? Do we create the standard together, or more top-down through legislation? Who are we standardizing for? "We should prioritise standardisation, but do it in an open and inclusive way."
Would you like to join our next Data Dilemmas at Datalab? The upcoming session is scheduled on the 8th of December (topic and speakers to be announced). Keep an eye out on our platform for the programme!
Photography: Myrthe Polman
Amsterdam Smart City, Connector of opportunities at Amsterdam Smart City, posted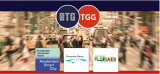 We brengen de Smart City Expo World Congress Barcelona naar je keukentafel!
BTG, gemeente Almere en Amsterdam Smart City nodigen je uit voor dit MRA evenement.
In een slimme stad zijn traditionele netwerken en diensten meer flexibel, efficiënt en duurzaam. Digitale informatie en telecomtechnologie laten de stad beter werken ten gunste van haar inwoners. Slimme steden zijn groener, veiliger en vriendelijker.
In de groeiende groene stad groeit innovatie mee om er voor te zorgen dat ze de wensen en behoeften van haar bewoners kan vervullen en voorspellen en kan verduurzamen. Dit heeft betrekking op mobiliteit, energie, circulariteit, infrastructuur, gezondheid en technologie.
Slimmere producten, diensten en een groter gebruik van data, sensoren en IoT stellen hogere eisen aan onze infrastructuur. Wifi 6, 5G en een fijnmaziger glasvezel netwerk met hogere snelheden zijn nodig. In dit webinar staan verschillende pilots op gebied van IoT en 5G centraal in de context van Floriade Expo 2022.
Programma 18 november
09.00 uur - Opening en welkom door Danny Frietman, Petra Claessen (BTG/TGG) en Leonie van den Beuken (ASC)
09.15 uur - Keynote Agentschap Telecom over antennes in steden
09.45 uur - Lenneke de Voogd over pilots Do IoT Fieldlab
10.15 uur - Keynote Serge Hollander, Floriade Expo 2022
10.35 uur - Gesprek aan tafel en samenvatting
11.00 uur - Afsluiting
More events