Sophie van der Ploeg, Community Manager & Program Lead Digital at Amsterdam Smart City, posted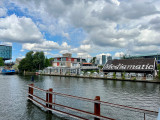 Whether you're a visitor exploring Amsterdam, or a local opting for a staycation this summer, boredom is not on the agenda. There are some great things to do and see if you're interested in innovation and sustainability. Delve into my curated list of smart city summer tips with exhibitions, activities and experiences from our partners and community. Zigzag across the city and discover the city from a different perspective!
1. Discover the city as a living place at the Landscape festival: 'Met andere ogen' (with other eyes)
Nature is a source of beauty and comfort, of relaxation and well-being, but it is now also in crisis. Diversity is declining and habitats are disappearing. In the ecological recovery lying ahead, the city plays a remarkable role: not only as a hotspot for biodiversity, but also as a meeting place where we can forge links between human and other life. Waag Futurelab invites you to set your sights on the Amsterdam Science Park and discover the city as a living place, together with artists, local residents and scientists. Take a walk along the walking route across the Amsterdam Science Park past all the installations and interventions.
From June until September 2023. Pick up a map at Café-Restaurant Polder (address: Science Park 201). Costs: free.
2. Take an architectural summer walk through new city areas
Arcam, the centre for architecture in Amsterdam, organises a series of architectural walks through neighbourhoods in development: Houthaven, Sloterdijk, Zuidas, Centrumeiland and Elzenhagen-Zuid. On Sundays from June to September, you can join a summer walk, led by an enthusiastic city expert, to visit and learn more about newly (to be) transformed areas of Amsterdam.
Every Sunday (from June to September) from different pick-up points. Costs: € 15,00 per person.
3. Fix your broken stuff at Repair Café Oud Noord
Give your broken belongings a second chance at the Repair Café in De Ceuvel (Metabolic Lab). Whether it's electronics, textiles, furniture, or bikes, the dedicated team at the Repair Café is there to assist with even the most challenging repairs. Join this community-driven initiative on the first Wednesday of each month! While the repairs are free, donations for used materials are warmly appreciated.
Every first Wednesday of the month (next up August 2, from 18:00-20:00) at De Ceuvel, Metabolic Lab. Costs: Free.
4. Green up your city with the NK Tegelwippen ('National Tile Removal Championship')
In the Netherlands, it's common to see apartment buildings, offices, and homes surrounded by tiles. This might be low-maintenance, but they're not particularly beautiful and do absolutely nothing to help the environment. We're increasingly facing problems such as heat stress and flooding, and all those stone tiles in urbanised areas do not cool down on a hot day or let water through when it rains. Join the National Tile Removal Championship this summer! Remove tiles (for example in your garden) and replace them with plants and flowers for a greener city.
From March 21st till October 31st, more information via the website of NK Tegelwippen.
5. Learn more about our energy addition at the Energy Junkies exhibition
Our dependence on fossil fuels and the effects of our energy consumption on climate change are the focus of NEMO's new exhibition for adults: Energy Junkies. NEMO invites you to explore the decisions that will determine our future. How would you transform our energy addiction into a healthy habit? Create your own carbon diet, choose the right medicines from the climate pharmacy and dream about a world where we are cured of our energy addiction. Visit Energy Junkies at NEMO's Studio, the off-site location for adults on the Marineterrein in Amsterdam.
 
Energy Junkies is open from Wednesday – Sunday, from 12:00 – 17:30 until October 29.  Costs: € 7,50
6. Visit the Maker Market
Meet passionate and innovative makers from all over the world at The Maker Market! Here you will find handmade products produced with love and craftsmanship. The event focuses on sustainable production processes and Fair Trade. Engage with the makers, hear their stories, and witness their creative processes. This way, you can discover products with a good story.
On Saturday July 28 (11:00-17:00), Sunday July 28 (12:00-17:00), Saturday August 26 (11:00-17:00) and Sunday August 27 (12:00-17:00) at the Passage. Costs: Free.
7. Book a tour at Mediametic
Get a glimpse behind the scenes at Mediametic! During their weekly tour on Friday, you'll get the chance to peek inside their labs, in which they explore the possibilities of bio-materials for design, science and art. You'll also visit the Clean lab, where Mediametic is currently focusing on the use of waste materials, as a source for new material. You get an introduction in the Aroma lab, their open perfume workshop and scent library where scent is explored as an artistic medium. And you will get to see the Plant lab, where herbs and edible flowers are grown for the restaurant in a sustainable way.
On Friday's at 16:00, Mediametic. Costs: € 4,50 incl. a drink.
8. Keep your head cool! At Waag Open
It's getting hot in here! Since 1923, the KNMI (The Royal Netherlands Meteorological Institute) measured 28 heat waves and almost half them occurred in the past 20 years. If this trend continues, the number of 'tropical' days (days above 30 degrees) will have doubled by 2050. But what are the consequences of these heat waves in people's homes? In countless Dutch (rental) homes, bedrooms heat up considerably in summer. And that can lead to physical and mental complaints: heat stress. During Waag Open: Keep your head cool, Lisanne Corpel (researcher at the Hogeschool van Amsterdam) shares her knowledge on measuring heat and the phenomenon of heat stress.
Thursday August 3 from 19:30-21:30 at Waag, Nieuwmarkt 4. Costs: € 7,50 incl. a drink.
 
As you explore these smart city summer tips in Amsterdam, let the innovative initiatives inspire you to make positive changes in your own life. Be sure to check out our platform for more exciting events and experiences. Do you have any other tips for inspiring smart city activities not to be missed this summer? Share them with the community in the comments!