The programme is a deep-dive into a key topic of interest to your delegation. Online meeting is possible.
In person in Amsterdam or online via Zoom
By interacting with an industry/subject matter expert, participants are welcome to immerse themselves into one of the four societal transitions: mobility, energy, circularity, or digital city. This session includes the introduction to Amsterdam Smart City plus an in-depth expert presentation, and Q&A session.
We offer programmes on four tranisitional themes:
Smart Energy Deep Dive
The transition from fossil fuels to sustainable energy sources is probably the most difficult and urgent societal transition we face. The role of citizens in the energy transition is also becoming more important. Citizens are no longer passive consumers, but they are now producing, and in the near future trading, their own local and sustainable energy. During this session, in addition to being introduced to Amsterdam Smart City, you will hear about smart energy projects and pilot programs such as those that are part of the City-zen project.
Smart Mobility Deep Dive
We want Amsterdam and the Metropolitan Region to be as accessible as possible, and we also aim for sustainable solutions. Amsterdam is already widely recognized as a leader in electric and shared mobility solutions. Currently, the City of Amsterdam is experimenting with Mobility as a Service (MaaS), AMS Institute is working on the world's first fleet of autonomous boats and Post NL is experimenting with new last-mile solutions for logistics. Besides getting introduced to ASC during this session, you will get answers to all your smart mobility questions.
Digital City Deep Dive
The proliferation of the internet, use of data, and new technologies are drastically changing the way we live, work and interact with each other. Everything we do becomes digital or at least has a digital dimension. But while new technologies are making our lives more connected, the transition from the industrial age to the digital age also creates many new challenges. Besides getting introduced to Amsterdam Smart City, during this session you will get an idea of the key digital connectivity and data-driven innovations and dilemmas currently under development in Amsterdam and the metropolitan area.
Circular City Deep Dive
The way we produce and consume goods in a linear economy is not sustainable for the long term. By 2025, Amsterdam Metropolitan Areas aims to become a frontrunner in the field of smart solutions for the conservation of raw materials. In this way, raw materials are used longer and more efficiently. In this session, in additional to being introduced to Amsterdam Smart City, you will get an overview to policies and innovations accelerating the transition to a circular economy and hear about the role of various public, private partners.
Looking for another tour?
We offer six main types of programs depending on the interests and needs of your organization: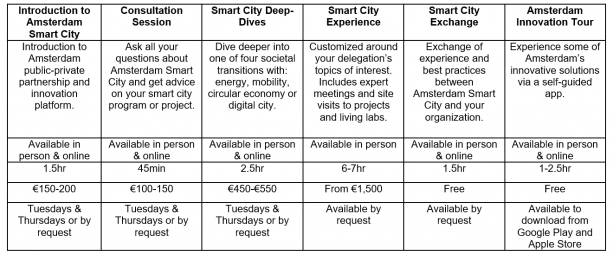 Please note:
This program can be booked at pre-set times via the "Book now" button. To request a program outside the pre-determined times, email your request to <cornelia@amsterdamsmarticity.com>.
The program is offered in-person in Amsterdam or online via the Zoom platform. In-person programs are currently limited to 5 people.
For programs cancelled less than one week in advance, we apply a cancellation fee of €100 VAT exempt fee.