Ioana Biris, co owner at Nature Desks, posted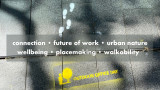 Please join us and save this date: the 5th international edition of the #OutdoorOfficeDay will take place on June 15th. A celebration of the connection between urban nature, work and wellbeing.
✨ Keep an eye on our platform www.outdoorofficeday.info and it's socials: they are filled with best practices and insights, cool products, inspiring locations and stories of the frontrunners and local events from all around the world: from Amsterdam to Seoul, Helsingborg to Washington DC, Timisoara to The Hague, Rotterdam or Utrecht to central Finland.
The locations and participants: https://www.outdoorofficeday.nl/participants-2023
✨ Find us online here
Linkedin event - Instagram - Twitter
Do you also prefer to take your work outdoors? Are you meeting your colleagues in a city park close to home? Do you have phone conversations whilst walking outside and do you like to organize #weetings (walking meetings)? When the sun comes out, do you find yourself grabbing a table and chairs from your home or office, placing them on a balcony, on the pavement or garden in order to read or write? Work, well-being and urban nature are indivisibly linked. Today more than ever! Celebrate on the 15th of June 2022 the necessity to work more healthily by taking your office outdoors: #outdoorofficeday
Outdoor Office Day is an open invitation. For everyone. It doesn't matter whether you work fulltime from home or are gradually returning to the office. Being self-employed or a manager at a corporate. Welcome!