In December, all partners from Amsterdam Smart City came together for the already well-known Demo days. Demo Days are part of our innovation process and intended to boost the progress of the various innovation projects, put requests for help on the table, share dilemmas and involve more partners. We host them every 8-10 weeks.
Amsterdam Smart City works on four themes (four transitions) that all have an effect on each other. That is why during Demo days we actively look for the cross-over. Circular economy and Energy met each other, just as Mobility & Digital City. Which topics and projects were discussed? Get a quick overview!
Sustainable air conditioners
Because our summers are getting hotter, we notice a growth in sales of air conditioners. However, current air conditioners are not efficient and will overload the electricity grid. So we need a good sustainable alternative! But who is the problem owner? The municipality, housing associations or others? And what are possible solutions? Rafael Senden of the Energy Transition Team of the City of Amsterdam asked these questions to the public. Rafael: "Through Amsterdam Smart City I got in touch with people who experience the problem in practice. This has given me new insights. Now I know for example, that others are working on solutions for the demand for cold."
Energy as a Currency
Mees Kusen, trainee at Amsterdam Smart City & Johan Cruijff ArenA, is working on an assignment on the issue of "Energy as a Currency" introduced by Huib Pasman of the ArenA. Mees has a call for the public: a survey is online on the Amsterdam Smart City platform and he is looking for more respondents. Just donate 5 minutes of your time: <https://amsterdamsmartcity.com/requests/how-valuable-is-energy-to-you>
Masterclass Environmental canvas
Melika Levelt from the Amsterdam University of Applied Sciences (HvA) introduced the Participation Canvas: a tool for anyone who makes plans with a spatial impact and wants to engage citizens. The Canvas helps to gain more knowledge of an area and thereby also to have a better justification of plans and policy. Melika has developed a manual for the Canvas and will give a masterclass on January 23rd. Do you want to join? Do you have a real-life case? Or do you want to work with the canvas in a different way? Then contact Melika via <a>m.levelt@hva.nl</a>.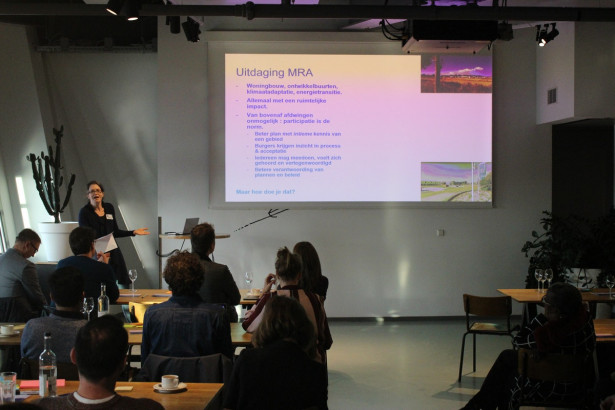 Energy transition in Hoofddorp
The center area of Hoofddorp needs to get rid of natural gas. Existing stores, offices and (stacked) housing as well as all plans that are under construction must acknowledge this. Each party can solve this individually, but a collective solution is probably better and more sustainable for everyone. How can a cooperation be initiated, taking into account everyone's own wishes and speed? Rolf Steenwinkel from the Municipality of Haarlemmermeer asked who wanted to participate in this question. HvA, Kennisland, Arcadis, Pakhuis de Zwijger and Alliander indicated that they want to cooperate with Rolf. A catch-up session is planned for January.
An inclusive neighborhood-oriented approach for the energy transition How do we link the energy transition to other social challenges in the neighborhood? Nora and Dave from Kennisland are looking for the connection between spatial issues on the one hand and social issues on the other. For example: if an installation of a heat network in a street is necessary, this might be a unique opportunity to start a conversation with the residents. You are already working in the neighborhood, so use this as an opportunity to look at the neighborhood in an integral way. Partners thought of possible pilots for an integrated and inclusive strategy in an area where the energy transition and social issues come together. After coming up with physical places it was time to diverge: write down as many spatial and social issues as possible and think of possible "linking opportunities". For example: organizing collective purchases with information evenings from the municipality to remedy loneliness among the elderly, resolving housing scarcity and zero-emission zones for cars through good metro connections, renew obsolete public space and the green integration of electricity stations. Dave van Loon, Kennisland: "The mix of attendees from the business community, governments and knowledge institutions meant a mix of various perspectives, which was extremely useful for us. It was useful to test our ideas and to investigate where and how we can continue to work together."
Circular furniture chain
In the other workshop, under the leadership of Yanti Slaats from the Amsterdam University of Applied Sciences, we made a start with completing an 'Engagement Diagram' for the furniture chain. This diagram, developed by the AUAS, helps to gain insight into the involved stakeholders. The first step is to map the different types of stakeholders; business, government, academia, society, media, environment. Then determine to what extent these stakeholders are already involved and whether they should be involved more or less. We have made considerable progress with the group in mapping the stakeholders around the furniture chain. "Every time we introduce a project at Amsterdam Smart City, it helps us a step further. Today we have made a first move to map all stakeholders around the furniture chain. The group had nice new insights'', according to Yanti.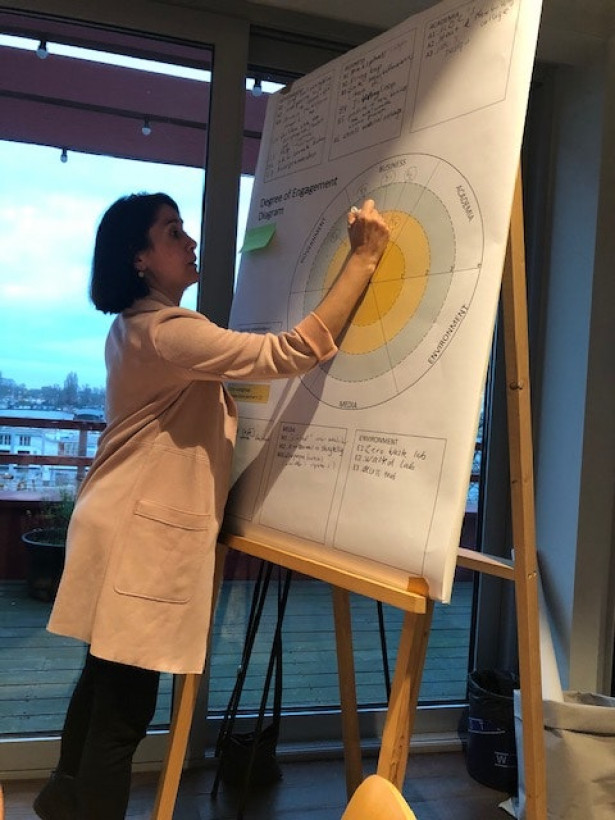 Catalyst
Giovanni Stijnen told about the Nemo project Catalyst in the Digital Perimeter project (ArenA area during UEFA2020). Here, safety is given shape digitally. Catalyst will facilitate discussions with local residents and visitors about this method of security. The residents will also talk to the professionals who work on safety in order to achieve better results and conditions together. So after an Amsterdam Smart City evening in Pakhuis de Zwijger in March 2019, Nemo will now collaborate with, among others, the municipality of Amsterdam, the Johan Cruijff ArenA and the police.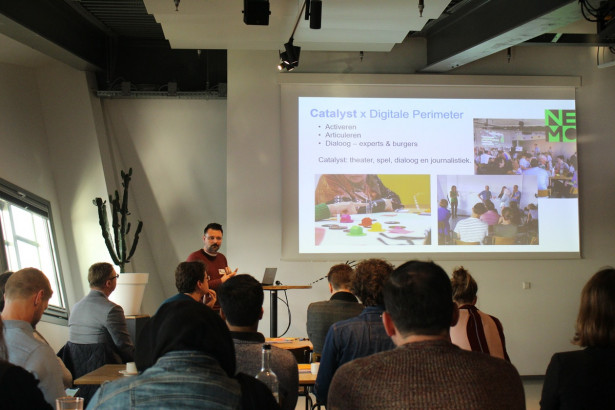 T****echnology diploma
Frenk Storm talked about the speed of digitization. A beautiful PowerPoint led the audience from old game computers, Kodak and cassette tapes to Pokémon Go and autonomous transport. With the presentation Frenk wanted to show that it is important that education is better connected to the rapid technological changes. Frenk represented a group of partners who have been collaborating since October on the idea of a "technology diploma". Pakhuis de Zwijger, Waag, Nemo, Municipality of Haarlem, Municipality of Amsterdam, RHDHV and Eurofiber have the joint mission to contribute to technology wisdom in Amsterdam with this new initiative.
Competitive mobility data
Lizann Tjon (CTO, municipality of Amsterdam) mobilized a large group for the working group on competition-sensitive mobility data. The municipality of Amsterdam wants to remain an open, accessible city for everyone. Therefore it is valuable to get data from different companies, for example about how often they drive in specific places. Lizann wanted to know from the group when they would be willing to share data with the municipality. The group quickly agreed; the municipality must clearly state which data it needs and because of which ambitions. Lizann: "We spoke with various partners (business, knowledge institutions and municipality) about the added value of data sharing and the role of these partners. One of the suggestions was to start at street level and see how it works when different parties exchange their data to map mobility flows. This is an interesting idea that I would like to investigate further with Amsterdam Smart City.''
Smart Parking
Haarlemmermeer wants to improve parking in the municipality. For example by reducing cars looking for a parking spot and thereby reducing the pressure on the streets. This prevents unnecessary transport movements and therefore unnecessary emissions. Haarlemmermeer has therefore started a Smart Parking pilot. The aim is to develop a system that is not only suitable for Haarlemmermeer, but scalable to other cities. Preventing search traffic and unnecessary kilometers seems very desirable. However, the group agreed that simplifying parking can lead to perverse effects: more car use because the irritation about not being able to find a parking space diminishes. The assumption in the group: especially in large cities where car traffic is being reduced, a facility such as Smart Parking will not be embraced quickly. Unless it focuses much more on public values, such as improved air quality. So don't focus on convenience, but on actively controlling traffic flows, ensuring that cars stay outside the center, away from neighborhoods or schools. Christine from Haarlemmermeer: "The table discussion was very nice. There was a lot of recognition on idea of collaborations between public and private institutions. What data do we collect? And if the government is about "the public values in society", how do we fulfill this role when it comes to parking data and "the public value in the digital society?"
Smart City School
Hein and Jurenne from the Johan Cruijff ArenA have plans to start a Smart City School. There is a lot of talent in the southeast of Amsterdam and there are companies looking for talent. However they cannot find each other. The Johan Cruijff ArenA wants to play a role in getting young people in the southeast more active in the digital economy. It became clear that the Johan Cruijff ArenA has a number of unique elements. Of course 'football', but also the presence in the area and the relationships with companies. This allows the ArenA to offer something unique to young people. Frenk Storm pointed out to the group that the success of, for example, the swimming diploma is that it is mandatory. Other points for success that were mentioned: involving the target group in the development, paying attention to digital opportunities and the "teach the teachers" principle. Hein & Jurenne: 'The Demo Day helped us to strengthen our vision, also in how we can apply strategies from digital innovation to social innovation and how we can better meet our wishes with the Amsterdam Smart City School and learning styles of young people. The working session on the Demo Day also made us more aware of the Unique Selling Points of an Amsterdam Smart City School: we can use the image and also the coaching principles from football even more effectively to attract young people in the region.
How do you feel about these projects? Do you have input for the partners? Or do you want to share your ideas during the next Demo day? Drop a line and let us know!
Happy holidays!