In gesprek met docent-onderzoeker Lisette Klok (HvA) over klimaat in het onderwijs
Hoe wordt er binnen het onderwijs aandacht besteed aan klimaatverandering? Docent-onderzoeker Lisette Klok (HvA minor Klimaatbestendige stad) spreekt over hoe de thematiek van klimaatverandering in hun opleiding terugkomt, wat de opleiding de studenten hierover wil meegeven en hoe zij zelf tegen deze thematiek aankijken. 'Zij kennen de urgentie van het wereldwijde klimaatprobleem en weten dat we ons moeten aanpassen aan de klimaatverandering die gaande is.'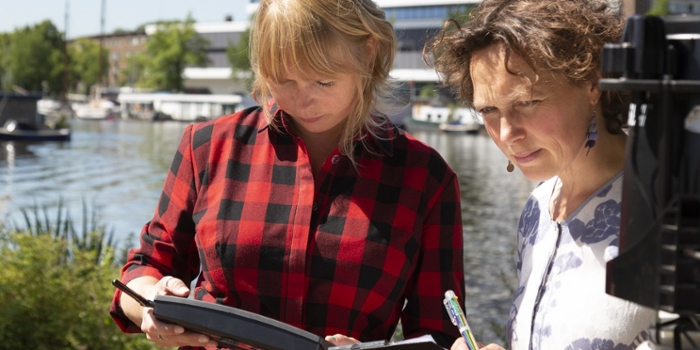 'Bij de minor Klimaatbestendige stad van de Hogeschool van Amsterdam leren studenten alles over klimaatverandering, de gevolgen hiervan voor de stad en hoe stedelijk gebied klimaatbestendig ingericht kan worden. Klimaatverandering betekent meer extremen: heftiger regenval en meer hitte. Extreme buien leiden tot wateroverlast en waterschade. Hitte geeft gezondheidsproblemen en zet de leefbaarheid van steden onder druk. Ook droogte en zeespiegelstijging zijn thema's binnen de minor. Om al deze nadelige gevolgen van klimaatverandering te voorkomen en prettig te kunnen blijven leven, moet de inrichting van het stedelijk gebied worden aangepast. De belangrijkste vraag binnen de minor is daarom: Hoe kunnen steden, wijken en straten klimaatbestendig worden ingericht rekening houdend met meer hitte, extreme regenval, droogte en overstromingen?
MINOR KLIMAATBESTENDIGE STAD
De studenten die voor deze minor kiezen doen dit, omdat zij weten dat er in de nabije toekomst veel werk verricht zal moeten worden om Nederland klimaatbestendig in te richten. Zij kennen de urgentie van het wereldwijde klimaatprobleem en weten dat we ons moeten aanpassen aan de klimaatverandering die gaande is.
MEETONDERZOEKEN IN DE EIGEN WOONOMGEVING
Naast theoretische kennis, gastcolleges en excursies, voeren studenten ook meetonderzoeken uit om temperaturen en neerslagpatronen in de eigen woonomgeving in kaart te brengen. Ook doen de studenten praktijkervaring op doordat zij een actueel klimaatbestendig project voor een echte opdrachtgever moeten uitvoeren. De meeste studenten vinden dit onderdeel van de minor het leukst. Gemeentes, waterschappen of adviesbureaus dienen vaak als opdrachtgever en de studenten oefenen in de rol van opdrachtnemer. Hierdoor proeven zij de sfeer die er in 'de echte wereld' hangt met de bijbehorende 'officiële' vergaderingen.
AAN DE SLAG MET UITEENLOPENDE VRAAGSTUKKEN
Ze werken daarbij aan veel verschillende vraagstukken: Wat zijn de meest urgente locaties om maatregelen te nemen met het oog op wateroverlast, droogte en hitte? Met welke inrichtingsmaatregelen kan een bepaalde wijk of straat klimaatbestendig ingericht worden? Hoe verhouden de baten van deze maatregelen zich met de kosten? Hoe zou een klimaatbestendig ontwerp voor een bepaalde buurt eruit kunnen zien? Hoeveel oppervlaktewater, waterberging, groen of groene daken zijn nodig om te voldoen aan de klimaatbestendige beleidsdoelen van een gemeente?
KLIMAATBESTENDIG ONTWERPEN
Het gewenste eindresultaat van zo'n praktijkopdracht is in de meeste gevallen een klimaatbestendig ontwerp van een gebied onderbouwd met een gedegen kwetsbaarheidsanalyse, kloppende argumentaties, juiste berekeningen en ondersteund door mooie visualisaties. Zo werken we in de minor samen met praktijkpartijen om verder te werken aan technische en ontwerp gerelateerde vraagstukken rondom klimaatverandering.'
STUDENTEN IN ACTIE:
Studenten zetten straten onder water
HvA-dak proeftuin voor 10.000m2 klimaatbestendige daken
Gezocht: verkoeling in Amsterdam
Studenten onderzoeken waterpasserende bestrating