Last Thursday Amsterdam Smart City organized an open dialogue with Amsterdammers on the innovation challenge of one of its partners in Pakhuis de Zwijger. On the agenda: upcycling! What is it exactly and can we upcycle larger domestic waste? What can Amsterdam learn from others to organize this? What are the roles of the private sector and citizens in this process?
'Many organizations struggle with a concrete way forward in transition to a circular economy, but everybody agrees that collaboration is fundamental', according to Leonie van den Beuken, director of Amsterdam Smart City. 'Therefore, we are happy that we can use this evening to have an open discussion with other thinkers and doers in the circular economy.'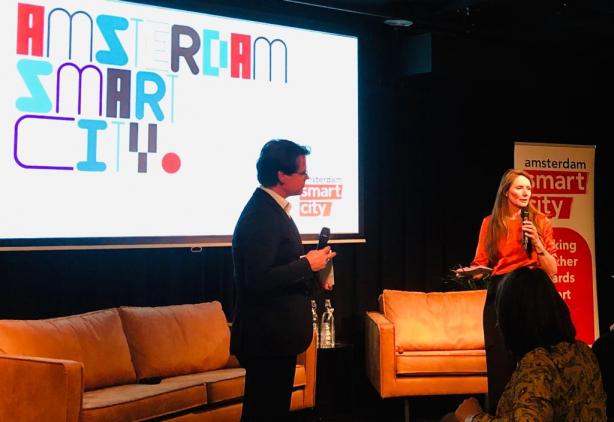 As a foundation of the discussion, Inge Oskam of the Amsterdam University of Applied Sciences shared the basic principles of the circular economy and primery talking points when turning waste into something new. By starting with the value hill she explained why it is so hard and at the same time interesting to focus on upcycling of materials. Upcycling means creating more value from recovered materials. For instance by finding new functions for the materials (repurpose). Inge showed interesting examples of repurposing: the creation of gadgets from old time tables of the railway stations and the use of an old airplane hangar for a bus terminal. Key lesson is that the conservation of existing shapes is key in the upcycle process, as the transformation of shape always costs energy and affects the business case directly.
Aside from many basics of the circular economy, Inge stressed to pay attention to a rebound effect. The true need for the circular economy comes from ecological needs. 'Unfortunately we see that extreme success in circular businesses can create negative side effects, e.g. the use of new materials to create new products. For example, scaffolding wood is very popular for furniture nowadays. This started as a way to give wood a second life. However, due to high demand new scaffolding wood is currently made. This effect is called the rebound effect.' Finally, Inge expressed her enthusiasm about the availability of new technologies like robotics, lasercutting and 3D printing that can drive upcycling to new levels.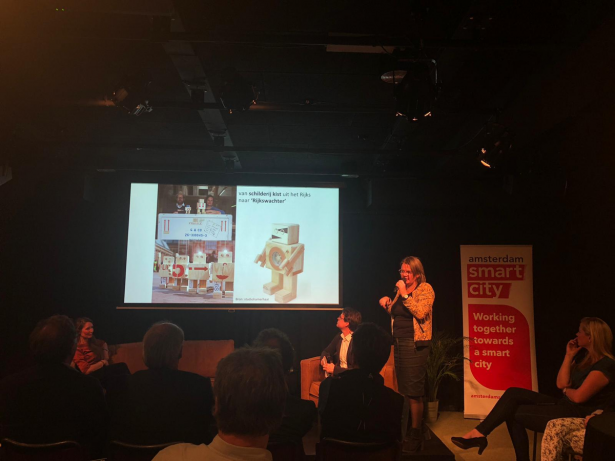 Learn from Almere
After this introduction we made the step to the innovation challenge at hand: planning a long term waste collection location in the Amsterdam Metropolitan Area, opening up to new technologies and forming public-private partnerships to make the most out of waste. Gerard Wiggers and Thomas O'Brien, representatives of the City of Amsterdam and Almere, explained existing initiatives (Almere) and planned activities (Amsterdam) about the collection of larger waste items at so-called Upcycle Centers.
The Upcycle Center Almere, opened January 2018 as a waste point, startup ecosystem and experience center under one roof. With more and more citizens in their municipality and growing ambitions with regards to sustainability, Almere turned into a frontrunner in the circular economy by building the first upcycle center. Thomas O'Brien explained that three local circular entrepreneurs are supported at the upcycle center by freely accessing the waste to use it as resource for new products. Since 2018, the Upcycle Center has shown great value to the local community. Not only are these entrepreneurs facilitated in their first stages, the Upcycle Center is also working on awareness and educational value for both citizens and students. Knowing and understanding what is done with your waste, motivates people to take waste separation efforts and go there.
The City of Amsterdam is currently researching how to facilitate new technologies for upcycling at their local waste collection locations. Amsterdam Smart City helps by sharing learnings from existing best practices like Almere, ties interesting research to the challenge, connects this challenge to regional efforts and makes optimal use of collaborative thinking of partners and citizens.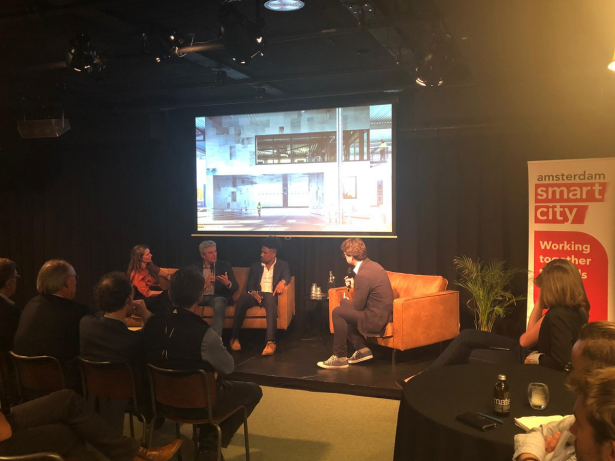 Variations new upcycle center
Amsterdam has six waste collection locations where citizens can bring their old televisions, furniture, etc. As we are renewing one of these locations, therefore doing long term investments, we want to connect to the circular economy. Currently, three variations are under consideration for a new waste facility. The buildings differ in risk sharing between public and private partners. The centers combine waste collection spaces, spaces for local craftsmanship and upcycling production facilities, logistics and customer/citizen experiences. All with consideration of local waste regulations.
Gerard Wiggers: 'We would like to consult the market and learn what the current possibilities are. Besides many activities we are doing with regards to planned logistics and hyperlocal recycling units, we need to know if private partners want to tackle the upcycling challenge for this waste stream together with us. With the creativity and entrepreneurial mindset of the market, we can show citizens the value of waste.'
Thomas O'Brien (Almere) is enthusiastic about the set-up and indicates that co-creation is crucial to optimal value and make sure that roles and responsibilities with regards to e.g. programming and activities is distributed between the most logical partners. He advises Gerard to focus on the communicative power of the upcycle center and make sure it is highly attractable for citizens to keep coming and learning why their behavior is important.
Input from the private sector
Time to query larger local waste companies about the variations of the new facility and the innovation challenge of upcycling. Both Bert-Jan van der Woude (Suez) and Gerard Veldhuijzen (Renewi) stated that circularity is the general way forward, but sometimes struggle with scale and maturity in the market. Both Suez and Renewi work on mass volume (61mln tons annually, domestic waste 9mln tons), whereas the local craftmen in e.g. Almere work on a completely different scale. Therefore, Bert-Jan believes that such an Upcycle Center has to be a learning facility, a partnership between government, knowledge institutions and private companies. With an initial focus on the educational and research value, building trust and commitment for longer term between partners rather than asking market players to take full responsibility directly.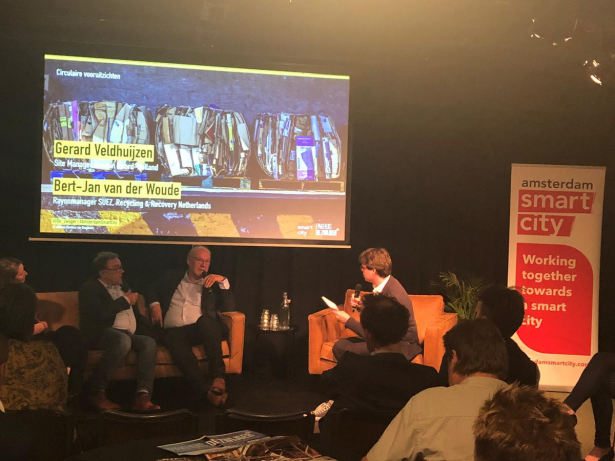 For a different perspective of waste, Tim Spekkens pitched The Upcycle. The Upcycle is a startup in Amsterdam's historic center, collecting waste to turn into products. 'Walking around with some beers at Kingsday, I was immediately inspired by all the paper beer containers in the city streets. I found the perfect materials for the notebooks I make, lying around everywhere. This is my gold, my oil.' New local pioneers like Tim are paving the way for better usage of waste, up the value hill again. Tim was very enthusiastic about the plans of the City of Amsterdam and advised them to learn from and connect to small, local communities.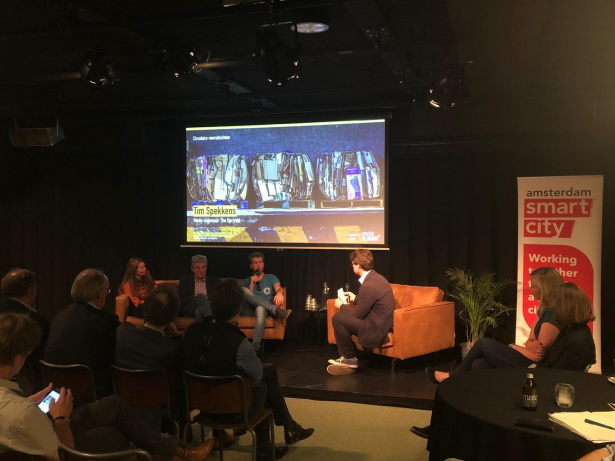 In a final wrap-up, Gerard explained the value of this effort again also in terms of communicative power. Few people really know what happens to their waste after disposing it. By opening up the process, awareness for separation of waste increases.
Did you miss the event? Don't you worry.. You can watch the live feed at the website of Pakhuis de Zwijger (in Dutch): <https://dezwijger.nl/programma/circulaire-vooruitzichten>.
The next Amsterdam Smart City innovation challenge discussion at Pakhuis de Zwijger will be on the 15th of October, with a focus on the energy transition. Do you have interesting ideas or solutions for this challenge? Please comment below to connect!