Want to receive updates like this in your inbox?
Get notified about new updates, opportunities or events that match your interests.
Set up preferences
Maybe you will also like these updates
Herman van den Bosch, professor in management development , posted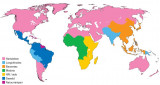 Most important causes of death worldwide (Source: The Lancelet, le Monde)
 
This is the 10th episode of a series 25 building blocks to create better streets, neighbourhoods, and cities. In this post, I mainly focus on health problems which are directly related to the quality of the living environment  
Are cities healthy places?
According to the WHO's Global Burden of Diseases Study, 4.2 million deaths worldwide each year are caused by particulate matter. The regional differences are significant. Urban health depends on the part of the world and the part of the city where you are living. More than 26 million people in the United States have asthma and breathing problems as a result. African-American residents in the US die of asthma three times as often as whites. They live in segregated communities with poor housing, close to heavy industry, transportation centers and other sources of air pollution.
Globally, the increasing prosperity of city dwellers is causing more and more lifestyle-related health problems. Heart disease, and violence (often drug-related) has overtaken infectious diseases as the first cause of death in wealthy parts of the world.  
The Netherlands
Very recently, Arcadis published a report on 'the healthy city'. This report compares 20 Dutch cities based on many criteria, divided over five domains. The four major cities score negatively on many aspects. In particular: healthy outdoor space, greenery, air quality, noise nuisance, heat stress and safety. Medium-sized cities such as Groningen, Emmen, Almere, Amersfoort, Nijmegen, and Apeldoorn, on the other hand, are among the healthiest cities.
In Amsterdam, the level of particulate matter and nitrogen dioxide (NO2) in 2018 exceeded World Health Organization standards in many streets. The GGD of Amsterdam estimates that 4.5% of the loss of healthy years is the result of exposure to dirty air.  
Collaborative measuring air quality
In various cities, groups of concerned citizens have started measuring the quality of the air themselves. A professional example is the AiREAS project in Eindhoven. An innovative measuring system has been developed together with knowledge institutions and the government. Sensors are distributed over the area of the city and the system provides real-time information. The AiREAS group regularly discusses the results with other citizens and with the city government. The measurement of the quality of the air is supplemented by medical examination. This research has confirmed that citizens in the vicinity of the main roads and the airport have an increased risk of mortality, reduced lung function and asthma.
The AiREAS project is linked to similar initiatives in other European cities. Occasionally the data is exchanged. That resulted in, among other things, this shocking video.  
Future?
Could the future not be that we are busy doing the obvious things for our health, such as walking, cycling, eating good food and having fun and that thanks to wearables, symptoms of diseases are watched early and permanently in the background, without us being aware of it? The local health center will monitor and analyze the data of all patients using artificial intelligence and advise to consult the doctor if necessary. An easily accessible health center in one's own neighborhood remains indispensable.
 
Follow the link below to find an overview of all articles.  
Herman van den Bosch, professor in management development , posted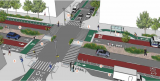 This is the 9th episode of a series 25 building blocks to create better streets, neighbourhoods, and cities. Casualties in traffic are main threats to the quality of the living environment. 'Vision zero' might change this.
Any human activity that annually causes 1.35 million deaths worldwide, more than 20 million serious injuries, damage of $1,600 billion and is a major cause of global warming would be banned immediately. Except for the use of the car. This post describes how changes in road design will improve safety.
The more public transport, the safer the traffic
Researchers from various universities in the US, Australia and Europe have studied the relationship between road pattern, other infrastructure features and road safety or its lack. They compared the road pattern in nearly 1,700 cities around the world with data on the number of accidents, injuries, and fatalities. Lead researcher Jason Thompsonconcluded: <em>It is quite clear that places with more public transport, especially rail, have fewer accidents</em>. Therefore, on roads too public transport must prioritized.
The growing risk of pedestrians and cyclists
Most accidents occur in developing and emerging countries. Road deaths in developed countries are declining. In the US from 55,000 in 1970 to 40,000 in 2017. The main reason is that cars always better protect their passengers. This decrease in fatalities does not apply to collisions between cars and pedestrians and cyclists, many of which are children. Their numbers are increasing significantly, in the US more than in any other developed country. In this country, the number of bicycle lanes has increased, but adjustments to the layout of the rest of the roads and to the speed of motorized traffic have lagged, exposing cyclists to the proximity of speeding or parking cars. SUVs appear to be 'killers'and their number is growing rapidly.
Safe cycling routes
In many American cities, paint is the primary material for the construction of bike lanes. Due to the proximity of car traffic, this type of cycle routes contributes to the increasing number of road deaths rather than increasing safety. The Canadian city of Vancouver, which doubled the number of bicycle lanes in five years to 11.9% of all downtown streets, has the ambition to upgrade 100% of its cycling infrastructure to an AAA level, which means safe and comfortable for all ages and abilities. Cycle paths must technically safe: at least 3 meters wide for two-way traffic; separated from other traffic, which would otherwise have to reduce speed to less than 30 km/h).  In addition, users also need to feel safe.
Street design
Vision Zero Cities such as Oslo and Helsinki are committed to reducing road fatalities to zero over the next ten years. They are successful already now: There were no fatalities in either city in 2019. These and other cities use the Vision Zero Street Design Standard, a guide to planning, designing, and building streets that save lives.
Accidents are often the result of fast driving but are facilized by roads that allow and encourage fast driving. Therefore, a Vision Zero design meets three conditions:
• Discouraging speed through design.
• Stimulating walking, cycling and use of public transport.
• Ensure accessibility for all, regardless of age and physical ability (AAA).
The image above shows a street that meets these requirements. Here is an explanation of the numbers: (1) accessible sidewalks, (2) opportunity to rest, (3) protected cycle routes, (4) single lane roads, (5) lanes between road halves, (6) wide sidewalks, (7) public transport facilities, (8) protected pedestrian crossings, (9) loading and unloading bays, (10) adaptive traffic lights.
Enforcement
Strict rules regarding speed limits require compliance and law enforcement and neither are obvious. The Netherlands is a forerunner with respect to the infrastructure for bikes and pedestrians, but with respect to enforcement the country is negligent: on average, a driver of a passenger car is fined once every 20,000 kilometers for a speeding offense (2017 data). In addition, drivers use apps that warn of approaching speed traps. Given the risks of speeding and the frequency with which it happens, this remissing law enforcement approach is unacceptable.
Follow the link below to find an overview of all articles.
Tom van Arman, Director & Founder at Tapp, posted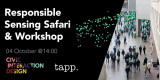 There is a lot of sensing going on in Amsterdam. Where are these sensors? What kinds of sensors are there? How do these sensors help our city? Join us on October 4th for a hands-on workshop to learn how to use 1) privacy-by-design toolkits, 2) discover citizen centric sensors and 3) learn how to make your own smart city projects more responsible.
Join us for an inspiring afternoon to learn and build human centric smart city technologies.
REGISTER FREE >> Eventbrite Responsible Sensing Safari & Workshop
Are you a concerned smart citizen, or smart city innovator? This workshop is for you! Tom van Arman, from TAPP - Smart City Architecture will guide you through the many legal, technical and even spatial considerations that you'll need to know about before deploying sensors in public space. Participants will go on a real-world Sensor Safari to discover the many devices in their natural habitat. Finally, roll up your sleeves and work together in a 'Sensing Dilemma Workshop' where we will field test some sensing projects to see how it can help (or harm) our future city! The workshop will take place on the Marineterrein, an inner-city test ground for a sustainable living environment.
Ethics in smart city technology is not something you assess at one specific point in time in a tech's lifecycle and then can forget about it. In the project Human Values for Smarter Cities, researchers, designers, civil servants (The Hague, Rotterdam and Amsterdam), and citizens look for ways ethical principles can be interwoven in the articulation, making, deployment and adjustment of smart city technology.
More news