De HvA test met partners Ecotap en Time Shift Storage het effectiever laden van meederde auto's tegelijkertijd met gelijkstroom
De eerste laadpaal aangesloten op een DC-net is een feit. Daarmee wordt ingespeeld op de groeiende behoefte aan snellere laadoplossingen voor elektrische voertuigen op meerdere plaatsen. Een DC-net transporteert elektriciteit namelijk via gelijkstroom in plaats van wisselstroom, wat zorgt voor betere regelbaarheid en schaalbaarheid naar meerdere laadsessies tegelijkertijd. De Hogeschool van Amsterdam (HvA) test samen met partners Ecotap en Time Shift Storage de effectiviteit van laden met een DC-net in de stad. 'Wanneer het werkt zoals wij verwachten, mogen we spreken van een doorbraak.'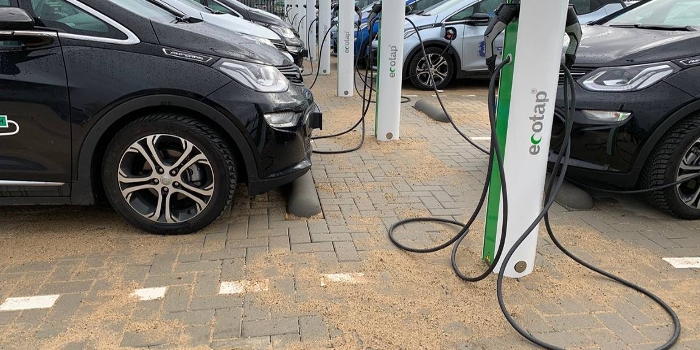 Het laden van een elektrische auto op een DC-net is uniek, vertelt onderzoeker Willem Knol van de HvA en Over Morgen, een adviesbureau dat werkt aan een duurzame leefwereld. 'Nu wordt dat nog via AC, wisselstroom, gedaan. Gemiddeld gesproken zit er één laadpaal op één AC-aansluitpunt van een netbeheerder. Heb je het over een AC-Laadplein, met meerdere laadpalen, dan zijn dat meer aansluitingen. Wanneer er echter verscheidene auto's tegelijkertijd laden, zakt de spanning en stroomtoevoer terug. Daardoor gaat de effectiviteit om meerdere auto's tegelijk te laden verloren.'
Dit DC-Laadplein krijgt zijn stroom geleverd via een batterijopslagsysteem dat vervolgens weer is aangesloten op een AC-aansluitpunt. Met de gelijkstroom van het DC-net is er minder transportverlies van elektriciteit. Dat wordt nu in de stad op de proef gesteld binnen het HvA-project DC-Laadplein.
In samenwerking testen
De test wordt uitgevoerd in samenwerking met Time Shift Energy Storage en Ecotap. Time Shift levert het net, de accu en de omvormer van AC naar DC. Ecotap heeft een DC-laadpaal ontwikkeld die ook DC gevoed kan worden. Samen zorgen ze dat het net werkt en alle componenten met elkaar communiceren.
Vooralsnog krijgt één elektrische auto de glansrol in het experiment, maar het staat op de planning om op te schalen naar drie auto's. 'Op het moment dat we de auto's veilig en snel DC kunnen laden middels de DC-voeding, mogen we spreken van een succes en doorbraak', vertelt Bjorn Brands van Ecotap. 'Dit is nog niet eerder gepresenteerd in de setting waarin wij werken.'
Nieuwe businessmodellen voor DC-net
De HvA werkt aan nieuwe businessmodellen op het gebied van DC-transport en DC-laden. 'Je zou ook zonnepanelen aan het DC-net kunnen verbinden', vertelt Knol. 'Zonnepanelen leveren ook DC-stroom.' Ecotap onderzoekt of laden met een DC-voeding te vercommercialiseren is bij haar partners. Brands: 'Uit de test moet blijken of een DC-laadpaal ook praktisch aangeboden kan worden, zodat meer praktijken gebruik kunnen maken van de voordelen van DC-laden.'
Transitiethema Energy Transition
Het project DC-Laadplein is onderdeel van transitiethema Energy Transition. Het onderzoek binnen het thema draagt met technische en organisatorische oplossingen bij aan de energietransitie. Van slim laden tot duurzame opwekking van energie, databeheer en het opleiden van de '21st century engineer'. Onderzoek betreft het ontwerpen van technische interventies, met oog op maatschappelijke en economische ontwikkelingen en impact. Het is één van de vier onderzoeksthema's van Centre of Expertise Urban Technology.