Every week I present the community with one of the smart energy solutions that I came across during conversations I have with innovators. These solutions may help Amsterdam realise the energy transition in a more effective or efficiënt manner.
For the third post I will focus on a system that makes you rethink how we evaluate insulation. Why would you insulate your walls, if you can heat them up for free instead? This is the core principle of the concept WarmBuilding, a trademark of the Foundation WarmBouwen. (In Dutch)
Hoe werkt de oplossing?
Warmbouwen betekent het opwarmen en koelen van de gevel van een gebouw. De gevel is bedekt met dunne buisjes waar water doorheen stroomt. Dit wordt een watervoerend net genoemd. Het zorgt voor een temperatuurbuffer die de woning moet afschermen van de kou of warmte van buiten. Het mooie is dat de primaire warmtebron in dit systeem de grond is. Door 50-100 meter in de grond te gaan, kun je een temperatuur van ongeveer 10-12 graden ophalen. Ook als het buiten -10 is, blijft het door de buffer binnen minimaal 10-12 graden. Het resultaat is dat er minder aanvullende energie nodig is om de woning naar 18-20 graden op te warmen. Door dieper te boren, naar zo'n 400m, is het zelfs mogelijk om warmte van 17 graden te bereiken.
Om warmbouwen als centrale warmtevoorziening in te zetten, is dus vaak een beetje extra warmtewinning nodig. Gelukkig zijn daar verschillende opties voor mogelijk,. Zo kun je gebruik maken van een zonneboiler (of pv-t)., De extra warmte wordt vervolgens opgeslagen in de bodem of in andere opslagsystemen. Eventuele bijverwarming binnenshuis zou door middel van infraroodpanelen een duurzame optie kunnen zijn. Als er echt weinig warmte beschikbaar is, dan is een warmtepomp natuurlijk ook een alternatief.
Hoe draagt het bij aan de energiedoelstellingen van Amsterdam?
Energiebesparing in de bestaande bouw is een enorme opgave vanwege de verscheidenheid aan woningen. Warmbouwen presenteert een techniek om de energievraag van de bestaande bouw te verlagen. Deze techniek kan sneller worden toegepast dan traditionele manieren van isoleren. Dit komt omdat het watervoerend net simpel te installeren is. Waar met traditioneel isoleren alle hoeken, kieren en naden vragen om duurmaatwerk, is het watervoerend net veel flexibeler. Het stralingseffect van warmte geeft namelijk veel ruimte voor speling. Datzelfde stralingseffect zorgt ervoor dat koudebruggen doorbroken worden. Het watervoerend net kan technisch gezien zowel aan de buitenkant als de binnenkant van de gevel worden geïnstalleerd.
Warmbouwen is geen pleidooi tegen isolatie, de techniek kan namelijk het effect van isolatie juist versterken. In essentie vergroot Warmbouwen de warmteweerstand van de gevel. Een klein beetje binnenisolatie kan hierdoor 2 tot 3 keer meer effect hebben, afhankelijk van de temperatuur van watervoerend net. Enkele centimeters isolatie met Warmbouwen staat gelijk aan de isolatiewaarde van een 'Nul Op de Meter'-woning. De kracht van deze techniek zit dus juist heel erg in het maken van slimme combinaties.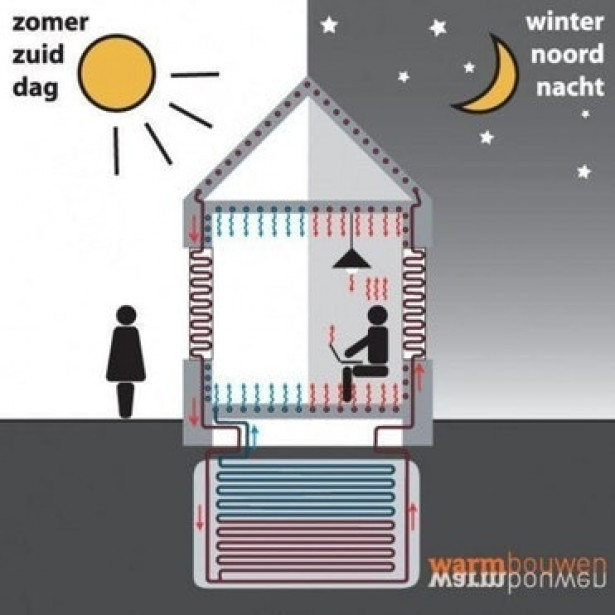 Wat is er nodig om deze oplossing in Amsterdam te implementeren?
Warmbouwen is een techniek die prima op zich zelf kan staan, maar wellicht nog veel waardevoller kan zijn wanneer het gecombineerd wordt met andere oplossingen. Het leert het ons op een andere manier naar energiebesparing van de bestaande bouw te kijken, maar ook anders om te gaan met warmte en kou. Door slimme combinaties tussen Warmbouwen, bestaande en nieuwe oplossingen, komen er verschillende modellen beschikbaar waarmee we onze gebouwen duurzaam kunnen verwarmen. Het ene model zal geschikt zijn om op korte termijn af te gaan van aardgas, een andere is geschikter als circulaire oplossing op de lange termijn.
Een mogelijke combinatie die mij zelf interessant lijkt, is om het watervoerend net te koppelen aan lage temperatuur (LT)warmtenetten. De warmte van een LT-warmtenet bedraagt typisch 30-40 graden. In de toepassing van Warmbouwen is dit eigenlijk veel te heet. Je zou dus al met een veel minder hoge temperatuur, zeg maximaal 25 graden, uit de voeten kunnen komen. Natuurlijk wordt al deze warmte in een dergelijk systeem constant gebruikt om de gevels op te warmen. Dat maakt het belangrijk om voldoende warmtebronnen van lage temperatuur te verzamelen. Dit vereist dat we slim collectief gebruik maken van de restwarmte van onze koelingsinstallaties, zonnewarmte, en van opslag en winning van warmte uit de grond.
Om Warmbouwen in Amsterdam het beste te implementeren, is het belangrijk om met een andere bril naar onze verduurzamingsopgave te kijken. En het is niet alleen belangrijk, het is eigenlijk ook wel heel leuk dat dat anders kijken kan. We kunnen opnieuw nadenken over ons idee van energiebesparing. Dit komt nu vaak neer komt op isolatie, maar hoeft dat wel altijd? We kunnen opnieuw nadenken over ons gebruik van geothermie en restwarmte. Stadswarmte in Amsterdam ligt nu vaak tussen de 40 en de 70 graden. Kunnen we niet meer met minder? Soms maak je de meeste vaart door een stapje terug te doen, en te realiseren dat het ook heel anders kan.
Wat vindt de Community? Welke slimme combinaties zie jij voor je met Warmbouwen? Is het verstandig om bestaande oplossingen te heroverwegen of zijn we sneller door voort te borduren op de lessen van NOM en NOM-ready?