HvA beschikt over een hands-on faciliteit voor praktijkgericht onderzoek naar materiaaleigenschappen
De eerste onderzoeks- en onderwijsactiviteiten zijn gestart in de nieuwe klimaatkamer van de Hogeschool van Amsterdam (HvA). In deze faciliteit kunnen studenten en docenten materialen testen onder extreme klimaatomstandigheden, zoals isolatiepanelen van zeewier en speciale straatstenen. Zo komen zij meer te weten over bijvoorbeeld het verouderingsproces en de thermische eigenschappen. 'Wij konden onderzoek doen tijdens zeldzaam warme dagen zonder daar een hele zomer op te hoeven wachten.'
Nog nooit gehoord van een klimaatkamer? 'Denk aan een grote vriescel die je ook kunt verwarmen', legt beheerder Dirk Hekman uit. 'Onze kamer van de HvA, Faculteit Techniek, is twee bij drie meter groot. De temperatuur gaat van – 20 tot + 60 graden. Ook de luchtvochtigheid is in te stellen. In de kamer past apparatuur voor proefopstellingen. Studenten en HvA-medewerkers kunnen er eigenschappen testen van systemen en materialen onder verschillende weersomstandigheden. Denk bij dat laatste bijvoorbeeld aan vormbehoud, rendement en slijtage.'
Next level experimenten
De eerste studenten en onderzoekers hebben de klimaatkamer inmiddels in gebruik genomen. Zoals een groep afstudeerders van de opleiding Built Environment. Zij onderzoeken de technische kwaliteiten van ecologische bouwmaterialen. Wat is de isolerende werking van een zeewierpaneel? Dirk Hekman: 'Next level is dat we proeven gaan combineren. Door bijvoorbeeld brandstofcellen in de klimaatkamer te plaatsen zodat we kunnen experimenteren met deze technologie onder verschillende omstandigheden. Zo is bij de waterstofauto van Clean Mobility van de Faculteit Techniek gebleken dat prestaties teruglopen bij hoge temperaturen. De klimaatkamer biedt de mogelijkheid dit verder te onderzoeken.'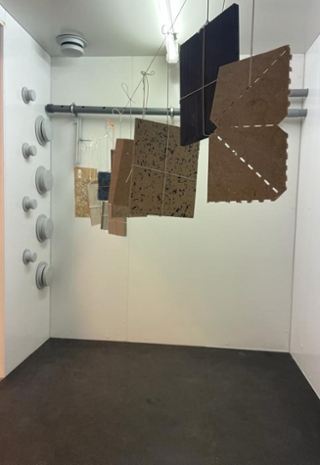 Onderzoek met zeewier-isolatieplaten in de klimaatkamer.
Onderzoek naar de ZOAK
Onderzoekers van Centre of Expertise Urban Technology onderzochten met student Tim Friso Lodewijk (Minor Klimaatbestendige stad) en ondernemer Rob Alards van TilesystemX (productiebedrijf klimaat adaptieve oplossingen) de eigenschappen van een waterdoorlaatbare klinker, de ZOAK. 'Dit nieuw ontwikkeld hybride systeem kan regenwater opslaan wat verkoelend werkt tijdens warme periodes', aldus Alards. De proefopstelling in de klimaatkamer moest bewijzen of dit ook echt zo werkt.
Student Lodewijk: 'We hebben in de klimaatkamer bekeken hoe de klinker voor verkoeling kan zorgen tijdens warme dagen/nachten en wat verschillende luchtvochtigheden met het verdampingsproces doen. Het opstellen ging goed, alleen hadden we extra tijd nodig omdat er dingen fout gingen. Dus een tip is om eerst de hele opstelling al een keer te testen voor je deze opbouwt in de klimaatkamer. Dan haal je direct de juiste informatie en data op.'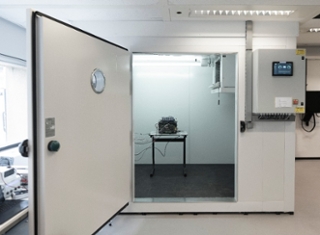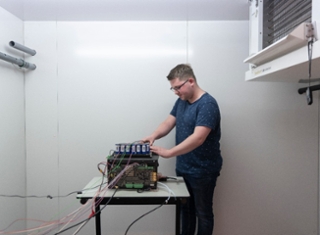 De klimaatkamer in gebruik door studenten.
Toegepaste techniek
De klimaatkamer is geselecteerd door de studio Straat van de Toekomst van de Faculteit Techniek. Voormalig kwartiermaker van de studio, Bart Kramer-Segers: 'Het is een mooi voorbeeld van toegepaste techniek. De kamer biedt hands-on faciliteiten die goed passen bij het praktijkgerichte onderzoek van hbo's. Er zijn verschillende soorten klimaatkamers, van klein en eenvoudig tot high-end. Wij wilden een breed inzetbaar instapmodel om te leren 'klimaatkameren'. '
Interesse in de klimaatkamer?
De klimaatkamer is beschikbaar voor studenten, onderzoekers en docenten. Neem voor informatie over de voorwaarden, mogelijkheden en planning contact op met Dirk Hekman: d.i.hekman@hva.nl
Meer informatie: