'Collaborate, put technology to the benefit of the people and use this crisis to become more sustainable', those were the three lessons vice-mayor of Haarlemmermeer Marja Ruigrok presented at the Mayors' Summit of the EU's Intelligent Cities Challenge. This initiative from the European Commission unites 126 cities, among which 20 mentors, to work towards green recovery from the COVID-19 crisis and the transition towards a sustainable digital society. Around 200 mayors and other representatives joined the Summit, where Ruigrok held a keynote speech.
You can read the full speech below.
EU 100 Intelligent Cities Challenge Mayors' Summit
Speech by vice-mayor of Haarlemmermeer Marja Ruigrok on behalf of the Amsterdam Metropolitan Area
Honorable guests, ladies and gentlemen, It is a great pleasure and honor for the Amsterdam Metropolitan Region region and to me personally, to be invited as mentor region to the Mayors' Summit of the Intelligent Cities Challenge by the EU. I would like to express my gratitude to the European Commission for launching the Intelligent Cities Challenge. With this programme you have recognized the power of cities in the transformation of Europe to an intelligent, green and healthy continent, you see the need for support to cities to make this transition happen, and in this programme, you facilitate the network that cities can create.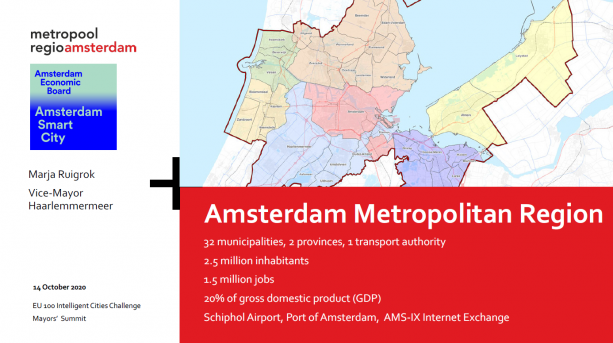 Today I am proud to represent the Amsterdam Metropolitan Area. This region consists of 32 municipalities and two provinces with 2.5 million inhabitants, an international hub covering 20% of the GDP. As vice-mayor, I am responsible for Economy, Innovation and Mobility in Haarlemmermeer, a municipality of 150.000 inhabitants in the center of the region, home to the international airport Schiphol.
As you can imagine, COVID19 has changed our regional economy rapidly with a decrease of 29%. But during the lockdown, we saw a lot of creativity. For example, logistics employees who suddenly had no work at the airport anymore could be connected to the supermarkets in our region, where there was an adaptation needed to a whole different logistics chain in order to keep supplying our citizens with food and other essentials. Another example is the accommodation of hotels in the region and creative thinking in attracting leisure stay due to the loss of business overnight stay.
But before I zoom in further on crisis and recovery, I'd like to emphasize one thing. As a region, we gladly accepted the invitation to become a so-called mentoring region in this programme, because we strongly believe in the power of sharing experiences and knowledge with other cities and regions - my personal motto is, if you are not able to share, you cannot multiply. Nevertheless, let me assure you that we may be called mentor here, but we also learn by seeing what other cities do. The success story of our region has likewise been established by knowledge and innovation coming from your cities, and from the cooperation between European cities and regions. These bridges between our cities and regions are crucial, and I'm grateful for the opportunity to help strengthen them.
We all know the COVID19-crisis has hit cities the hardest. The density of the city population, and the social exchanges between our citizens make it so easy for a virus to spread. At the same time, cities are the stakeholders Europe needs to climb out of the crisis. In cities, we are creating the ideal circumstances for social distancing and by helping our citizens, our companies, our institutes, and our schools cope with the new situation. And in the longer term, cities are the places were intelligent and sustainable recovery measures are developed and implemented.
And that is also why we applaud the European Commission and the Intelligent Cities Challenge Team: they were actively helping cities in sharing their COVID19 related best practices, even before the Challenge officially started.
Now I would like to share what my region is doing right now. I will focus on three lessons we have learned.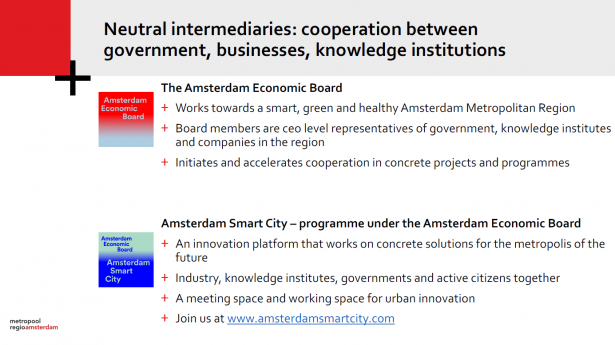 First lesson: collaborate and be a facilitator to all your stakeholders
For a local or regional government, it can feel tempting because it obviously will be faster, to create an entire strategy for making the city smarter, and present that to the companies and research and educational institutes in your municipality. We have learned - and I hope you will follow us in this vision - to do it the other way around: we involve all relevant stakeholders in order to create the strategy together, because from their perspective, they know better than we governments do what is necessary for our region. You know the old saying: if you want to go fast, go alone; if you want to go far, go together. So, going far together, really going the distance, is at the core of our strategy.
In order to involve all the relevant stakeholders, we created an independent and neutral organisation, the Amsterdam Economic Board, and its programme Amsterdam Smart City. Here, local government, knowledge institutes and companies work together to establish the actions we need to become a future proof, intelligent, green, and healthy region that is inclusive for all citizens. Amsterdam Smart City is an active innovation platform that brings together all relevant stakeholders, including citizens, collaborating towards innovative solutions for the city. This platform is open to the international community, so I would like to invite all ICC cities to join our Amsterdam Smart City platform.
Second lesson: put technology to the benefit of people, not the other way around
In all our initiatives, we try to put our citizens in the center of developments. Of course, you cannot involve all your citizens in every decision, but in the end, it is the citizen that is the core. I will give an example to explain. When the schools had to close because of COVID19, we saw that the schools and most students and their parents easily adapted to online learning, but in the whole country, we realized we also lost a group of children. At home, they didn't have easy access to a computer or internet, or their parents couldn't help them because they were not able to work from home. This was a serious problem. Therefore, in various places in the country, actions were started to provide these children with second hand laptops to help them connect to their schools. Several companies sponsored this action.
Creating access to the internet is also a means of democratizing technology, and therefore creating an inclusive society. This is just one example, but as general rule: we should support the creation of new business models in the data economy, but we should also be aware who has access to data. My core message is: always be careful to put the citizen in the center of your ambitions. In other words: focus on people first, not (only) the technology.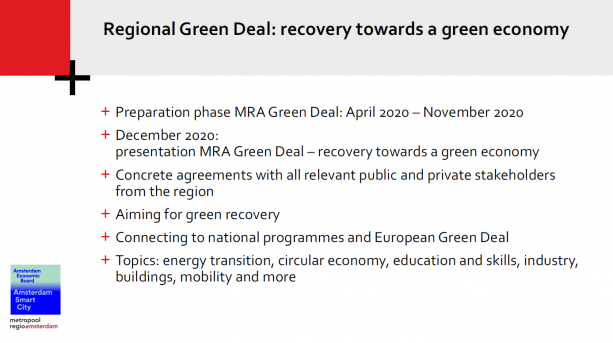 And that brings me to the third lesson learned: never waste a good crisis
Just like the EU, our Amsterdam Metropolitan Region is aiming for a green and inclusive recovery. That is why we are working on our own regional Green Deal, together with the business and knowledge sector. While I cannot share the outcome of this process yet, as that is expected in December, I can provide you with some examples today. Together we will establish programmes in which we will reskill and upskill citizens who have lost their jobs due to the crisis towards green and tech jobs. This is a short-term measure, with initiatives that have already started and will be replicated and upscaled. We will also join forces to change the relevant curricula of all levels of education towards a greener economy, which is a measure for the longer term.
To reinforce economic development and sustainability, we will redefine building plans to accelerate towards fully energy neutral and circular new buildings. To take into consideration is the need for shorter food-chains ánd living, working and recreation within a short distance, so called the 20 minute-society. Relevant to mention as well are the agreements with organizations and employers to avoid rush hour, accelerated by the crisis and the fact that many more people use the bicycle (well at least in the Netherlands). And there is a lot more. So, to wrap up: even when times are hard, push your ambitions to create a better, more inclusive, economic sustainable world. See the energy transition as a job creator. See every crisis as an opportunity to get better.
In conclusion, I would like to affirm that this is just the start of the dialogue with you all on the issues that we as cities and regions are sharing together. I have not given you the recipe for the cities' intelligent recovery from the crisis or the transition to a green sustainable society, because there is not one recipe for this. For now, I have given a glimpse of how we work in our region and what lessons we learned. Please feel free to follow us, to replicate the elements that would benefit you, but also do share your knowledge with us.
That way, my fellow mayors, we can walk together, on this path towards greener and more inclusive European cities.
Thank you.